A Night of Celebration
 
5 days and counting
 
The wait is almost over.  It is the most anticipated gathering throughout the year and it takes place at the Queen Surf Beach on the shores of Waikiki in Oahu.
 
It has become a fandomism of some sorts.  It is hordes of people seen mysteriously appearing from all directions and converging as early as 1 a.m. in the morning towards one location.  These are diehard fans that have literally traveled miles and days from the mainland states and from other countries just to pick out and secure a spot at the Queen Surf Beach for a prized vantage spot that is close to the red carpet area.  This prized vantage spot provides them with an "up close and personal" experience to those Hawaii Five-0 cast members and producers who haughtily walk by and maybe pause briefly just to smile or wave back as they seem to breathe in the homage from their enthralled and vociferous fans. It's carefully coordinating with other H50 frenzied friends as to what is their scheduled time to guard their "staked out" area. It is people calling on their cell phones to other friends who are bringing water or food or anything else they would need to survive this arduous event. It's figuring out the best times to take bathroom breaks or to make a coffee run over at nearby Starbucks.  It is the taking of numerous pictures and videos while hoping your battery or power source can hold out to the bitter end.  It is a year of careful planning for many of Hawaii Five-0 fans who traveled here just to say they have actually "felt and experienced it" for themselves.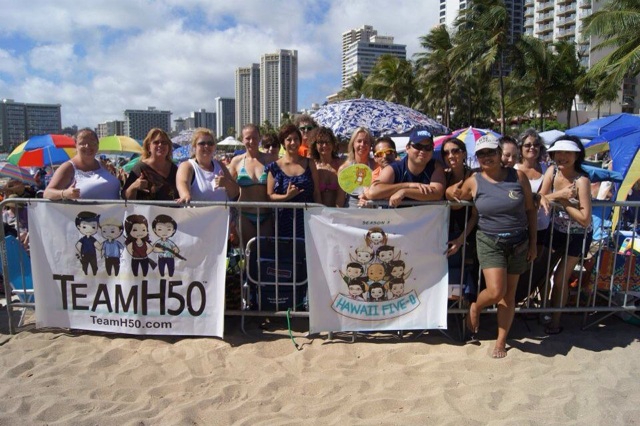 A person cannot explain an actual "H50 experience" with words alone.  Without sounding like double-talk, this experience has to be "experienced" by the individuals themselves in real time.  Each person will feel something a little different.  
It's a "see it" or "touch it" or "smell it" and a "you gotta be there" kind of moment to even begin talking about it with other people who have also had the experience.  One H50 fan tried to put it into words..."The feeling is like being on a wave... and riding it until it crashes onto the shore."  If you are one of those unfortunate people who has not been able to experience an "up close and personal" H50 SOTB, then reading about someone else's account of the event or even seeing their iPhone uploaded YouTube video will not be enough.
And what is it that makes it all worth it?
It is the kind gesture of a Peter M. Lenkov (Boss) who takes time to visit with the crowd of fans in the morning, bringing them boxes of Coco Puffs, Leonard's Malasadas and bottled water -- a sign of his appreciation to all of those dedicated fans who have become #H50hana and who have been there for him and The Show he so loves since Season 1.
 
In some ways, Boss and Company have tried to create exactly that kind of an experience for its viewers by first choosing an intriguing main theme while superimposing it with diametric dialogue, adding dynamic casting and shooting it in interesting locations, and layering each episode with unexpected twists causing the fans to stay on the edge wondering what will happen next.  The casts and writers, as well as the fans, have all immersed themselves (voluntarily of course) into this complex and symbiotic relationship with each other through the use of the evolving social media (FB and Twitter). 
For the past three years CBS and the City of Honolulu have welcomed scores of locals and traveling guests who come from all over the world to be part of the H50 Sunset of the Beach experience. There are people who are returning for the fourth consecutive time and then there are those who will be coming here for the very first time... and each one of them has a story to tell.
 
I was there!
 
Barbara, from Illinois, describes her experience. "Was I ever in for a treat! I found out what the true meaning of Ohana is," as she recalls that her first Hawaii Five-0 Sunset on the Beach was a last minute thing. She decided to join her husband on a scheduled business trip to the island but she found out that the scheduled H50 SOTB premier was scheduled to be a week earlier.  Her husband suggested that she flies in a week before him. "I had never been to Hawaii and I didn't know a soul there, but I signed up for the special H50 events that Bruce Fisher planned and figured I'd meet someone there who would share in my Hawaii Five-0 enthusiasm.  All of those tourists became instant friends and shared this wonderful experience with me. The local Hawaiians welcomed us and gave us insights into what Hawaii is all about.  The actual SOTB was exciting because we not only got to see the cast, but we got to see their excitement of being welcomed by their fans as well. Watching the twists, turns and surprises of the Season 2 premiere together in that relaxed beach atmosphere was unique. The oohs and ahhs that I would vocalize while sitting by myself at home were now multiplied about 10,000 times.  The most audible was the collective gasp at the surprise ending of that Season 2 premiere. 10,000 people became instant friends as they shared their surprise and ideas about what just happened. SOTB is something everyone should experience at least once.  I plan on being there again this month and I look forward to seeing a lot of old friends that I made two years ago as well as making new ones."
 
Andrea, from Arizona, said while she missed last year's event because of a scheduling conflict, she come back this year because she gets to do things with the new and old friends throughout the SOTB week.  It is meeting new friends (fans) and reconnecting with the friends she made from the past SOTB. Andrea explains that although the experience means a long day on the beach, "there is plenty of time for interacting and getting to know more about my fellow fans, and by the end of the day, the possibility of seeing and meeting the cast of the show and watching the season premier makes the waiting under the Waikiki sun all worthwhile."
 
"I have been to SOTB 2011," recalls Tim from Texas. "I come back to Hawaii yearly and H50 SOTB is just an added bonus." Tim enjoys being in Hawaii and has met some very interesting people and is looking forward to meeting more great H50 fans who he has met online.
 
I am going to be there!
 
For Kenny Kai, a local resident of Hawaii, this will be he and his family's first time attending the H50 SOTB. He hopes to experience the same "up close and personal" experience that all of the fans are talking about online and from watching the Hawaii News Now news coverage and enjoying everyone's pictures. "I want this to be an all-time wonderful experience for my wife Sharalen and my baby girl Kaylee." Kenny is also looking forward to meeting the new friends that he virtually knows via FaceBook and Twitter. Kenny admits that even though he is not a beach person he hopes to hang out and talk to friends as a way to spend most of his time.
 
Tara, who flew all the way from Melbourne, says the H50 SOTB is a birthday gift! "This will be my first time in Hawaii or America in general. I planned my holiday around my birthday on the 21st of September with my friend from Canada." A hello and a photo with Alex O'Loughlin is what Tara hopes to get to make the birthday week the best week of her life.  "That would be my dream...but to be honest, I am looking forward to the whole atmosphere with thousands of fans who love the show. Hearing the voices of the casts "up close and personal" and watching the premier with thousands of fans and the atmosphere will be fantastic.  The setting is perfect. I cannot wait for H50 SOTB to show me why it is the most incredible and amazing experience."
 
What Peter M. Lenkov Created
 
What separates Hawaii Five 0 executive producer Peter M. Lenkov from the rest of TV bigwigs, is his ability to take a moment almost every day (whenever he possibly can) from his busy schedule to tweet back at fans or to tweet still pictures from location and keeping everyone guessing and sometimes dying in suspense. While he tries to keep everyone in the loop, Lenkov and H50 have united its tremendous fan base all over the world. Yes, they are all over world.
 
During last year's H50 SOTB, Mr. Lenkov describes his fan experience as "amazing" and added, "We're all super honored that people spent their hard earned dollars on a trip to Hawaii just to join us at SOTB. To look out and see the crowd, knowing that they started lining up very early in the morning to get a glimpse of our stars...what else can I can say...I was blown away.  I've been on popular shows before, but I have to say the 5-0 audience is truly the best."
 
If you ask H50 fans who are constantly tweet and chat about the show, they will tell you it is one big "Ohana" in cyberspace. Everyone knows everyone and when September comes, it was more than the excitement of the new season of Hawaii Five 0, but the anticipation of finally putting the name on twitter with the actual live faces.
 
After three seasons and going into its fourth, almost every country has a Hawaii Five 0 Facebook Fan Page and Twitter. Hawaii Five 0 is a 24 hour long chat.  Fan sites shares pictures, events, and keep everyone who is not on the island in the loop on what is happening to their favorite show.
 
Peter M Lenkov and Company did not just create and produce probably the best show in television, but he also created a special kind of a fan base no one has ever seen before, bonded by and through a show, fostering long lasting friendships and a family that now everyone knows as "Ohana."
Hawaii Five 0 Season 4 premieres on CBS in the U.S. September 27, 2013 9:00 p.m. EST/PST