Despite the ghoulish decorations for sale since August, some of us are still unexpectedly accosted by putting together a Halloween costume -- because we're a tad behind on the trends or a bit reluctant in our busy day-to-day lives to get the job done. But when you need a swift idea that's quick and clever at a moment's notice, I've got some unique ideas that can take you as little as 10 minutes and no longer than one hour. Plus, the best thing about DIY costumes: You will save money if you are able to utilize resources from home to make it happen.
POP CULTURE COSTUMES
1. CANDY CRUSH: This costume is inspired by the ever-popular and addictive app. Get a trove of hard candies or a jumbo bag of assorted Halloween candy containing namely hard candies on sale, which is what I did.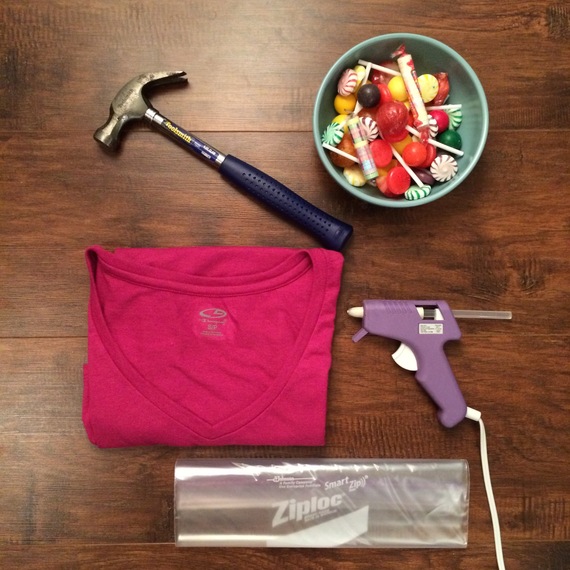 Unwrap candies and place in a sealed Ziploc bag. Using a hammer, lightly break candies into roughly half their size or large chunks; then transfer to a large bowl.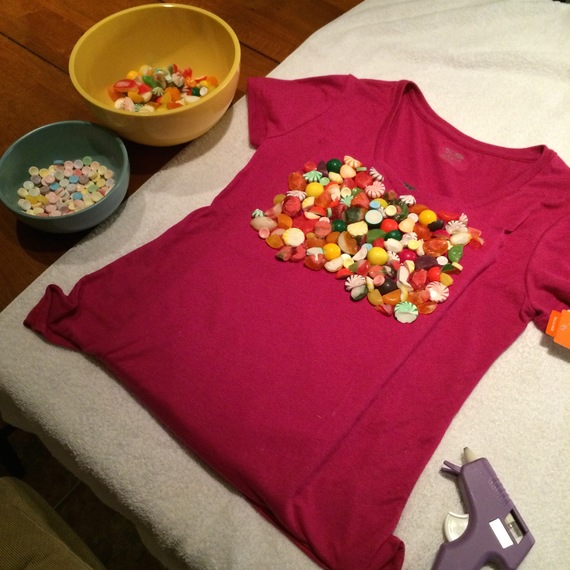 Use any T-shirt you have in your closet for the task, but a colorful one will pick up and enhance the colors of the sweets even better. Wrap a slim cutting board with foil (even a sturdy shirt box top will do) and slip this inside the T-shirt and center. Using a fast-drying glue like hot glue, place a small dollop on each candy and secure to shirt, pressing firmly to fabric to assure adhesion. Repeat. To fill gaps, consider using a small candy like Smarties. Keep in mind that the candy adds weight to the shirt, and you don't want to completely fill it or it will become very heavy.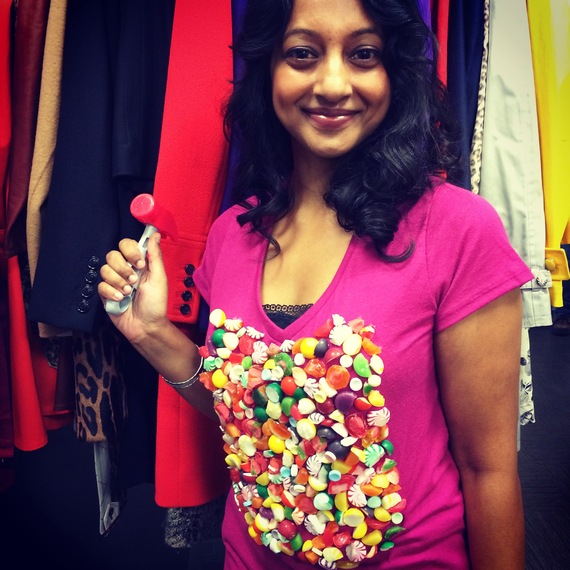 Once fully dried, carefully separate shirt from foiled insert, wear and carry a plastic hammer to complete your totally sweet candy crush costume.
2. ZIP CARS: This is another great and easy T-shirt costume for anyone who likes to drive, loves cars and likes to trump friends with a play on words.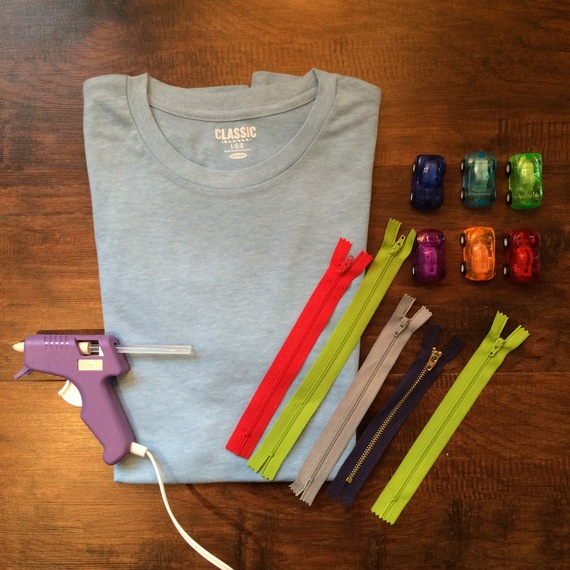 Get a bunch of colorful zippers and in the party aisle, toy car favors; I found a pack of six. (Hint: You're looking for plastic cars that are lighter than metal toy cars). Use hot glue to attach both in random patterns onto a shirt from your closet (place a foil covered cutting board inside of the shirt to keep the top and bottom fabrics from sticking together.)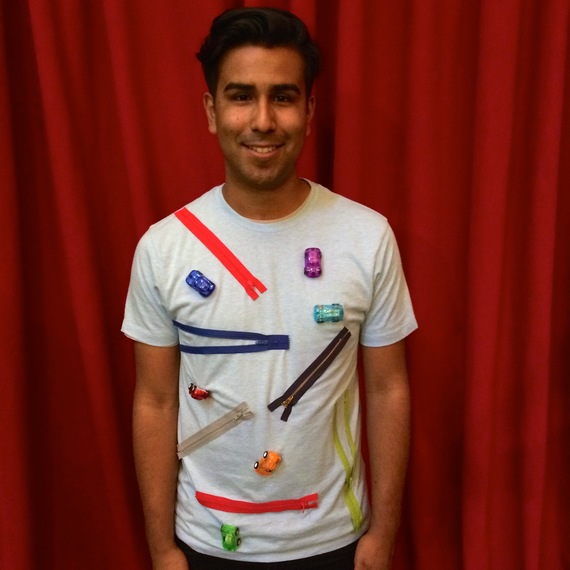 Viola! This costume is called Zip Cars! I've created this twice, and once I began the gluing process it only took 20 minutes to complete each time.
3. ANGELINA JOLIE WEDDING GOWN: This was a year for big celebrity weddings and Angelina Jolie's dress, where she incorporated her children's drawings, caught our attention at zulily for its unique style.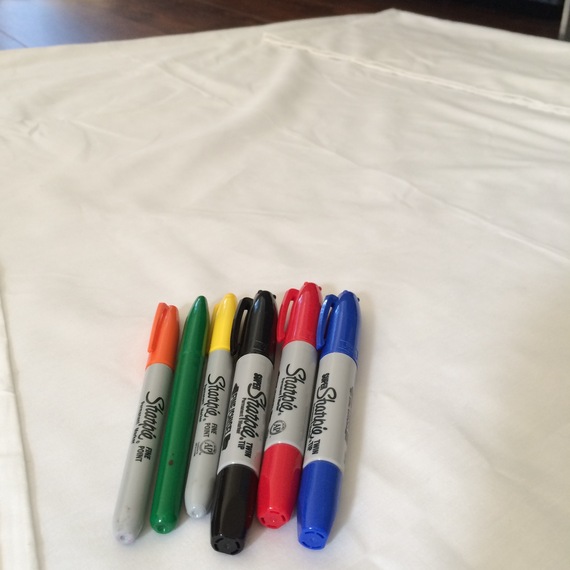 Grab a white sheet from your linen closet (fold approximately in half) and some sharpie markers and start drawing to make the train, channeling some kid-inspired art.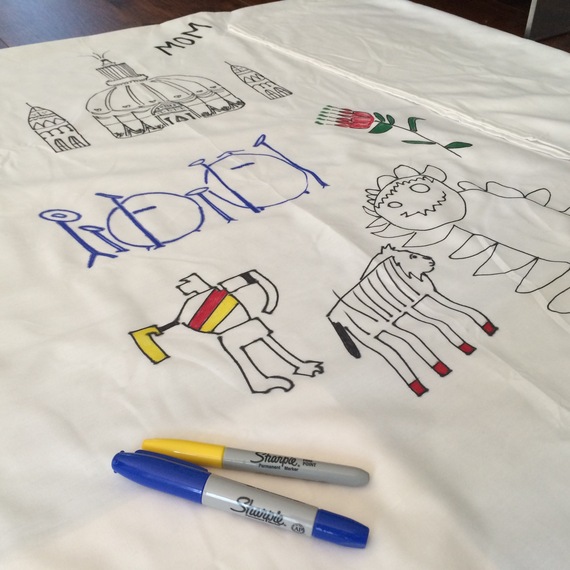 I replicated the art of the Jolie-Pitt children and let me tell you, they are extremely talented! I also took a semi-transparent, plastic garbage bag and drew on this as well for the veil.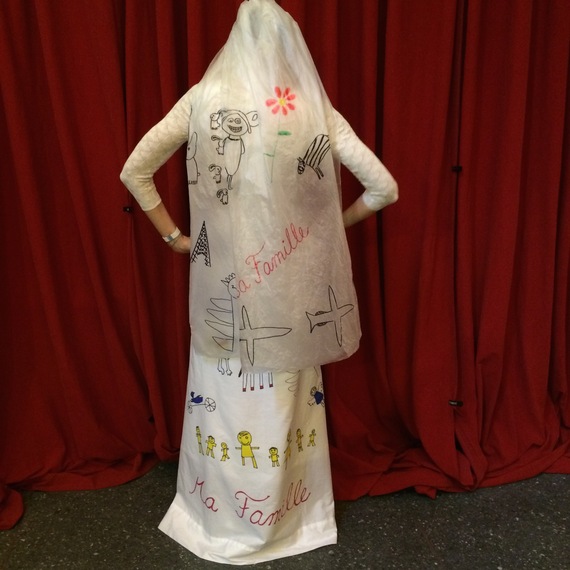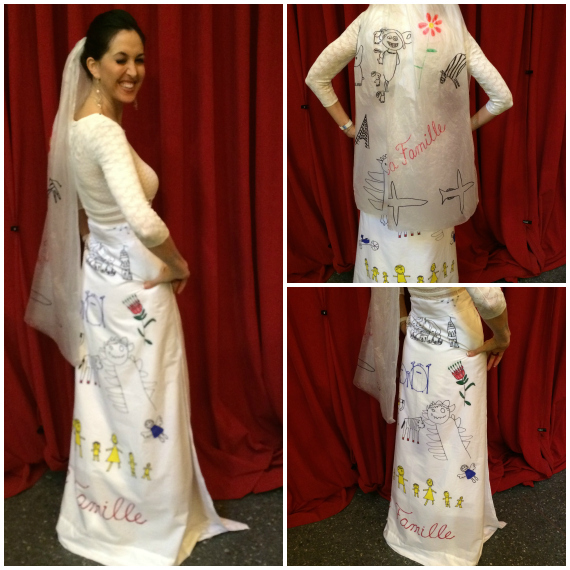 Wear any all white dress. Put hair back in bun, pin the bag veil using bobby pins to hair, while securing sheet to waist with a tie as a train or around shoulders in a simple knot. Carry fresh flowers and wear light pink lipstick and purple smoky eye makeup. Then channel some Jolie-Pitt wedded bliss!
4. INSTAPRINT BOARD: One of the best features of the social media site Instagram is the ability to use filters to achieve color variance in your photos. So here is my version, called "Instaprint" made from a 20" x 30" white foam board I bought for a few dollars at the art supply store. Next, I made my own "Instaprint" homepage using Illustrator, printing this out on a standard piece of paper at home and making a color enlargement to a 11" x 14" page. I cut out the top and bottom banners of my Instaprint home page and glued them to my white foam board. Using an X-acto knife, I cut out the square where the photo should be; this takes a bit of wrestling as foam board is thick, and it takes about three passes. The final touch? Attaching iridescent wrapping paper in a light hue like light peach, pink or blue with tape to the back of the square opening to replicate the "filters" of Instagram.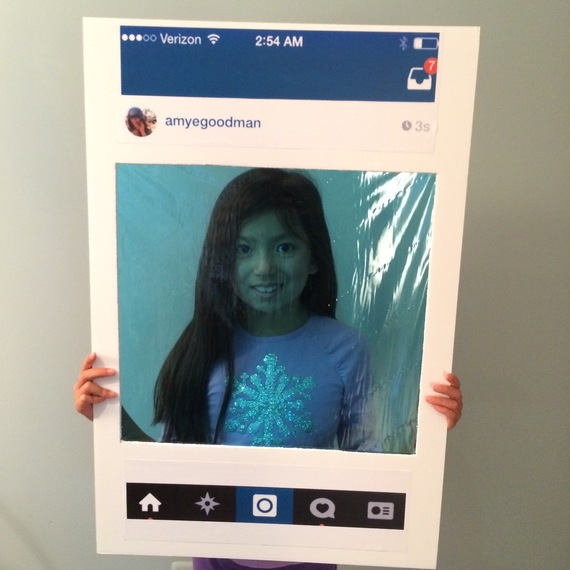 Here is my daughter in "Hudson."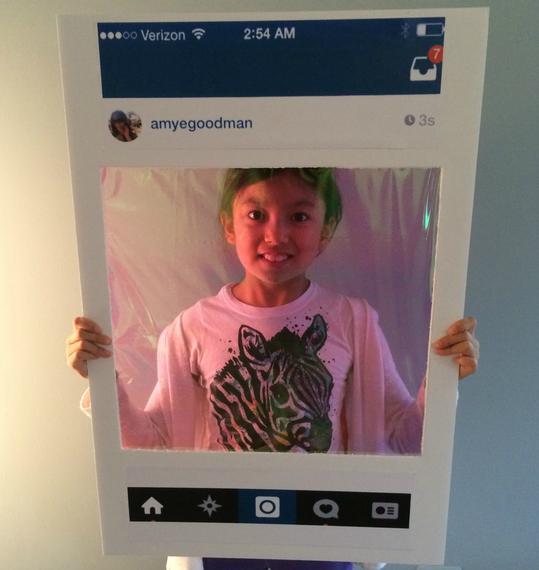 And in "Kelvin."
HISTORICAL-THEMED COUPLE COSTUME

5. AMERICAN GOTHIC: I love a toss back costume and this one inspired by Grant Wood's iconic painting is easy to put together as a couple before heading out for a party.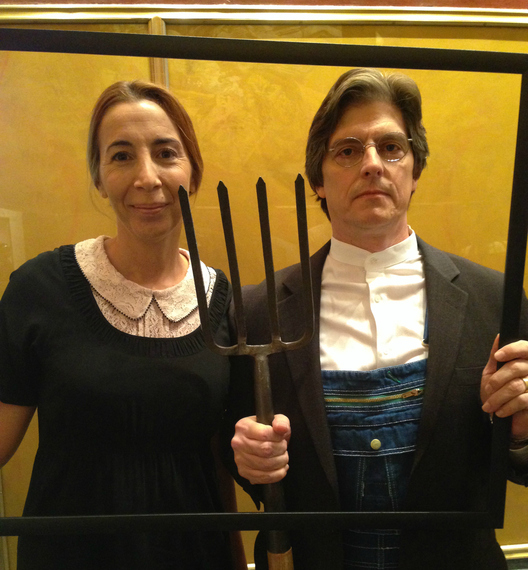 For the gentleman farmer you need a white shirt, black blazer, jean overalls or jeans and workman boots. For the wife, use any black dress with a fairly high neckline and a shirt that has a white collar that can peek out. Grab a pitchfork from your garage or yard and "frame" yourself with a 2' x 3' frame that you grab off your wall, just for the night.
GROUP COSTUMES
6. SHAKE IT OFF! What's more fun than a girls' night out on Halloween? And this group costume, inspired by Taylor Swift's hit song "Shake It Off" is a way to get a group of best friends rallied to go out. Each takes one of Taylor's dance looks from the music video that is the most readily available in her closet -- with the idea that you help supplement each other's look if you have something that another friend needs.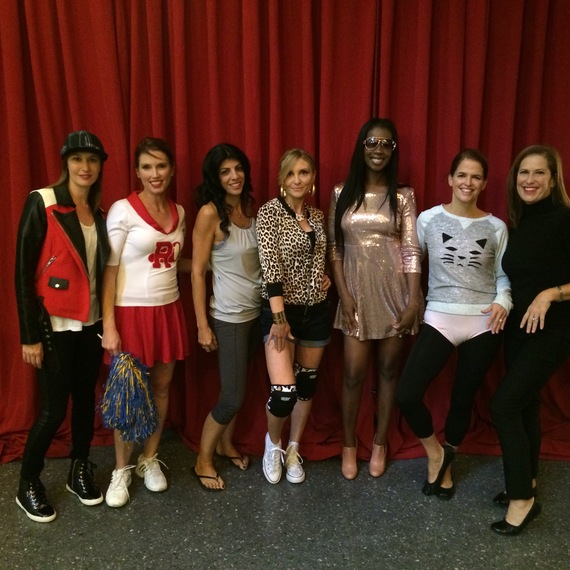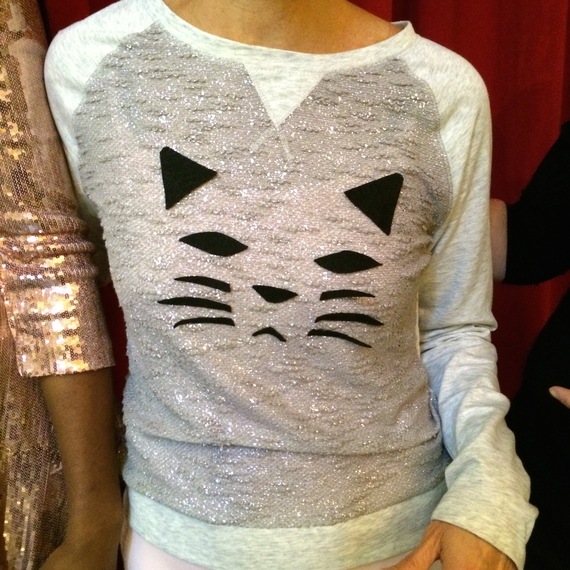 And what you don't have in some cases you can make. Above, a kitty cat image made out of black felt and secured with a hot glue gun onto a sweatshirt.
And there are many distinct costumes from the video to choose from:
1. Relaxed ballerina: pink leotard, kitty sweater, black leggings, ballet flats
2. Cheetah girl: animal print jacket, jean shorts, lots of gold jewelry
3. Mod metallic: any metallic or shiny clothing, gold lipstick, metallic sunglasses
4. Minimalist black: all black slim-fit clothing, black flats
5. Beat box girl: black, red & white clothing, faux leather pants, hat. Carry around a portable stereo
6. Modern grey dancer: all grey workout clothes and flip flops
7. Geek chic: black glasses and black leather jacket (do lots of finger movements)
8. Cheerleader: perhaps one of you saved a cheerleading uniform from days gone by. Add some pompoms
9. Tutu ballerina: this is the full-fledged Swan Lake ballerina. It's unlikely anyone would just have this, unless she was previously a professional dancer.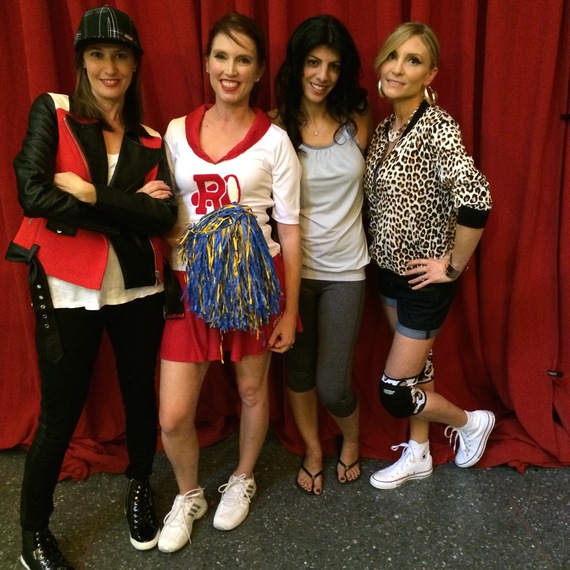 Above: beat box girl, cheerleader, modern grey dancer and cheetah girl.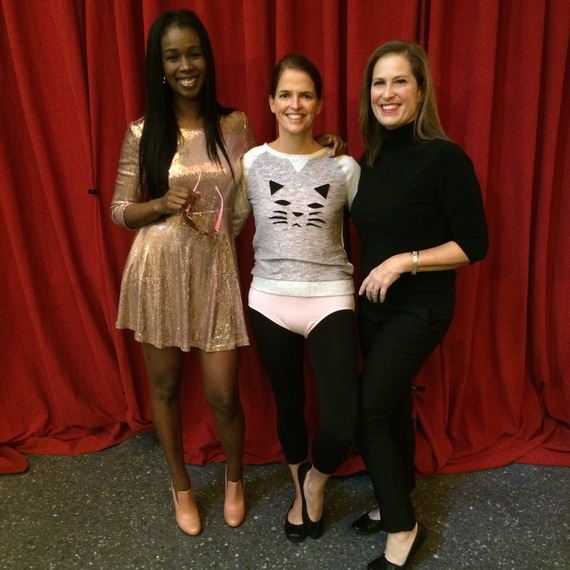 Above: mod metallic, relaxed ballerina and minimalist black.
Then, of course, be ready to shake it!
Click here to see these costumes in action on the TODAY Show.