By Katy Kelleher
As a certain frog once pointed out, it's not easy being green. Especially when it comes to jewelry. Sure, you could buy all vintage baubles, but sometimes it's nice to go modern, which is why Milkshake is loving The Elephant Collection from Shompole.
The line, which features gorgeous bracelets, rings and pendants made from 18 karat gold, cow horn, and precious gems, is handcrafted by local artisans in Kenya and is the brainchild of Kenya-based jewelry designer Elizabeth Gilbert. As she explains in an interview with Indagare Souk, the line was inspired by a visit to the elephant orphanage, which is located on the outskirts of Nairobi. "It's a very moving, unique program and once you've seen the elephants, you just want to do something," she explains. "The experience stays with you forever."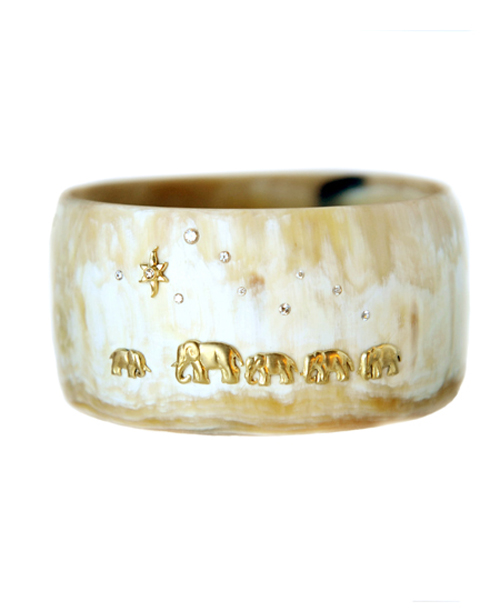 To honor the majestic creatures, Gilbert stamps each and every piece with a delicate gold elephant. From the black-horn and diamond bangle to the white cow horn pendant, each unique piece obviously bears the mark of both Elizabeth's travels and the craftspeople that worked on it. Every piece is made in Africa, by Africans and thus helps funnel some much-needed funds into the local economy.
We love every one of Gilbert's creations, but we're especially digging the bangles and cuffs. The slim black cow horn bangles, which feature a little army of elephants marching under a cluster of diamond stars, would be perfect for stacking, while the signature black cuff is plenty bold enough to stand alone.
But if the clever design and intricate workmanship wasn't quite enough to tempt you, this might help: 10 percent of all profits from the Elephant Collection will go to helping keep parentless elephants alive. Gilbert was so moved by the adorable little orphans that she decided to start donating to the David Sheldrick Wildlife Trust, which is one of the only programs that can help save abandoned elephants. Not only do they provide all the needed nutrients in their milk formula, which has been carefully developed through decades of trial-and-error, they also provide veterinary care and psychological help to the wounded babies. Like people, elephants are very fragile in their early years, and without the staff at the elephant nursery, they would almost certainly perish. Through the dedicated care at the Wildlife Trust, these elephants get a chance to grow old and spend the rest of their lives roaming the 8,000 square miles of protected wilderness in the Tsavo East National Park.
Want to wear your heart on your wrist? Pick up a piece from Gilbert's lovely and inspiring collection by visiting the shop at Indagare Souk. Or if it turns out these pieces aren't your cup of tea, you can still help support The David Sheldrick Wildlife Trust by fostering one of their little finds. Click here to find out more.
Katy Kelleher is the Editor of Milkshake Kids.