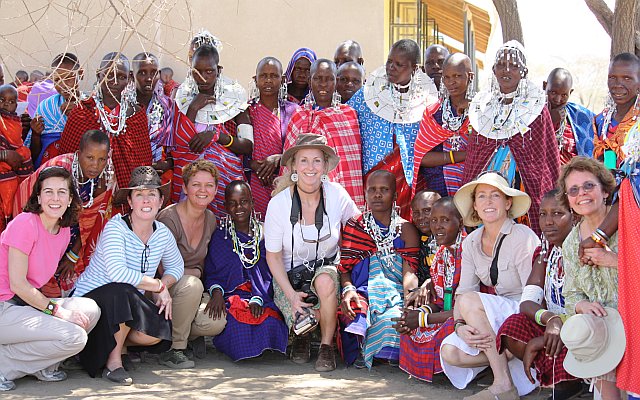 by Katy Kelleher
Here at Milkshake, we're always looking for new ways to travel with a purpose. Instead of simply cruising from country to country, we think travel should involve a cultural exchange. UNITE Tours shares this ethos. To get a little more information about this unique company, we talked to Anne Wells, founder and CEO of UNITE. The interview was not only illuminating -- it also made us want to jet off to Tanzania!
Right off the bat, Anne Wells puts her finger on something a lot of us have experienced: "Oftentimes when you are a tourist, you feel like a big fat dollar sign and that can become quite stressful," she says. This is particularly true when you are traveling to a developing country.
But Anne has figured out unique solution to this issue. With UNITE Tours, she works to foster relationships between tourists and the people of East Africa. "What we do is make it possible for travelers to share not just of their time and treasure, but also of their talents and passions," explains Anne. "We build 100 percent customized tours for each of our clients that combine traditional wildlife and adventure safaris with opportunities for service, sharing and discovery in the villages."
Key to UNITE Tours are the concept of "field visits." When you book a trip with UNITE, you will not only get to go on safari with some of the top guides and outfitters in East Africa to see the flora and fauna, you will also get to meet and spend time with the people. "Everyone enjoys the wildlife of course," says Anne, "yet most often it is their time spent sharing and learning in the villages that is their favorite part of their journeys."
UNITE does not send clients to typical tourist traps. Instead, they visit UNITE's partner organizations -- all of whom are working in the fields of women's health, education and microfinance -- in places most tourists would never venture. Currently, UNITE is working with more than 20 partner grassroots non-governmental organizations (NGOs) across Tanzania and will soon be moving into Rwanda as well. This empowers travelers to find field visits that match their interests, from playing "football" with the children of Future Stars Academy to exploring beekeeping and honey programs with Maasai Honey; reading with students at the Enduputoo Maasai Primary School or singing and dancing with the UMOJA music program.
And for those who are interested in getting more deeply involved, Anne has created customized train-the-trainer style workshops in which they can share of their unique areas of expertise. In the past Anne has had doctors and medical professionals, educators and business people from all across America working with their peer counterparts in Tanzania to address pressing current-day challenges.
"It's not necessarily that these areas are so remote, though some are, it's more that they are not tourist destinations. Our clients are welcomed warmly as guests and friends of UNITE."
Many tourists only interact with local people in ways that are limited to service and sales -- and these exchanges are almost always centered around the transfer of money. "We empower the sharing of time and talent to encourage the building of real and lasting relationships," Anne says. UNITE's goal with all of this? It's right there in their mission statement: "To uplift, empower and transform lives and advance women's health, education and microfinance programs in East Africa." Sounds a bit lofty, but so far rings true. UNITE's travelers attest to the impact of these personalized and intimate experiences.
"While safari was originally the focus of our trip, our time with UNITE's partners was so enriching and led us to understand how we could be 'part of it.' We are the ones who have benefited from being introduced to these marvelous organizations!" says Deirdre Marsters who went with her husband on a UNITE tour in March 2012.
Want to get the UNITE experience? Go to UNITE Tours for more information.
Katy Kelleher is the editor of Milkshake Global. For more good news, sign up for our daily emails at GetMilkshake.com, http://www.getmilkshake.com/.

Image courtesy of UNITE Tours.