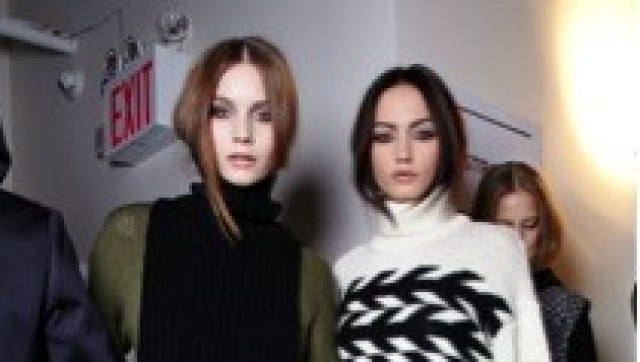 The day of the Tibi fashion show starts much like any other Saturday morning - I'm an early riser, as is my husband. It's nice for us to enjoy cup of coffee and the paper together before the boys wake. To burn off some of my nervous energy I usually go for a run but that wasn't happening this particular morning after Nemo hit the Northeast. With downed trees and closed highways, I was lucky we didn't get completely snowed in.
I make a green juice to take on-the-go, and head into the city before noon. I like to stop by the office first for a last minute look at the collection, making sure everything has been fitted and steamed to perfection. My design team orders lunch from Grey Dog, Tibi's favorite sandwich spot in SoHo. This brief break gives us a chance to unwind and have a laugh after the previous week's long hours. I change into my outfit for the show - black gauchos, a cropped sweatshirt with sheer paneled sleeves from the Fall 2013 collection, and pointed Costume National ankle boots.
For this season's runway show, we selected Studio C at Pier 59, an intimate yet dramatic space with high ceilings that really enabled my production team to get creative. The show concept should always be an experience that parallels the design vision, and includes myriad creative and operational details like seating plans, music and lighting.
Once at the venue, I head directly backstage to get my make-up done before the models' call-time. We work with the Bobbi Brown team each season and they know exactly the right 'made-up-but-not' look that I love. I get my nails done by the Jin Soon nail team with a custom matte polish that they created for the Tibi show, transforming Fall's deep jewel tones into an incredibly cool muted palette. Once my nails dry, I grab a glass of champagne and meet up with my PR team for press interviews, sharing the vision for the season and pointing out key design details. The Tibi woman lives in desk-to-street sportswear that is edgy but relaxed and for Fall, her go-to style is layering polished separates. I make sure to point out that every piece I design and produce is something I can't wait to have in my closet for the upcoming season.
When the lights go down and the music starts, the rush of adrenaline and excitement are indescribable. I simultaneously shuffle the models onto the runway and watch the show on a backstage monitor to ensure everything looks as we had envisioned. After months of preparation, the 13 minute show seems to pass by in a heartbeat. It's an incredible and exciting experience to watch the collection come to life each season, a labor of love for the entire team. Now, the collection is in critics' hands, and I will continue to track their commentary in the weeks to come. But first, my design team and I are off to Paris for the fabric shows, switching gears to begin planning our Spring 2014 collection. Stay tuned for our Paris diary.
PHOTO GALLERY
Tibi Fall 2013 Fashion Show