It's the last high-pressure fashion scenario of the year.
The New Year's Eve ensemble is a conundrum for many. An unspecified dress code commands women to step up their look, but not go over the top. Dreams of sequins, embellished cocktail frocks and satin dance in everyone's head. Which is, of course, is followed by the impulse to go out and buy a new dress. HALT! Instead of further leveling your post-holiday bank account, challenge yourself to resuscitate a forgotten LBD from the bowels of your closet. All you need is a simple, flattering black dress and an array of on-trend accessories. Scour your closet for an understated (non-embellished) black dress: a sheath, fit-and-flare, A-line or trapeze dress. Then, inject your personality. Artists use paint to convey composition and texture. Women layer. Accessories are the sartorial fairy dust that create attitude and deliver a woman's unique point of view. Translation? Dramatic counterpoints like jewelry, scarves, belts and a colorful bag are the "wow factor" that will bling your dress to life. The three minutes that it takes to pop on statement accessories is the difference between ho-hum and high-wattage.
Newsflash: Great accessories need not be expensive. Hit fast-fashion outlets like H&M, Topshop and discounters like Nordstrom Rack for excellent costume jewelry, scarves and bags. Also -- be true to your nature. If you are a low-key person, just wear three accessories. If you are dramatic, go for more. Either way, the glamorous "wow factor" will deliver a fresh radiance to a simple but flattering garment.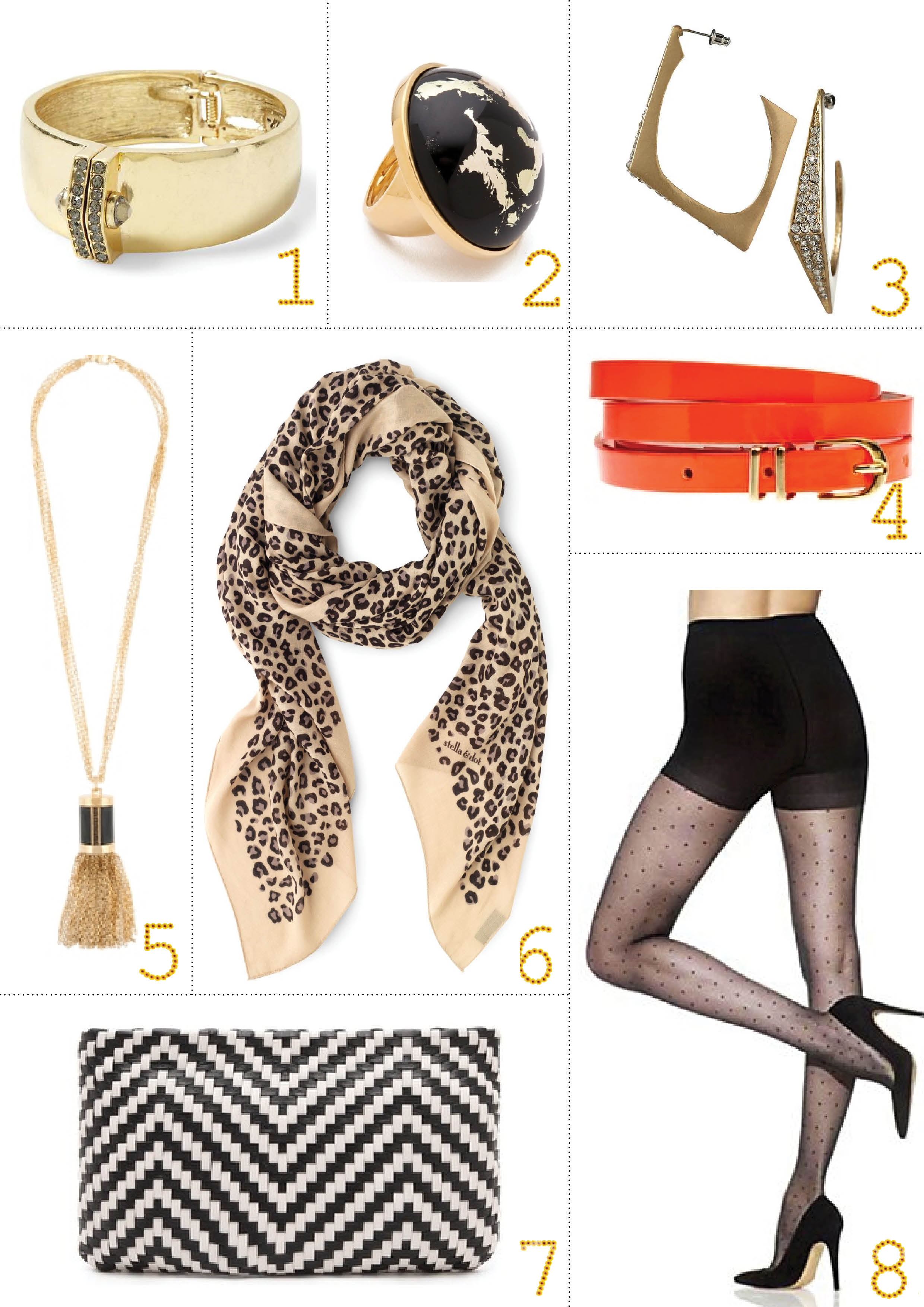 1. A gold cuff: Whether fashioned of real or faux gold, a medium thick cuff adds Studio-54-meets-JLO insta-glam to a LBD. Kenneth Cole New York Modern Rose Pave Bracelet, $68
2. A cocktail ring: If you want high impact -- the bigger, the better. Pop on a large cocktail ring and let your inner Elizabeth Taylor emerge. Kenneth Jay Lane Button Ring, $77.
3. Neck-grazing earrings: Pop on a pair of earrings and watch your look come to life. Whether you're wearing gold hoops, cut crystal chandeliers or a neck-sweeping fringe, adding earrings to your look transmits radiance and high style. Tinley Road Edgy Square Hoop Earring, $16.
4. Belts: Add a thin belt to an A-line dress to add a pop of color and emphasize a trim waistline. A thick belt at the waist of a retro fit-and-flare dress creates a fashion-forward hour-glass silhouette. A thick leather belt with a gleaming gold buckle puts the focus on a slim waist and amps up the glam quotient. Asos Super Skinny Waist Belt, $10.55.
5. Necklaces: A dramatic gold necklace with a pendant provides an instant update to a basic LBD. Aside from adding a healthy dose of glitz, bra-length necklaces play up the decolletage and elongate the silhouette. KARA by Kara Ross Tassel and Skin Inlay Necklace, $350.
6. A scarf: A scarf is the ultimate layering piece; that chic element of style that adds polish to one's overall look. A graphic print is classic cool, a metallic Lurex is vintage glam. A solid red chiffon is sexy. Simply looping it around your neck pulls the look together. Stella & Dot Bryant Park Scarf, $59.
7. Clutch bag: This is where you can add a dose of color and contrast to your outfit -- metallics are dramatic, a hot color like pink or orange is fashion-forward and an exotic print like leopard or zebra adds a bit of edge to the look. Christopher Kon Alisson Clutch, $215.
8. Fashion tights: Tights are the LBDs de facto dance partner in the cold climates of December. Instead of blah black opaque tights, sport fab, textured hosiery for a chic statement-making element. Bonus: Maidenform has built in compression to smooth out your belly and butt. Maidenform Mini Dot Skinny Dot Sheers, $12.
For more Five Minute Fixes visit AmyTaraKoch.com