Stop the presses. I am officially a door buster.
I will go to great lengths for style. And, am often mortified (post acquisition) at what I will/would/will endure to hunt and gather the objects of my affection. Case in point? The activities surrounding the March 8 sale of uber expensive Marni for H&M. Now, I have been bowing down to the temple of Marni since the early 90's. Designer Consuelo Castiglione's upbeat prints and signature slouchy fit are my version of wardrobe perfection. But, in order to score discount designer duds, one must wade through the degradation that punctuates a fast fashion shopping experience.
Having spent decades conquering sample sales in NYC and LA, I knew that my chances at nabbing my wish list would double if I had a partner. So, I enlisted my trusty assistant, Alaina, to coordinate an attack plan. In order to snap up fabulous fast fashion, one must physically go to the store. Very early. You see, these pieces are made in limited edition so they sell out within hours of their release into the wild. We planned for Alaina to get in line first so I could get my kids ready for school. But, after monitoring the sale on Twitter, I could see the merch was already selling out across the country. So, I bribed my husband to stay home and get kids organized. Then -- hair still in sleep ponytail -- I hightailed by bus to Michigan Avenue by 8 a.m.
I was not alone. There were swarms of women drooling like lionesses over fresh meat.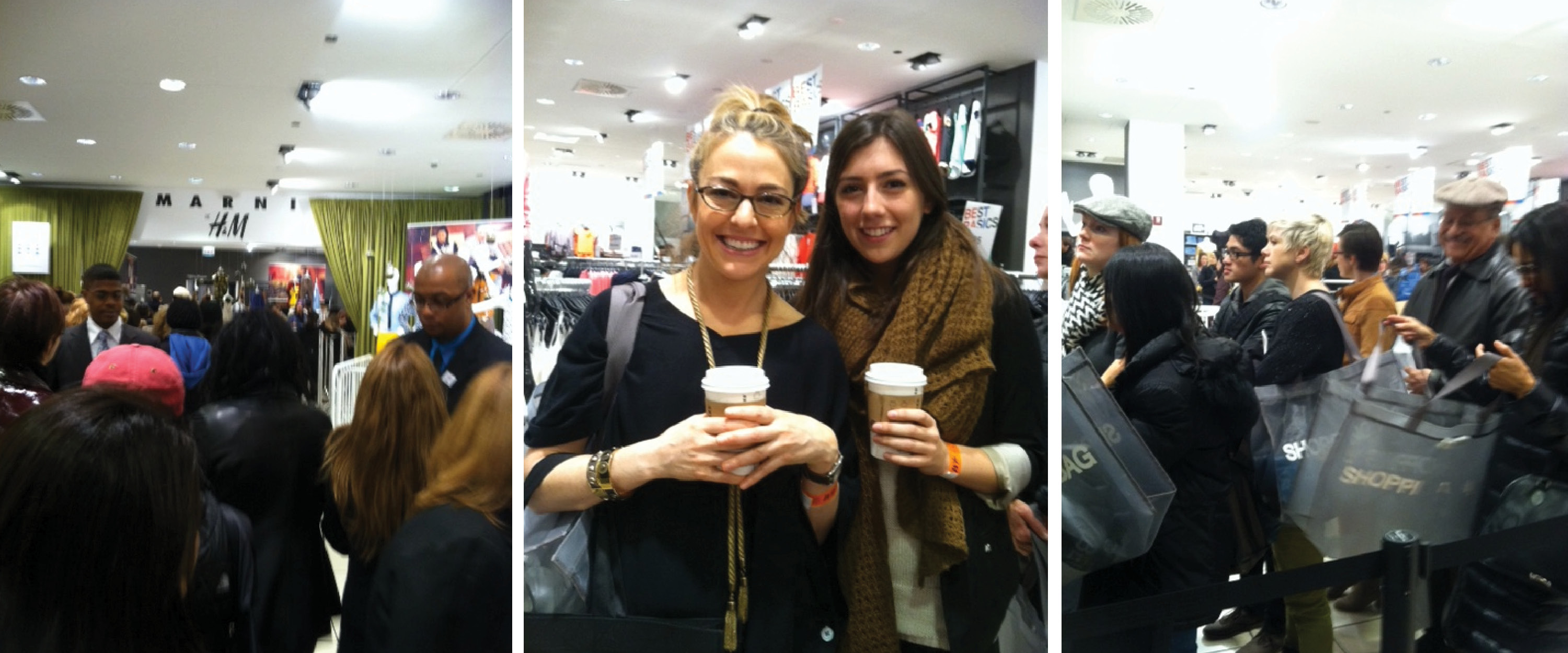 Humorless guard keeping shoppers at bay, Amy and Alaina caffeinating and sea of Marni/H&M hopefuls
Though we were told on the phone that we could shop at 8 a.m., this was not to be. Instead, we were given color coded wristbands with the stipulated shopping time. So, though I arrived at 8:15 a.m., I could not shop-or even browse-the collection until 10:05. Now, I am the type who can finagle an upgrade at the Four Seasons from standard room to suite. I routinely wrangle my way to First Class on American Airlines. I have sat in the front row at YSL couture in Paris (when issued a seat in the nosebleed section) and can essentially talk my way into almost any situation. But, I could not get H&M personnel (I even called the PR department) to budge on my designated shopping time. In fact, the dour security at H&M felt positively Storm Trooper-esque. Shoppers were herded up by bull horn and lined up behind stanchions. Rules of the sale were shouted out: 15 minute time limit to shop. No re-entering the sale area from dressing rooms. Limit of two of a single item could be purchased. Wrist bands were checked with military precision three times prior to entering the sale area. And, the final indignity, a DJ was on site to blast obnoxious dance music in what felt like an attempt to maximize frayed nerves. When I approached the gloriously accessorized mannequins to examine the designs, guards formed a human blockade and commanded me to retreat. Frustrated, I moved to the front of the store and watched as the hoarding commenced. Forget mesh shopping bags. Sly fashion fiends were scooping up multiples of everything and loading their goods onto garment racks. I watched with mounting anxiety as the fabulous floral chokers and cuffs were depleted before my eyes. Then the mound of sleek platform shoes began to dwindle. Style stress is a breeding ground for new BFFs. Friendships were forged. Shopping strategies were hatched. Coffees were inhaled. I actually found an adorable model for an upcoming tv segment I was producing.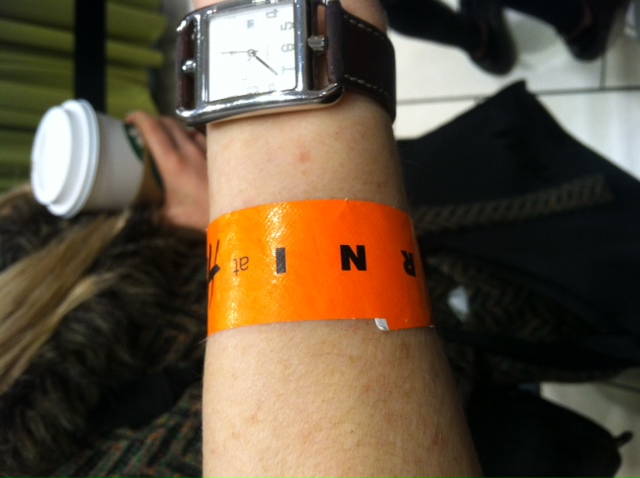 We have to wait until 10.05?!
As 10:00 rolled around, we were all on high alert protecting our terrain in the 10:05 line. A woman started elbowing her way to the front. I alerted my newfound buddies and we headed her off and pelted her with evil eyes. At long last, our time was called. We were commanded to raise our left arms to display our wrist bands as we marched forth to the promised (fashion) land. I charged into the pit (to the lyrics of "Staying Alive," ironically) stockpiling my bags with anything that may work. The glam accessories were gone. But, we stuffed our bags with the color blocked dresses, sporty black nylon windbreakers and African themed tops.
Next up? The moment of truth. The dressing room. After all of the waiting, everyone wanted their efforts to be endorsed with a prize purchase. Not everyone was rewarded. Size 10s were shimmying into size 6. Size 6 was swimming in size 12. And, some experienced the sad truth: what looks great on a mannequin does not work on every body type.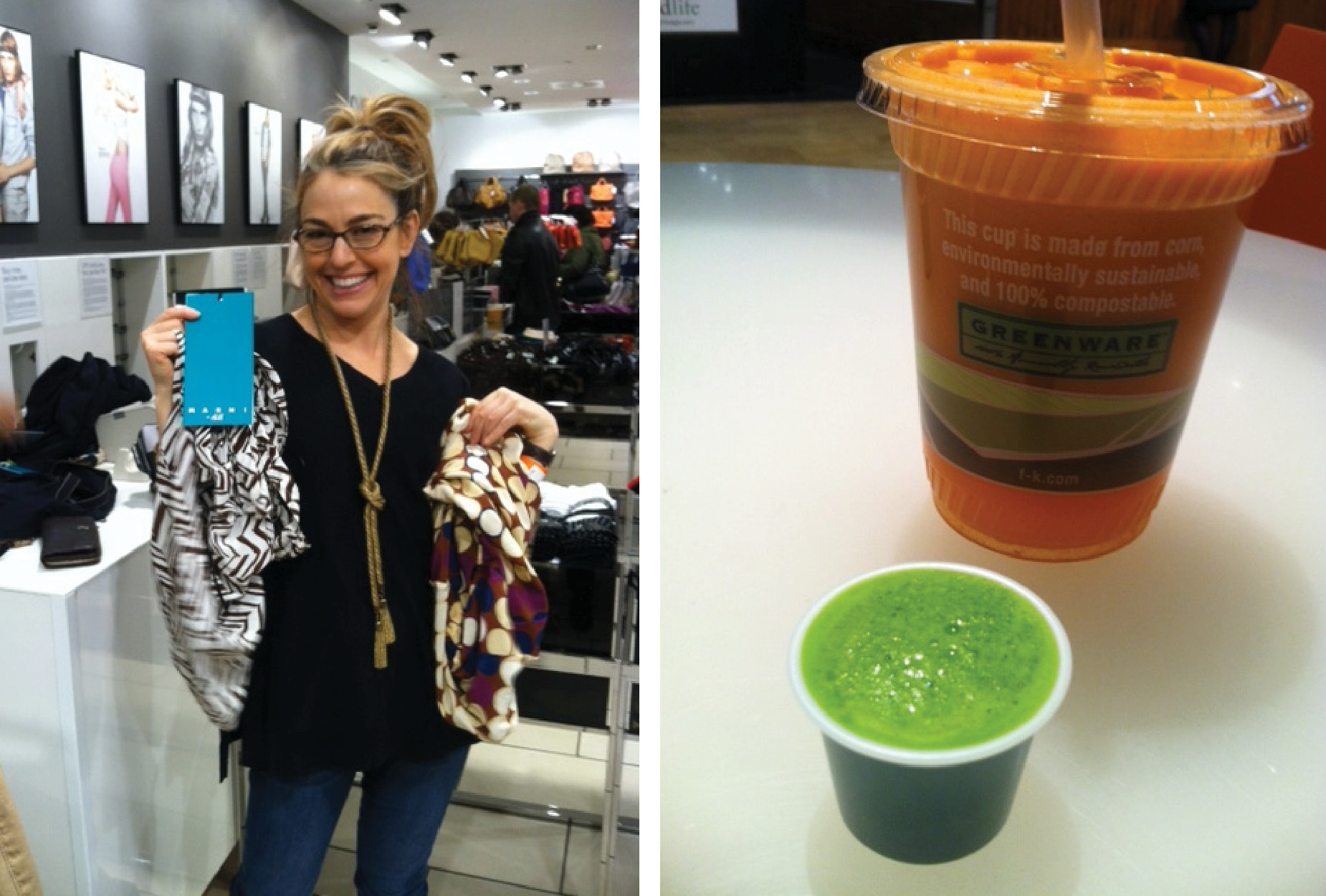 Amy with her spoils and post-shopping elixirs to rebalance
Luckily, I scored. A lot of what I selected was parfait. But, I was pissed that some of my wish list had not been on the sales floor. So, I waited. Some of those polka dot ¾ coats and cardigans were most likely sequestered behind dressing room doors. My assistant kept her eyes trained on the "didn't work" rack while I sat waiting to pounce on discarded merch left by my fellow shoppers. Some women were willing to barter. A jacquard top for a print Capri? A size 4 shirtdress for platform wedges? Finally, at 11 a.m., I had enough. With a pounding head and bulging shopping bags, I ambled out of the store. It was an experience, yes. But, not one that I am not likely to repeat again.
Please visit my FIVE MINUTE FIXES blog for fast and fabulous style tips!