There is something so, how else to put this, Canadian about the most popular show of Toronto's LG Fashion Week consisting of clothes that rarely cost more than $100 and are available at the nation's largest grocery store chain. Try imagining Target or Tesco producing a line that generates local buzz equivalent to a Marc Jacobs or Prada show and you get the idea.
But Joe Fresh, named after its creator, fashion visionary Joe Mimran (co-founder of Club Monaco) and sold at Loblaws outlets across Canada once again proved the hottest invite of the four-day runway marathon which wraps this evening. Fun, not high fashion, accounts for the appeal. Model du jour Crystal Renn (who looks much smaller than a size 12) and 39-year-old veteran Kirsten Owen were flown in for the show to walk alongside the waifs. The look: faux fur (seemingly an homage to stuffed animals) combined with ever-so-slightly naughty private girl separates (tweedy shorts, peacoats) and active wear with a twist (sequin sweaters, jodhpurs, studded motorcycle boots).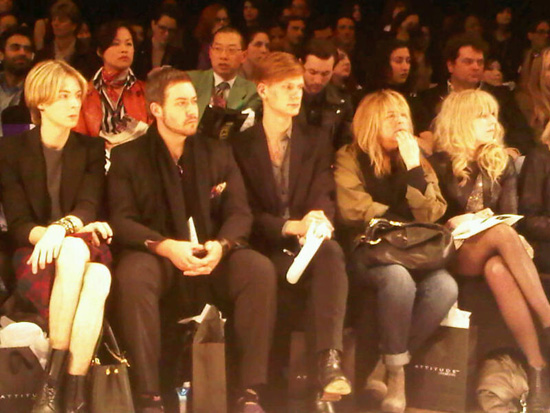 In terms of the scene, it was literally as Creative Class as it gets, with Rana Florida (the other half to husband Richard), seated front and center. Toronto has its burgeoning clique of style bloggers and well-heeled socialites that could compete word-for-word and Kirkwood pump-for-Brian Atwood platform with the best of them.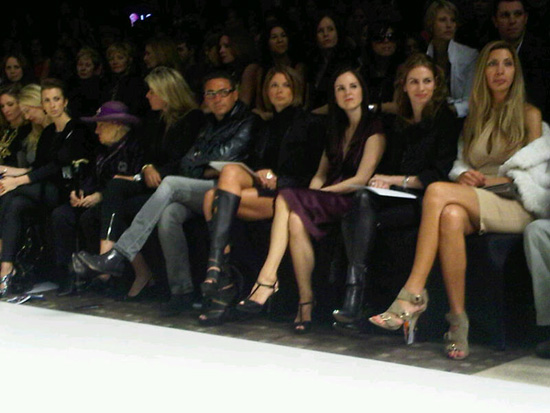 Noticeably missing, however, were the likes of Andre Leon Talley, Carine Roitfeld, Cathy Horyn, Suzy Menkes, Glenda Bailey, Rachel Zoe, Julie Gilhart, Hal Rubenstein, Sarah Mower and everyone else who "matters" in international fashion circles (to think that Anna would make an appearance exceeds the greatest of expectations). Heck, even globetrotting bloggers Tavi and Bryanboy were AWOL.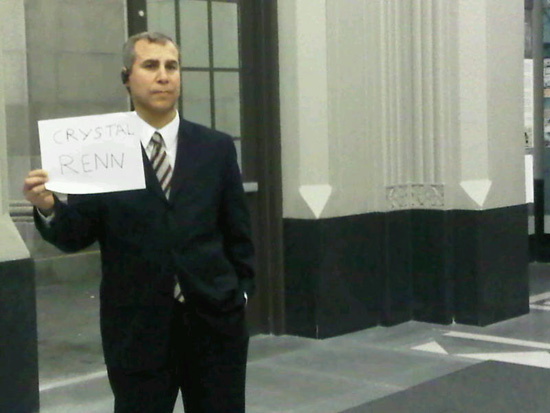 Which is among the reasons why Toronto's fashion week flies below the radar as far as global coverage, unable to break into the "emerging" destination category occupied by such cities as Moscow, Mumbai and Stockholm.
Make no mistake, there is no shortage of Canadian talent. Toronto-born twins Dean and Dan Caten have gained such a following with their label, DSquared2, in part because they take hoser and hockey culture and sex it up. London's designer du jour and great equalizer of model sizes Mark Fast grew up outside of Winnipeg. Erdem Moralioglu, who won the first-ever British Fashion Council/Vogue Fund award just this week is Canadian, as is Tia Ciabani who creates intellectually elegant designs for Ports 1961. Jeremy Laing, Rita Liefhebber, Jerome Rousseau and Mikhael Kale are names making waves among editors and celebrities alike.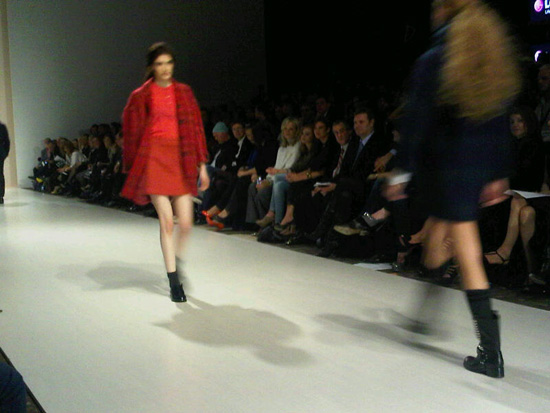 What all these designers share in common is less a tendency to say "aboot" and "eh" than the fact that none of them show (and only a couple of them work) in Canada. They appear on Style.com precisely because New York, Milan and London provide the media platform that often coincides with orders from retailers and voila, a brand is born.
Meanwhile, LG Fashion Week (like Mercedes-Benz in New York, the title sponsor gets naming privileges) continues to suffer from an identity crisis that's further exacerbated by a slew of designers who are going rogue, showing not only offsite but way outside the designated four days (also worth noting is that at three days, Milan followed a more condensed schedule this season).
More serious, the location remains in flux; there were a few glorious seasons when a tent a la Bryant Park was erected in the public square outside Toronto's City Hall but for all the upsides - proximity to the subway system, engaging the locals - the space proved too small.
The Allstream Centre on the Exhibition Grounds, by comparison, can accommodate 1,200 people. But nightclub lighting and posh seating are not enough to shake its style-stifling conference centre vibe.
It's no wonder that Kirk Pickersgill and Stephen Wong, the design duo behind Greta Constantine, menswear designer Phillip Sparks http://www.theglobeandmail.com/life/style/philip-sparks-gets-nautical-at-toronto-lg-fashion-week/article1515892/, Nada Shepherd and Sunny Fong (winner of Project Runway Canada's season two) showed outside fashion week and courted their own sponsors. This allowed them freedom to select more creative venues (an Audi dealership, the Art Gallery of Ontario) and control the entire runway process (those who show during LG Fashion Week can receive financial support through the non-profit Fashion Design Council of Canada but must also work with official sponsors Town Shoes and L'Oréal).
Still, these designers and others have very little, if any, name recognition outside of Canada, as if they are being punished for choosing to manufacture here. There are those who will say that having international presence doesn't matter to them but I don't buy that argument. Business notwithstanding, fashion is a language spoken around the world and getting the word out that a label exists only happens when people have access to it, whether in stores or in media coverage.
Generally speaking, Canadians suffer from Sally Field's "They Like Me" syndrome. We crave validation and the fact that our fashion week does not register outside our borders can feel defeating at times. That Vogue's Mark Holgate stopped into town earlier this week, invited by Holt Renfrew to attend the luxury retailer's biannual Canadian fashion presentation, seemed like a small victory. Today, Mark; tomorrow, ALT?
Wishful thinking, Andre told me when we spoke by phone last month - he was doing press for his judging stint on "America's Next Top Model." He said no one covers Toronto because they don't have the time. It's true. Editors, buyers and bloggers can be forgiven for being exhausted by the time LG Fashion Week rolls around in late March. Some designers are also quick to point out that what really matters - the trade shows, going to market and placing fabric orders - all happen much earlier in the season.
Among the reason why Smythe, Erin Kleinberg and Pink Tartan http://www.theglobeandmail.com/life/style/pink-tartan-goes-aviator/article1520161/ have made inroads south of the border (yes, they're Canadian) is because they pitched buyers persistently and ultimately landed showrooms that then helped get them into even more stores.
In town two weeks ago for her book launch, fashion publicist par extraordinaire Kelly Cutrone suggested to me that the FDCC (overseen by the excessively eccentric but ballsy Robin Kay), charter a "fashion plane" to bring media and retailers here in October. Not a bad idea. Despite some minor kinks, LG Fashion Week has much to be proud of. It's time Evan Biddell http://www.theglobeandmail.com/life/style/evan-biddells-collection-takes-us-away-from-the-norm/article1518597/ and Greta Constantine get the attention they deserve.
Canadians have achieved their spot in the fashion firmament but for the time being, we're known more for our roster of homegrown über models Linda Evangelista, Shalom Harlow, Daria Werbowy, Irina Lazareanu, Yasmine Warsame, Coco Rocha, Jessica Stam than our designers. Incidentally, you won't find these gals at LG Fashion Week except for the occasional cameo appearance each season. And there's only one label with the coffers to pay their day rate: you guessed it, Joe Fresh.
For more designer reviews and videos from LG Fashion Week, visit www.globeandmail.com/style