Gaza rockets continued to pound Israel throughout Sunday and Monday, with over 200 rockets striking residential communities and cities, wounding 12 people including a rescue service worker, who sustained moderate head injuries from a mortar in the western Negev, and a couple and their two-year-old daughter when a Grad rocket struck their vehicle in Ofakim both on Sunday. On Monday, terrorists launched rockets that slammed into two Ashkelon schools, decimating classrooms. No students were hurt as schools had been cancelled across the city for over 30,000 children because of the incessant rocket attacks from Hamas-controlled Gaza.
The coastal city of Ashkelon, with a population of 130,000 people, has been hit particularly hard in this rocket escalation.
On Sunday, a rocket slammed into a four-story building, penetrating through the roof of the stairwell, and continued on, leaving a large gaping hole in the floor of one apartment and in the ceiling of the apartment below. Two people sustained injuries from the attack and five suffered shock, while a fireman was also wounded. The run-down apartment building is home to Russian and Ethiopian immigrants as well as native Israelis.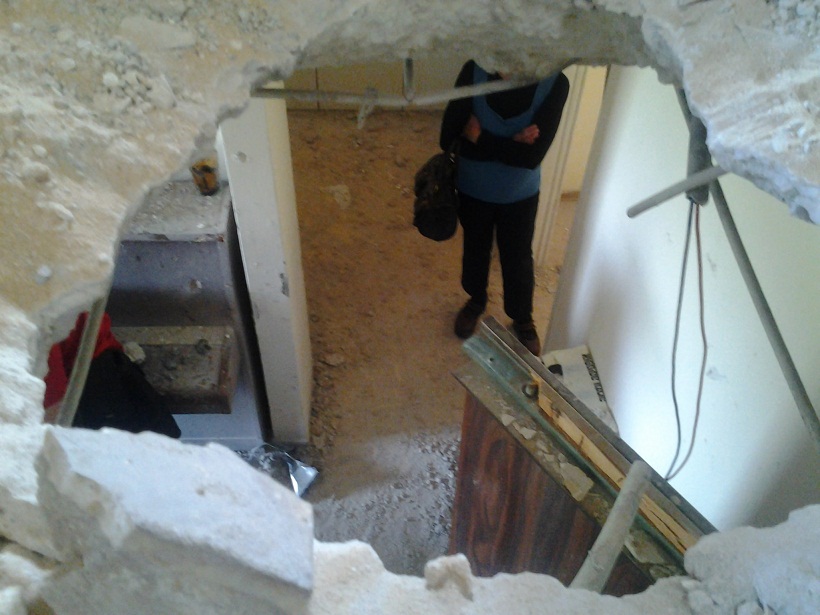 Photo: Anav Silverman, Tazpit News Agency / Description: Gaza rocket leaves gaping hole in an Ashkelon apartment on Sunday, November 18.
For Alex Leibowitz and his wife Olga, parents of four, the rocket attack could have had much more serious consequences had it not been for their dog, Louisa.
Alex was home, feeling sick, on Sunday, while his wife had left to work in the morning. At one point, their dog began barking incessantly. "Louisa just kept on nervously barking non-stop and I couldn't listen to it any longer, so l went back to the bedroom," explained Alex.
Because of the barking, Alex did not hear the rocket warning siren and remained in his bedroom. Shortly afterward, a rocket fired from Gaza struck his apartment building, slicing into his apartment door and penetrating his floor, leaving a trail of debris, shrapnel and shattered glass in its path.
"It was a miracle. Had I gone down the stairwell if I had heard the siren, the rocket would have caught me," Alex told me. Residents of Ashkelon have only 30 seconds to get to shelter once the sirens sound.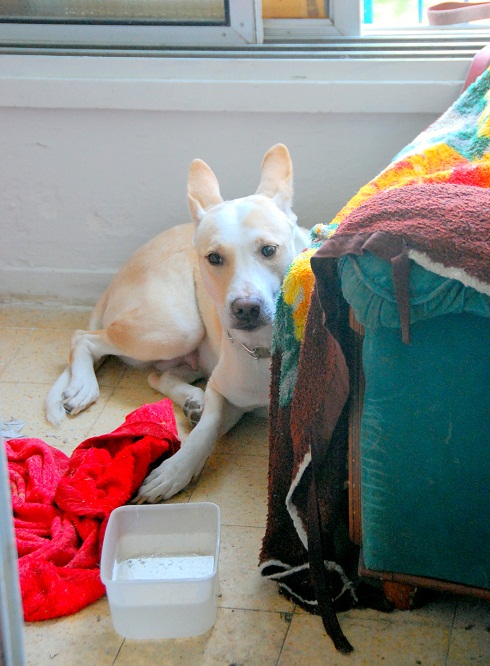 Photo: Noam Bedein, Sderot Media Center / Description: The dog, Louisa that saved her owner, Alex from an incoming rocket strike on his apartment in Ashkelon.
"There was no way that I would have made it down four flights in so little time," he said.
"It was as if our dog had some kind of sixth sense to know that a rocket was on its way," added Olga, his wife. "Louisa's barking kept my husband alive."
Although the front end of the Leibovitz's apartment has been badly damaged, the couple feels very fortunate.
"We have such a good dog," said Olga, patting Louisa's head as she now sits calmly on the porch. "We are lucky people today," she adds as she surveys the large hole in the floor of her living room. "This could have been a much worse situation."