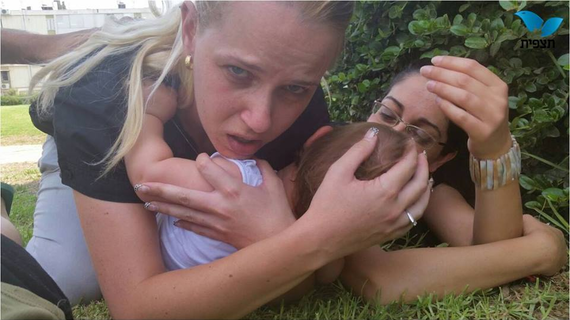 Photo: Oren Or Biton, Tazpit News Agency / A mother protects her daughter during a rocket attack targeting Beersheba, July 28, 2014.
KIBBUTZ KFAR AZA -- For Orit Zadikevitch, the return home to Kibbutz Kfar Aza with her four children two weeks ago on Thursday, August 7, was somewhat of a relief. After spending a month away from the rocket fire in the north, Zadikevitch, 43, was ready to go back to the kibbutz with hopes of a normal summer routine awaiting her and her family.
"It's so nice to be home again," said Zadikevitch, who was born and raised on Kfar Aza, a secular kibbutz in the Shaar HaNegev Regional Council. Her parents, who live on the kibbutz, were one of its first founders in 1957. Orit's sister also lives there with her four children.
"I love this kibbutz but life is far from easy," she says. "I know everyone here and we constantly worry about each other. Before this past operation, my daughter needed braces. We took her to the orthodontist and I was thinking to myself, that life would be wonderful if I only had to worry about my daughter's braces, and not about rockets or my family's survival."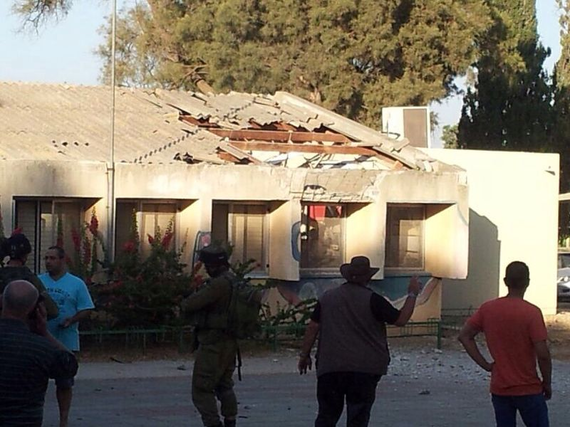 Photo: Courtesy / Description: Gaza rocket directly hits home in Kfar Aza on July 3.
Zadikevitch, along with 220 people from Kibbutz Kfar Aza were recently hosted by the WIZO Nir Haemek Youth Village, near Afula, which housed and provided meals for families from the south seeking refuge from rocket attacks and terror infiltrations throughout Operation Protective Edge.
"It isn't easy to keep the kids busy and calm during the war," Zadikevitch said in an interview. Her four children, Gali, 7, Lior, 11, Neta-le, 14, and Liran, 16 all deal with the rockets differently, and the youngest children are extremely edgy according to Orit. "My seven-year-old keeps talking about death, and she tells me -- mommy, I don't want you to die."
Orit's 11-year-old constantly draws monsters and guns. "When he wants something from us, he dresses up as a Hamas terrorist and makes demands. We try to laugh and use humor in this situation but the fear is always there."
She and her husband, Omer, decided it was best to temporarily relocate the family away from Kfar Aza, which is located about two kilometers away from the Gaza Strip once Operation Protective Edge began on July 8 to stop the rockets.
"We know from previous experience during operations, that our kibbutz will get hit by a rocket at least once every hour, sometimes up to 12 rockets a day," said Zadikevitch. The rockets indiscriminately target the kibbutz and can fall anywhere. Six years ago a mortar rocket killed a kibbutz member, Jimmy Kedoshim, while he was standing in his garden. During the last few weeks of war, Gaza rockets have directly hit several homes and one kindergarten on Kibbutz Kfar Aza.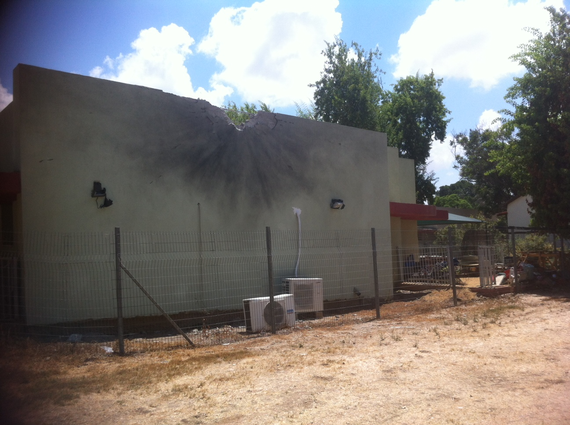 Photo: Courtesy / Description: Kibbutz Kfar Aza kindergarten hit by Gaza rocket during Operation Protective Edge.
"After we were alerted to the terror infiltrations in our region and after experiencing a kibbutz lockdown during an attempted attack through a terror tunnel, I said this is something we cannot deal with, and we left," Zadikevitch recalled. Her husband had to stay behind on the kibbutz because of his work managing the kibbutz's situation room. In the beginning, the Zadikevitch family stayed with friends in Kfar Saba and travelled to other areas of Israel, until WIZO Nir Haemek Youth village opened their dormitories to Kfar Aza evacuees, covering all costs.
Most of Kibbutz Kfar Aza fled north, with only 100 members of the 800 residents staying behind on the kibbutz. On Thursday, August 7, busses brought back about half of the families of Kibbutz Kfar Aza who decided to return after the Egyptian-brokered 72-hour ceasefire went into effect and the army and Home Front Command recommended that it was safe to return.
"Most of the families have now returned to Sha'ar HaNegev," Alon Schuster, Head of the Sha'ar HaNegev Regional Council told the Jerusalem Post a week and a half ago before the heavy rocket fire was renewed on Tuesday, August 19. "But the tension is still in the air as well as the anticipation for what will happen next."
"We are disappointed with Hamas's actions, but in the meantime we are working with the Israeli government to continue to develop the region both demographically and economically," Schuster said.
Sha'ar HaNegev Regional Council, located in the western part of the Negev, is made up of 11 communities including 10 kibbutzim and one moshav. Its western part is bound by the Gaza Strip and the region's 7,000 residents have been the target of rocket attacks for 14 years.
In Kibbutz Nir Am of Sha'ar HaNegev, Oren Yechezkeli says he doesn't let the rockets get to him. "We're used to this," he said. "To say that I don't get mad and frustrated that this hasn't stopped would be untrue, but home is home." Yechezkeli, a video editor and lecturer at Sapir College near Sderot has been living in Nir Am for 15 years with his family. He is currently building a new home on the kibbutz. "I want to live here -- we have a beautiful life in this region except the rockets."
However, while most of the residents returned to Sha'ar HaNegev, residents of Kibbutz Nahal Oz, located next to Kibbutz Kfar Aza did not take chances for fear of further rocket attacks and terror tunnels. On Monday, July 28, a group of Hamas terrorists emerged from a terror tunnel that had led directly to Nahal Oz from the Gaza Strip. IDF forces were able to thwart the attack and killed one of the terrorists while the remaining four fled back to Gaza.
"We are very confused right now," Zadikevitch told me. "People ask us why don't you just leave? I've lived here for 43 years and I can't just turn my back on my home and my life because of these Hamas terrorists. Our plan is to stay, we don't have a choice and we want the government to offer some kind of permanent solution," said Zadikevitch, who works in Sapir College near Sderot.
Zadikevitch also pointed out that she and her family do not feel alone in their plight for a normal life. When the family returned to the kibbutz on Thursday, an Israeli TV channel interviewed them. Following the airing of the report that night, Zadikevitch said that she received an outpouring of phone calls and e-mails from complete strangers in the country, with some offering to host her family for a period of time and others inviting them for dinner and vacation. "This support gives us strength; this is what is so amazing about Israel," she says.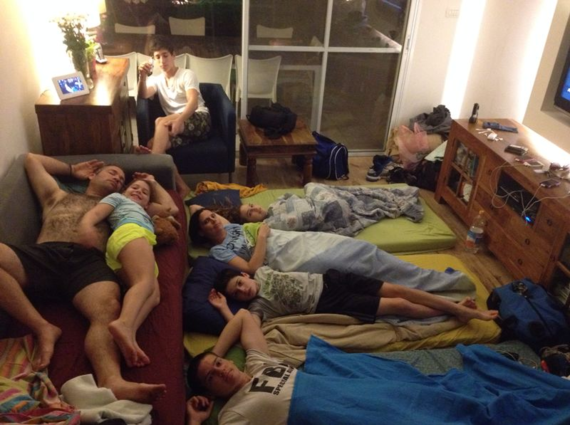 Photo: Courtesy / Zadikevitch family camps in a friend's home in Kfar Saba in central Israel during the worst of the rocket fire.
But the happiness of finally returning home for Kfar Aza residents, was quickly shattered when Hamas fired some 61 rockets at southern Israel throughout Friday. Two Israelis in Sha'ar Hanegev were injured including a well-known Kfar Aza resident, Dr. Nahmi Paz, the director of Sapir College, whose hand and leg were pierced by shrapnel pieces from a Gaza rocket. It was not Paz's first time experiencing a hit. Two years ago, a rocket landed right outside his home and he suffered hearing loss from the deafening rocket explosion.
"We only have one life to live and I want it to be a peaceful one," Zadikevitch said. "I told Dr. Paz that while those Gaza rockets may have injured him physically, they will never hurt his good heart. That's how I feel about the rockets in general, that they cannot hurt the heart of our community no matter the damage they do on the outside. We teach our children morals and appreciation and life for humanity. My daughter, Gali, asked me recently if our kibbutz could take in all of the children of Gaza to protect them from Hamas. That kind of empathy Hamas will never be able to destroy."
This article was originally published in the Jerusalem Post: www.jpost.com.