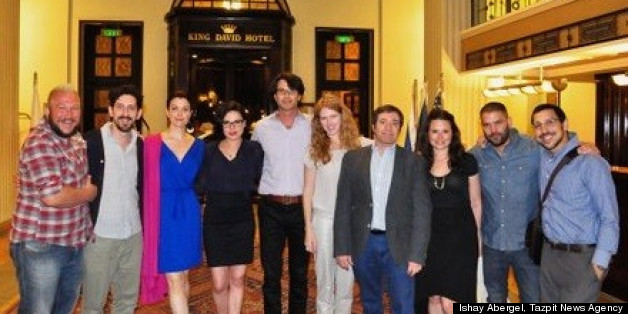 At the Western Wall on Friday night, a group of stars from the hit American TV shows Scandal and Once Upon a Time found themselves immediately recognized by religious Jewish prayer-goers.
''People approached us at the Western Wall, saying they watch our shows,'' said Katie Lowes, who stars in the new American political thriller television series Scandal, created by Grey's Anatomy's Shonda Rhimes.
''It has been an amazing experience, visiting across Israel. But the visit to the Western Wall and the Shabbat dinner that followed, was truly a highlight,'' she added. ''It was beautiful to hear the people singing and praying and to be part of a Shabbat dinner with a family in Jerusalem.''
The Hollywood celebrities spent a week touring Israel in a trip led by America's Voices in Israel (AVI) director Irwin Katsof, and sponsored by El Al Israel Airlines and the Israel Ministry of Foreign Affairs. The group spent time in the Golan Heights, Haifa, Tel Aviv, Masada, Dead Sea and Jerusalem, from April 29-May 5.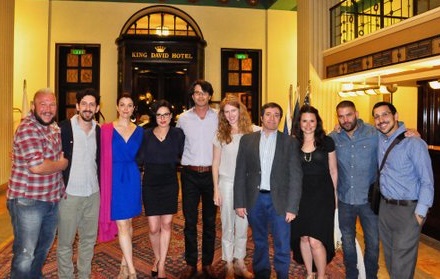 Photo Credit: Ishay Abergel, Tazpit News Agency / Description: Hollywood stars visit in Israel.
Lowes' husband, Adam Shapiro, who also stars in Scandal told Tazpit News Agency that Israel had drastically changed since his last visit to the country 17 years ago.
''I came here when I was 16 with my Jewish summer camp. So much has changed since then,'' he said. ''I'm familiar with Tel Aviv and the central region of Israel, but I had never been to the Golan Heights before. It was beautiful and so were the residents -- you feel the real Israeli pioneer spirit there.''
''There is so much to appreciate here,'' adds Bellamy Young, who plays the first lady in Scandal. Young was particularly impressed with Rambam Medical Center in Haifa, citing its medical advancements in stem cell research.
''For such little space, there is so much scope here both historically and in every imaginable way. From a history of persecution to vibrancy, it was amazing to learn how much can be done in 65 years,'' she said.
In addition to visiting different areas across Israel, the group met with a range of influential Israeli personalities and figures in hi-tech, entertainment, media, medicine, and politics, including the former Israeli ambassador to Italy, Gideon Meir, who hosted the group at a dinner in Jerusalem's King David Hotel on Thursday night, May 2.
At the dinner, the portrayal of Israel in the media was discussed. ''At any given time, there are 1,000 foreign journalists here,'' Meir stated. ''However, most of those journalists are not here to cover Israel, but the conflict.''
''There is a big misunderstanding about Israel,'' said Lana Parilla, who stars as the Evil Queen on ABC's Once Upon a Time. ''There is so much more to this country than what we see back home. Seeing Jewish values like the importance of family and the pride people have in this land has been inspiring.''
''There are so many sides to everything that goes on here -- it was so helpful to hear all these perspectives, coming from the outside as Americans,'' added Lowes.
The other participants in the trip included Guillermo Diaz from Scandal and Julie Walker, the art director of the hit CBS TV series The Mentalist.
Once Upon a Time, Scandal and The Mentalist are all aired on Israeli channels.