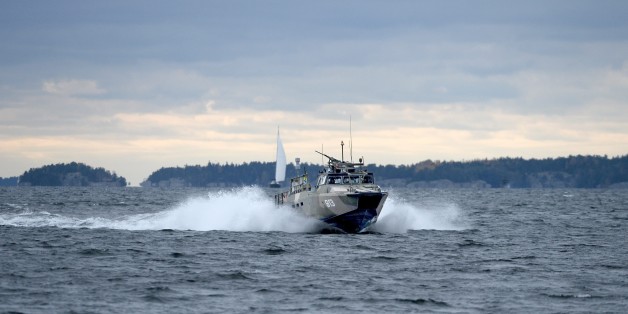 The Swedish Armed Forces were put on high alert this weekend, as there was an apparent intrusion -- not for the first or the last time -- by a Russian submarine into Swedish territorial waters, in the Stockholm Archipelago. Not a situation that should make Swedes more confident that their centuries old neutrality and non-alignment is enough to provide for the protection their democratic society needs against outside aggression. This aggression could come without warning and in unexpected ways and forms, and no automatic help will be under way.
In his first major speech since becoming Prime Minister of Sweden last month, Stefan Lövfen was unequivocal about his country's relationship with NATO. He declared that the "country's non-alignment policy is sufficient and that membership in the alliance is now off the table." Although no one expected Mr. Lövfen, a Social Democrat, to suddenly embrace the idea of Swedish NATO membership with a fanfare, why bother taking it off the table in such a haste? Why make Russia feel that its policy of intimidation and propaganda, subversive actions in European civil society and among the publics has worked. The explanation that the Greens, a key coalition partner, "would never agree to this" is just not good enough. In politics as in life itself, n-e-v-e-r is never an option.
Sweden is today one of NATO's strongest and most trusted partners. This has manifested and proved itself through Swedish contributions to the NATO-led international operation in Afghanistan and the military operation in Libya. As a result, the recent NATO Summit in Wales the status of Sweden (together with Finland, Georgia, Australia and Jordan) was elevated to an "enhanced partnership". This move was preceded by a recent Swedish decision to grant the NATO response force (NRF) access to its territory at times of crisis. These decisions mean that Sweden is continuing to move forward towards a closer partnership with the Alliance.
This is good, but perhaps not good enough!
Due to the change in the Russian strategic posture, the security environment in Europe as a whole has altered dramatically in recent years. Even more so in the Nordic-Baltic region. Russia is now a resurgent and increasingly aggressive power. In this situation, joining NATO would serve a strong Swedish and regional security imperative. It would give Sweden the Article 5 protection it deserves but currently lacks in the event of an attack -- conventional or unconventional-hybrid. The latter is increasingly a possibility, as we have seen in Ukraine earlier this year. That crisis has also clearly illustrated the difference between a member and a non-member of NATO.
The arguments that such a move would provoke Russia, repeatedly cited by Russia and critics of NATO in the West, should be dismissed. The contrary is true. It is currently, and repeatedly, Russia who is provoking Sweden. These provocations are likely to continue, as the recent intrusion shows, as long as Sweden is in a "security grey zone."
While we strongly argue that joining NATO is important to Sweden, it is perhaps equally important to the Alliance itself. As a member, Sweden (and for that matter Finland, which faces the same dilemma) would be able to contribute not just with its well-trained, rehearsed troops and military assets -- something that already goes a long way towards helping NATO protect the three vulnerable Baltic states. It would also add to the political integrity and cohesion of the Alliance. In addition, Sweden's strong democratic and human rights credentials would strengthen the values that NATO stands for, which is especially important when democracy in some of the member countries is sliding fast. The voice of countries like Sweden is badly needed within the Alliance these days.
Sweden has the healthy ambition to play a leadership role in the European Union. This role would be enhanced by NATO membership. It would give the county an even stronger voice in the transatlantic debates. And while Europe will not be able to care for its own security in the foreseeable future, as its responsibility for its neighborhood will continue to grow, strengthening security and defense cooperation between the EU and NATO is a must. Sweden as a NATO member could and should play an big role in defining the future of that cooperation.
Finally, by getting a seat at the table, Stockholm would be able to influence and shape the future direction of the Alliance itself.
Staying on the outside is Sweden's choice and the decision whether to join NATO is of course Sweden's own. This decision cannot and will not be forced upon the Swedish people. When Sweden decides that it wants to apply to become a full member, when it decides to embrace all the rights and responsibilities that come with membership, it will be the sovereign decision of Sweden. However, Sweden's friends are right to make the case for that decision to be taken soon.
So soon that perhaps the right time for Sweden to become a NATO member is now. In order to keep Red October away from the Stockholm Archipelago.