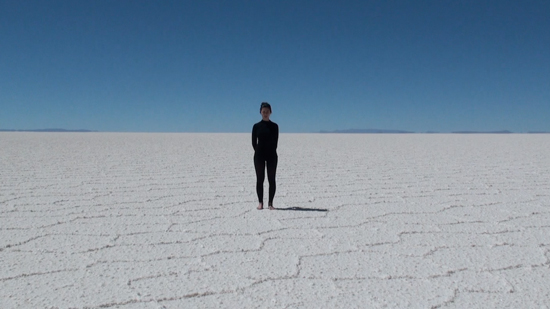 Dia Felices, Isabel Ramil
(Photo courtesy of the artist)
The video-art Días Felices was created from a very personal experience. While still an arts student, Isabel Ramil lived a period of intense loneliness. The image of someone's head inside a plastic bag summoned up to the artist her own feelings and perceptions at the time. Too simple an image and too personal an experience to be made into art, she thought at first.
A few years after, during a workshop in the Bolivian salt desert she revisited the experience and image through the character Winnie, of Samuel Beckett's play, Happy Days. Someone who spends the whole play buried up to her neck, the opposite of the image that the artist had thought of.
Deserts often host a richness and variety of life that remains hidden from its hostile environment. Dry, they are the ideal place for the conservation of artifacts and fossils. It is a place of concision, ampleness and preservation. And it is in a desert that the video's character goes to suffocate herself in a veiled and very human desire to remain, to be preserved, seen and remembered.
Accompanying the character's action and the panorama of the desert, is the narration of the text of Happy Days in Spanish, Días Felices. The public, non Spanish speaking in its majority, be it in Brazil or in Croatia, is then confronted with more than one desert: the physical and the metaphorical. "Everything is strange here," says Winnie. "Todo es extraño aca," says Isabel.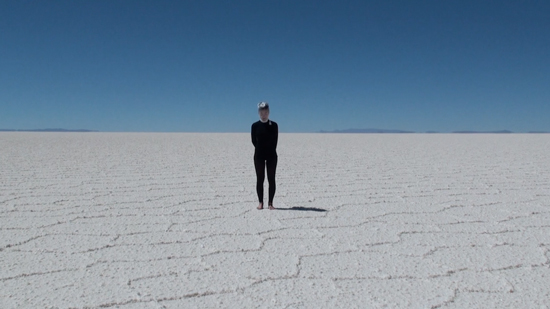 Dia Felices, Isabel Ramil
(Photo courtesy of the artist)