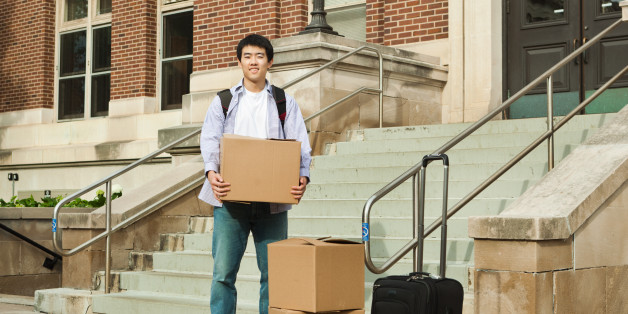 Back-to-school season is upon us, and whether you're college- or graduate school-bound, you and your family are probably busy making preparations. Beyond the textbooks, class scheduling and new outfits, one important item not to be overlooked is the moving process itself. In order to avoid a late start, make a checklist of all the items you will need to have in order before heading back to the classroom.
On Campus or Off?
Hopefully by now you already have the where-you're-going-to-live part squared away, but in case you're in a last-minute housing bind, contact campus housing immediately. You might still have time to get into the campus residence halls, but a better option at this stage would be to check out local rentals that are conveniently close to campus. College housing might be cheaper, but you will enjoy less privacy. Besides, there might be a lot of restrictions; for example, some dorms don't allow pets, and there may be smoking and noise restrictions and guest policies. On the other hand, college residence halls are located conveniently on campus and usually provide basic furnishing. Both have their pros and cons, but make your choice in a timely manner! College halls have deadlines for applying.
Packing Guidelines and Checklist
Once you know how much space you have to work with, you will have a better idea of what to pack. If you are sharing a home with roommates or living on campus, personal space may be limited, so pack light and consider investing in some thoughtful organizers to make the most of your space. Determine priorities when packing. Your standup punching bag may relieve stress, but it might leave you without space for your favorite bean bag chair (perfect for studying!).
If you are moving to a furnished property, you should be able to move with a lot less stuff. However, on moving day you might not feel like unpacking completely after a long and exhausting day. Put together a moving day "carry-on" bag, a small duffel bag of necessities that you can easily access right after the move and on the first few days of classes. You may want to include:
Personal-care necessities: clothing, soap and shampoo, flip-flops, a towel, toothpaste and a toothbrush, deodorant, hair products, and cosmetics
School supplies: laptop, pens and pencils, notebooks, sticky notes, and highlighters
Medications and documents: headache pills, cold and flu medicine, first-aid kit, and personal documents like your passport or class schedule
Self-move vs. Hired Movers
One of the biggest decisions you will need to make is whether you are going to move everything yourself or hire movers. If you are only taking the minimal amount of stuff, you may be fine with a self-move. You can always ship a couple of lightweight boxes yourself. Make sure you do not become a victim of theft by leaving your car and dorm room doors unlocked while going back and forth.
If you are moving furniture and a significant number of boxes, you could rent a moving truck and handle everything on your own, but hiring a mover is much easier and can often save tons of time and hassle in the long run. Today, there are plenty of options for easily booking a move online, such as our service, Unpakt, which allows you to compare prices and reviews of reputable moving companies that can get you moved into college. If you rent a truck yourself, you will need to determine where to drop it off, and you will have to find out whether there are time restrictions. Do you have to refill the tank, and will you be charged for mileage? Are your belongings insured during transport? There are a lot of questions that you need to ask. Plus, you have to exert yourself loading and unloading the truck. Keep in mind that you may need to park in a nearby parking lot, which could be a long distance away from your dorm room.
Should you decide to hire a mover, you will want to compare prices, but make sure that you are comparing like services too. Let them know whether they will need to park a long distance from your dorm or apartment, and whether there are multiple flights of stairs. This will ensure that you get the most accurate quote possible. Try to schedule the move during the week, and at least a week before school starts. This will save you money, because movers are typically overwhelmed the week classes start, especially on the weekend, and therefore generally charge more.
Having a checklist to help you with your move will help you stay focused and organized during your transition to college or graduate school. Heading back to school should be fun, so start your preparation as soon as possible to enjoy a stress-free move.