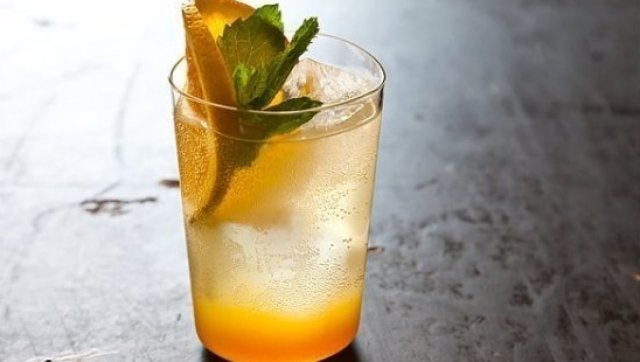 Restaurants and bars in Washington, D.C. are turning up the heat with special menus and creative cocktails for the season. Some celebrate the inauguration of Barack Obama, some celebrate the New Year (Chinese and otherwise) and some simply celebrate the quiet bounties of winter.
Winter Cocktails in the Capital
Tucked inside the Park Hyatt in the fashionable West End of Georgetown, the Blue Duck Tavern
was named one of Washington's best restaurants by Zagat. This winter it's stepping up its cocktail offerings with 15 new drinks that will help warm your spirits. Highlights includes Spiced Hot Chocolate, which is made with Captain Morgan, crème de mente, house made hot chocolate, and whipped cream, and Spicy Winter, which combines infused allspice, Drambuie, Absinthe, half and half and coffee foam, agave, and a lime wedge. A classic Hot Toddy is crafted with Dewar's scotch, honey, hot water, cinnamon stick, cloves and a lemon peel. Cocktails are priced at $14.
The Hamilton, an after work playground in the city's Penn Quarter, is part bar, part restaurant, part nightclub. This month it's celebrating the inauguration with two special cocktails. For $12 you can toast the re-election of Barack Obama, the 44th president with the "Perfect 44." A riff on The Hamilton's version of a "Perfect Manhattan," it taps FEW Bourbon from Chicago and is fortified with Vermouth Blanc instead of Vermouth Rouge. In honor of Obama's birthplace, resident mixologists will be sending out $10 Executive Punch, made with rum from Hawaii.
Proof, also in D.C.'s Penn Quarter, is known for its contemporary chic and rustic warmth, as well as for its hip bar and lounge. On January 13th and 27th from 6:30 until 9:30, bar manager Adam Bernbach will offer special Sunday-only cocktails. On the 13th, the bar is rolling out its Daiquiri and the following Sunday, sidle up to the bar for Proof's version of the Whiskey Sour.
D.C. Restaurants Take Off the Chill
This year was a very good year for white truffles. Fiola, which has earned legions of foodie fans thanks to Chef Fabio Trabocchi's's insistence on perfectly prepared modern Italian food, is celebrating this good fortune. Until mid February guests can pick the truffle of their choice from a selection of different sizes to be used in dishes designed to show off their flavor, like risotto, tagliatelle and sunny-side up eggs. Fiola will also provide each diner with a slicer so guests can shave generous curls of truffle onto their dishes.
Cuba Libre, the lively restaurant designed with pre-revolutionary Cuba in mind and commandeered by Chef Guillermo Pernot, has kicked off the New Year with a few Cuban specialties designed to warm up weary winter bones. A few highlights available only this winter: Montaditos de Boquerones, which is Cuban bruschetta, topped with white anchovies, hardboiled egg, and piquillo pepper spread; Mejillones Mar y Teirra, a dreamy combination of Prince Edward Island mussels poached in rich lobster broth with roasted garlic, Berkshire pork belly, caramelized onions, steamed kale and slow roasted tomatoes; and Pancita de Puerco, a honey-soy glazed Berkshire pork belly, pinchos, and vigorón slaw served with crispy chicharrones.

Wolfgang Puck's The Source has earned its place among the culinary Pantheon in D.C. One of the best ways to tap the creative spirit of this kitchen is at The Source's annual Chinese New Year celebration. On Monday, February 11th, Wolfgang Puck will personally oversee a six course classic Chinese New Year menu complete with an assortment of dumplings and XO chili lobster for $135 per person.
The downtown location of 701 has made it a staple on the D.C. dining circuit. Chef Tony Conte, who came to D.C. directly from Jean Georges in New York, is Italian and his heritage shines through. The restaurant's winter menu showcases the best of the season with creamy house-made burrata paired with hazelnuts, smoked gargenelli with lamb ragout and a cider-braided pork belly served with celery root puree and savoy cabbage.