Brazil had always attracted me, its pulsating, primal beat grabbed me from the first strains of the Getz/Gilberto classic rendition of Girl from Ipanema, which I heard at the Newport Jazz Festival in 1964. I was just a kid.

Ten years later, I would sneak into Sounds of Brazil, a nightclub in Lower Manhattan with my Brazilian boyfriend, Oscar; we'd stare into each others eyes and sip caipirinhas. "Oh, but I'd give my heart gladly... " to paraphrase the song.
When I was at NYU film school, my best friend was from Copacabana, laid-back and loaded, she spoke English with a mesmerizing Rio drawl.
I traveled the world, but never made it to Brazil, a country that also daunted me. It had its share of socioeconomic problems, crime was on the rise and I wasn't sure it was a place I'd feel comfortable visiting on my own, or even with a friend.
When Vladimir Jandov, an Iyengar yoga teacher from LA, organized a yoga retreat recently at Dharma Shala, a retreat center and posada on a 2,100-acre eco-preserve in the middle of the pristine American Forest halfway between Rio and Sao Paolo, I suspected it would be the perfect way to check out the country. Dharma Shala is eleven kilometers from Parati, a 16th-century colonial port town (and UNESCO World Heritage site), on a section of the Brazilian Coast known for its majestic beauty. If you're into the most verdant mountains you have ever seen cascading down to the most beautiful beaches -- and who isn't? -- this is the place. So I signed up.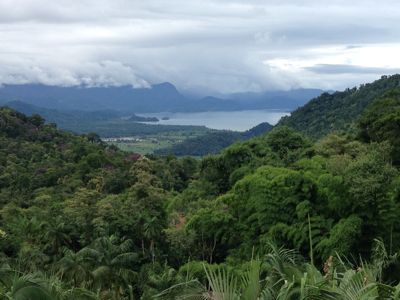 Dharma Shala: South of Rio
Since I would be going to the International Film Festival of Panama after the retreat, it was a no-brainer to book a flight on COPA, one of my favorite airlines for flying to South and Central America. When it comes to service and price, COPA generally beats the American competition hands down and my Los Angeles to Rio flight was no exception. If you book in advance, you can generally find a business class ticket on this route for less than the American carriers charge for a flight from Los Angeles to New York.
You can tell a lot about a country by the airport. Though the line to get through customs was long, it moved quickly; my bag awaited me on the conveyor belt. No shady dudes trying to push me into a taxi or sell me World Cup t-shirts. A Havaiana store! No threatening vibes whatsoever. Whew.
And Copacabana, where we spent the first night at the Orla Copacabana Hotel, a mid-range hotel with lots of bang for the buck opposite the famous beach, was about as threatening as Laguna. I had imagined samba music blaring from boom boxes, girls with legs as long as goal posts and colorful thong bikinis flirting with guys with ripped bodies and perfect tans, and just the right amount of activity and diversion to make it easy for the myriad pickpockets to ply their trade. The beach was nearly empty; we easily found a spot to accommodate a yoga class. We had our pick of the best tables at restaurants lining the shore. Cabs were abundant. It was a hassle-free city by the sea.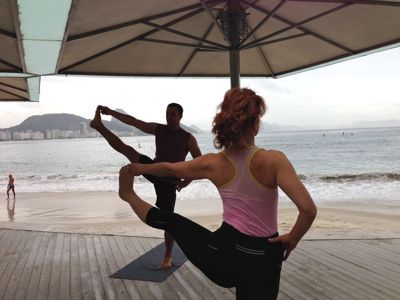 And that evening, three of us -- all attractive women -- walked along the famous chiaroscuro sidewalks from Copacabana to Ipanema feeling as safe as we would on the Champs Elysees.
The next day we drove three hours south along the coast, through sumptuous countryside, to Dharma Shala, a property wild with natural splendor. My comfortable room had a view of the ocean, though from my window, it looked more like a mountain lake -- think Lake Atitlan in Guatemala -- than the Atlantic.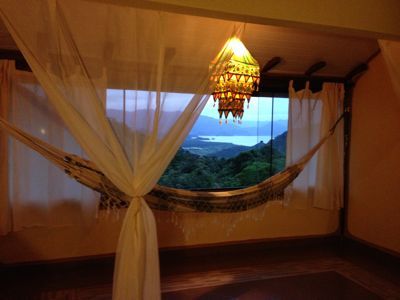 Dharma Shala: room with a view
The week-long retreat certainly delivered. We had yoga class twice daily in an open-air studio rife with bird-song and butterflies, hiked to waterfalls, cruised deserted beaches and were nourished with gourmet vegan fare that came straight from Dharma Shala's biodynamic garden. There was no cell nor Internet reception, no television -- no distraction period -- and after a week spent aligning my physical and emotional rhythm to the universe's, I was ready to explore Brazil a little.
Back in Rio, I checked into the JW Marriott on Copacabana Beach, where I knew exactly what I'd get: a great bed, down pillows and beautiful linens, a marble bathroom, CNN, a fitness center with a steam room and a staff fluent in English. I booked a club level room, which meant non-stop food and drinks from breakfast through happy hour, plus a dedicated concierge who sent me over to a club originally owned by Vinicius de Moreas, the Brazilian icon/songwriter/diplomat who wrote the words to "Girl from Ipanema." Finally, I got my bossa nova fix. The JW is right down the avenue from the grande dame of Rio hotels, the Copacabana Palace, and about half the price.
What to do with 36 hours in Rio? Aimlessly stroll those black and white mosaic sidewalks. (In my Pakems -- a marriage of flip-flops and tennis shoes -- I could go non-stop.) Sit in a sidewalk cafe and people-watch. Check out the artsy Santa Teresa neighborhood with its narrow, winding streets, and steep and colorful tile staircase -- think the Santa Monica steps transformed into an art project.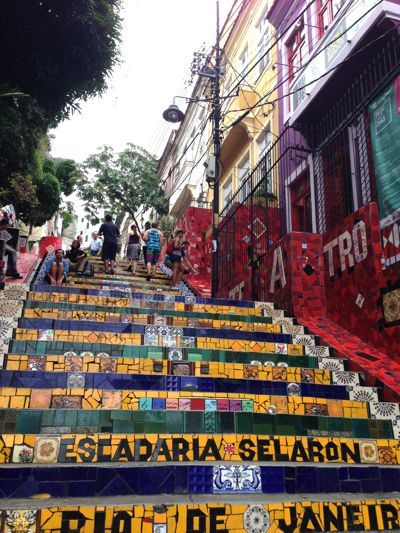 It's also worth a trip to see the breathtaking views of the city from Corcovado, where a giant statue of Christ looks down upon the city. You'll probably want to eat a feijoada, the national dish; watch a beach soccer game; and listen to some live samba and bossa nova.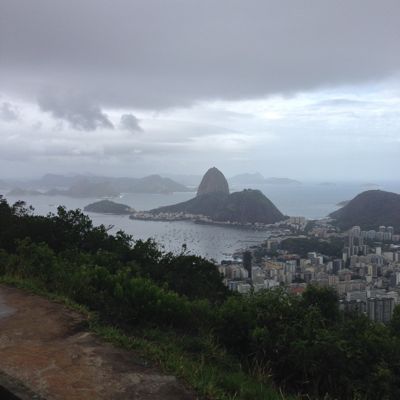 Then, you'll be ready to head north.
I had heard about Buzios for years. "It's the St. Tropez of Brazil," is what everyone says about the peninsula three hours north of Rio that got its reputation after French film star Brigitte Bardot, who lives in the real St. Tropez, visited in the 1960s. I found the ambiance more Caribbean than Mediterranean; Buzios's 27 beaches, each with its own personality, give it an island vibe -- it reminded me more of St. Barts. The main harbor -- which everyone calls Bardot Beach and where tourists photograph themselves next to the bronze Brigitte Bardot statue -- is picturesque with its cobblestone streets, cute shops and expensive bistros. We visited a few beaches, including one that required driving through a jungle, where a local fisherman/artist sold delicious stuffed mussels from his hand-made Gaudi-esque beach shack.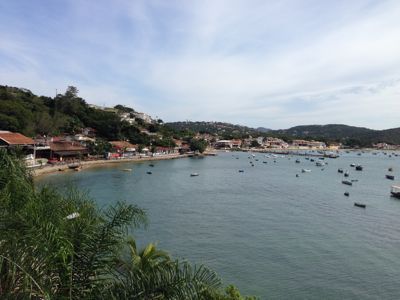 Casas Brancas, the trendy, boutique hotel where I stayed, was walking distance from town; the rooms, elegantly simple, are built into the mountainside overlooking the beach below. My terrace, with its harbor view, was terrifically enticing; it was hard to do more than lie on the comfy chaise and watch the sunlight play upon the turquoise water. A hearty breakfast served in the hotel restaurant -- one of the best in Buzios -- is included in the price.
I also visited Villa Chiara, a magnificent 19,000 square foot compound built by Italian architect Marco Tilesi on one of the highest points on the peninsula. The villa, which can easily accommodate 14-16 guests, is filled with artwork and antiques and can be rented in its entirety when Tilesi is not in town. A gracious staff will cater to your every need, including the preparation of gourmet meals with ingredients straight from their private organic garden.
Though I was in the country nearly two weeks, I could have easily stayed longer. But now that I know how comfortable I feel there, I will make plans to return soon. Bahia seems to be calling: Salvador da Bahia, Trancoso. Doesn't COPA fly into Recife now? Stay tuned.