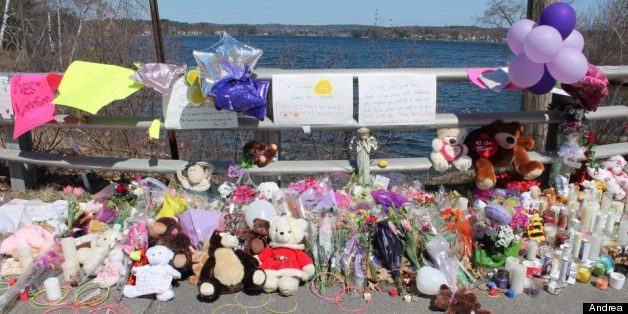 On April 19th, as millions were glued to TVs, radios, cell phones, awaiting news about the Boston bombing's second fugitive, many of us still had to go through the motions of everyday life. In my house at 2:30, like usual, Eldest strolled through the door. It was his last day of school before Spring Break. He had his report card (full of A's!) in his hand. I was thrilled, relieved that we made it through another term.
The sun was finally shining. It was almost 70 degrees -- a first for us here in New Hampshire. Three of Eldest's friends came over. They were all so happy to be outside in the sun, off from eighth grade for nine wonderful days.
And then.
Sirens. Coming from everywhere. Loud, screaming wailing sirens. Police flying by, ambulances, fire trucks.
My mind turned to Dzhokhar Tsarnaev in Boston -- the most wanted man alive in America at this moment -- because I'd been listening to NHPR all day, praying for the people locked in their homes, hoping for some type of peaceful ending to this horrible week we'd endured.
The kids stopped playing to watch the chaos as emergency vehicles flew by -- and then they continued to play a throw around game of lacrosse. I looked at them and thought, Ahh, as it should be. They shouldn't be concerned with Dzhokhar and the nightmare happening over an hour south of us. They should play. I, on the other hand, had to go get Middler from school and was hoping my two minute drive over, while listening to NHPR, would bring some closure to the news story.
I made my way to the school listening intently. Nothing new. Just the same awful factoids. Awful. Thinking of friends and family in Boston not knowing what is going on, where this guy is, or what other explosives are waiting at any random location.
I walked up the sidewalk to the school. As I chatted about the news with some Mom friends while waiting for our kids, we were deafened by the sound of a helicopter overhead. We looked up into the blinding sun and I realized it was the Dart -- the medivac helicopter that transports people badly injured to Dartmouth Hitchcock Hospital. Someone was in trouble.
I greeted my little guy with a huge hug and smile as he yelled "CAN YOU BELIEVE IT'S SPRING BREAK!?"
Our two minute drive back home was loaded with questions about what we were doing that night, the next day, when we would go to the park, where we should we go with our time off, what kinds of exciting things should we plan? It gave me a smile knowing that no matter what is going on in the world, if you have little ones, they bring you back to a sense of normalcy through their innocence, and you have to keep going, planning and moving forward.
I pulled into my driveway to find my 13-year-old and his friends huddled together, looking at their phones. This scenario, as many of you with teens know, is not uncommon since they are always on their gadgets, usually laughing at funny apps, texts and social media. But I got out of the car to find the look on Eldest's face to be somber.
"What's up? Is everything okay?"
He started to tell me that two of his friends were walking home from school when they were struck by a car that swerved off the road and up onto the sidewalk. A dozen kids were also walking home and witnessed the accident. And boom -- the texts between these middle school kids began -- a constant barrage of scary information.
I stood in the driveway contemplating what happened, and heard the piercing sounds of the Dart overhead. It was coming back for the second young victim.
We waited for answers and the whole community prayed. These were our kids who were hurt, not biologically, but we are a tight-knit group. We, the parents, have been in this together since the first day of Kindergarten, through all of the holiday concerts, and Little League, and Friday Family Bingo nights, parades, plays and what-not. Those sidewalks are visited and traveled on by all of our kids; it could've been any of them. On Friday, it was two lovely beautiful souls in the wrong place at the wrong time.
We remind our kids to walk on the sidewalks to stay safe. And now our sidewalks aren't safe either? Horrific. We prayed for a miracle, if there is such a thing, and we hoped that this was all somehow going to find a peaceful resolution just like we wished for the standoff in Boston.
Hours passed, texts ran rampant. My husband and I tried to stay occupied in front of the TV, watching them corner the fugitive in the boat in some poor man's backyard.
Then, Eldest yelled for me from his room. I ran upstairs to find him with his head in his hands. "They keep texting R.I.P. Lily...," he whimpered.
"Nooo honey... So many people are texting... You can't rush into anything; just wait until we know for sure. I'm sure everything is going to be all right." And I hugged him and doubted myself and thought I don't know that for sure, but I said it anyway.
I was startled out of our hug by the phone. It was my girlfriend, verifying the rumor. One of the girls hadn't made it. Eldest read my face and sat straight up. I made my way over to him. He buried his face in my shoulder and cried. He stayed there for a bit and finally pulled back to regroup. We were quiet, sitting in the dimly lit room.
Not too long later, I took him down to meet some classmates at the scene of the accident. Just a stone's throw from the school, a path taken by school kids all the time. The kids stood in a large circle and hugged each other and cried and cried and cried. And we parents stood together, quietly, with an understanding among us that we were in this together -- and it was hard.
Lily was kind. She was everyone's friend. She was the kind of kid that they all knew and could honestly say was nice to them. Her face lit up the room and her laughter was contagious. And she was gone. How can these middle school kids process this nonsense when we couldn't process it ourselves?
The driver who hit the girls, rumor has it, was texting and she rode up onto the sidewalk. It's not up to me to judge. I'll leave that for the police and the investigation, but she will have to live with a mental death sentence, knowing she ended a precious life and maimed a thriving 14-year-old girl. If she was texting... I can only hope that people will learn from her and stop -- stop texting while driving. Stop. Stop. Stop. Whatever the case ends up being, I'm sure her life will never be the same either.
Over the weekend, we went to the school where grief counselors were on hand. Eldest and his friends pulled together, sometimes quiet, sometimes chatty but always somber and always heavy. The kids walked down to the scene again and left flowers, teddy bears, candles and posters, in honor of their friend that they lost, and their other friend that remained in critical condition in the hospital.
The bridge on the corner at the scene of the accident looks over a flowing river of water that pours into one of the area's most beautiful lakes. The kids cried. Their tears fell into the river and were enough to make it overflow in a way and I thought to myself, Let it out kids, cry a river, it's okay, we will swim again. We will swim again -- even if it is in a river of tears from so much unnecessary, unexplainable sadness. We will swim again even if I have to put you on my back. It's okay, I will do it. We will carry you. And my mind went back to Boston and the voices saying "We will run again."
On Monday, exhaustion hit me. I'd been strong all weekend, and it finally caught up to me. As I sat quietly, while my husband took the boys for a bit, I thought back to my baby shower when I was pregnant with Eldest.
I got clothes... so many clothes.
Pacifiers.
Bottles.
Teddy bears and books.
Silly advice: Sleep when they sleep! Try to breastfeed! Don't try to breastfeed! Let them cry it out! Don't let them cry it out! Your life will be forever changed in the best way! It's the most rewarding job in the world! Advice, advice, advice.
But no one tells you that someday you might have to answer questions that don't have answers.
No one tells you that you'll have to swallow so many tears to let them cry theirs.
They will fail to mention that you'll have to comfort kids during a time when comfort is elusive.
They won't say how to make nightmares go away or how to mend broken hearts.
They won't tell you that sometimes when you say "everything will be okay," you won't believe it yourself.
They won't tell you that you'll have no way to protect them from the evil lurking at a race's finish line on a joyous spring day.
They can't tell you or me any of that -- for it would break our spirits, and we wouldn't learn how much courage we, in fact, do have as parents.
We wouldn't learn that we could swim with them on our backs in a river of tears.
We wouldn't believe that we could find hope in a seemingly hopeless situation.
We wouldn't see for ourselves that it's okay to be at a loss for answers as long as they know we are there, holding their hands, while we wait for closure that may or may not come.
I remembered opening the little blue polka-dotted bag that held a sweet little stuffed lion at my son's shower, at a time when I never could have imagined it would be the same lion staring at me from atop his dresser as I held my son while he mourned the loss of a friend. But I drew courage and breath as I looked in the lion's eyes, and was reminded that as a mother, we will always find the strength we need to in even the toughest hours.
This post is an outlet for me to be strong enough to walk with him through the days ahead, through the funeral and memorial and the last months of his eighth grade without his friend Lily.
God Bless You, Lily -- and send us a few rays of sunshine by way of your beautiful smile whenever you get a minute. We could sure use it.