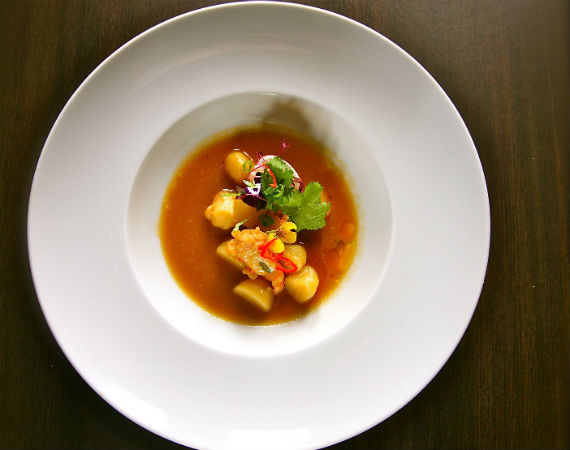 Christmas has come again this year, and these celebrations are for all: believers, non-believers, and those just seeking closeness with neighbors and relatives. In the end, it's about rest, getting away a little bit from our daily routine, spending time with family and, of course, sitting together at the table to enjoy ... and forgetting--as much as we can-- all our problems.
In Spain at least, Christmas comes to department stores before the rest of us: the other day I almost crashed my shopping cart into a mountain of assorted holiday chocolates ... Jijona, Alicante, Chocolate, Double Chocolate, Triple Chocolate, Praline, Coconut, Marzipan, Guirlache (caramel-almond bark) and even more... Innovation is great, but I'm beginning to believe that this nougat thing has gotten out of hand.
But hey, after escaping being crushed to death by nougat, I realized that December is here and with it Christmas: the date when we unleash our passion for food, using family, bonding, etc. as an excuse.
Eating quality food for less than 30 euros ($37 US) has always been possible, but that's not really what we're debating here. I'm proposing some healthy, simple and cheap food, for everyone who thinks a great meal is the best Christmas gift. So in the next few days, you will have your kitchen's Christmas menu with 3 super delicious recipes - find them all at http://www.andresmadrigal.com.
I'd like to remind you of a few quick tips to keep in mind when preparing a Christmas menu, if you don't like mine.
* If you go to prepare a seafood soup with chunky bread, remember that the bread will act like a sponge and requires much more stock than you initially expected.
On artichokes
To find out if it is of premium quality, it must feel weighty in your hand, with very firm, bright and tight leaves. The heart must not be too dark. And please do not abuse lemon to whiten them (parsley is the best antioxidant for artichoke, and a few leaves in water are enough to keep the artichokes green), it's better to cook them while they're brown than to overwhelm their flavor them with the acidity of citrus.
On prawns
Remember that they are rich in iodine, calcium and magnesium. They are very low in fat and carbohydrates, so I advise you not to overcook them. Very important: if fresh, the shell is very bright and crisp, with very bright eyes; above all, fresh shrimp does not have a strong smell. If they are frozen, do not use the ones that are soft, and wash them before cooking. I do not recommend that you suck the head of frozen shrimp, because most of the preservatives and adulterants are found in it.
On champagne
Chill your champagne bottle slowly. If you can't do that, here is a technique for emergencies. Place the bottle in a bucket or large bowl and a layer of ice on the bottom, to which you've added salt. Then add more ice and salt to cover the neck of the bottle. Add water to cover the ice. In 10 minutes, it will be cold. Champagne should be served cold, but not very cold, as it loses its subtle aroma and flavor.
On foie gras
To prevent the portions from breaking, cut foie gras into thin slices with a fine, smooth and non-serrated blade, previously immersed in hot water and then dried. It's better to not cut it until the last moment, in order to preserve color and flavor. To preserve the freshness of your leftovers, the plate can be placed on a bed of crushed ice.
On clams
Molluscs (oysters, clams, cockles, mussels) can accumulate large amounts of toxic substances. That is why you have to open them at the time you are eating them. To clean the clams, the first thing to do is to leave them in salted water for a few hours, to remove all sand and grit.
On lamb
When buying lamb, we should choose lean and bright-red meat. Fat should be white and creamy. The bones should be moist and the joints white. The most prized and expensive parts are the leg, shoulder and chops, but the skirt, chest, hands, neck and tail are also delicious, and excellent for stewing, braising and preparing stews and rice. Lamb meat is nutritious and easily digested, rich in quality protein and high in fat. It also offers dietary vitamins, especially B complex and minerals (phosphorus and iron).
On citrus fruits
For maximum quality and quantity of juice, put the fruit in the microwave for a few seconds.
Citrus skins grated or cut into julienne (thin strips) have an intense aroma. Use them sparingly to flavor a dish. Take care not to zest in the white pith by accident--it's very bitter. Use orange flowers to make orange blossom water.
If we add some lime, kaffir lime or lemon leaves to rice you can improve the taste, and if they are very tender, they can be cut very thin and eaten.
If you have a large amount of citrus at home and do not know what to do with it, it is best to juice them, pour the liquid into ice cube molds and freeze. Once frozen, keep the ice cubes in an airtight container and use them with a good cocktail.
Wrapped in fine muslin, they are tasteful at the table if you are going to use for squeezing on fish or vegetables; furthermore, the fabric retains the seeds and prevents splashing when squeezed.
One of its best uses is for cooking in marinated ceviche or quick marinades, like those made in the Finnish cuisine.
They are ideal in winter for their high vitamin C content and, of course, they are very refreshing in the summer.
#staycurious
RECIPE
Gnocchi with shrimp
2.2lb cooked potato
10 oz. white flour
2 whole eggs
salt
Freshly ground black pepper
Mix the peeled potatoes and pass them through a sieve, adding the flour little by little and the salt and eggs, previously beaten. Knead the dough until uniform consistency. Cut the gnocchi into .5x.5 inch balls and shape with a fork.
Seafood sauce
1.1lb shrimp
1 onion
2 garlic cloves
butter
salt
Peel the shrimp, separate the meat from the head, reserve the meat. Finely chop the onion and garlic and sweat them in a pot with a teaspoon of butter until onion is translucent. Add the shrimp heads, simmer 20 minutes. Season, strain and reserve.
Lightly sauté the shrimp in the pan with a little butter.
Cook the gnocchi in seafood broth until they float, add the shrimp and cook 30 seconds more. Serve immediately.