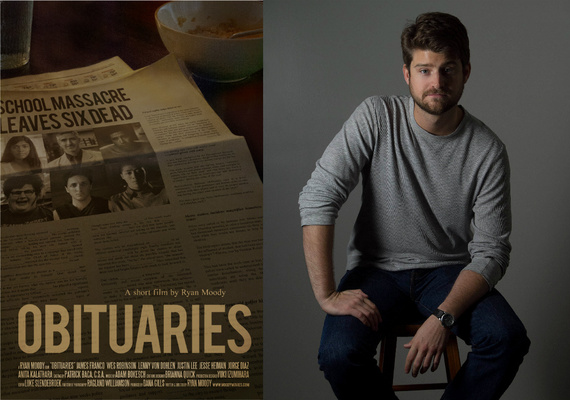 Short films are an unappreciated art form. These little gems make us laugh, cry, and even think in a fraction of the time of a feature length film. It is the stepping stone for some starting filmmakers and the go-to medium for others. It is a chance for a filmmaker to get his or her story in a less costly manner while still making a statement.
The short film "Obituaries" is one of those short films that make a statement, by making you think. It centers around the aftermath of a school shooting. James Franco plays Felix Mitchum. Moody was a former student of Franco's when he taught at UCLA. "James was a teacher of mine while I was in film school at UCLA. After I took his class, I told him about the idea for the film, and asked him to play the narrator." Moody explains. "He agreed, and has been a big supporter of the film ever since." Moody would go on to earn a Master of Fine Arts degree in Film Directing.
For a large duration of the film, the viewer only hears Franco's voice as he narrates who each victim was. The six total individuals (which includes the gunman) comprise of 5 students and 1 professor. Franco starts with the gunman and proceeds to go through each of the deceased individuals, painting a haunting and clear picture of not who they are, but instead who they were. We see that they were from all walks of life, on different paths (physically, emotionally etc.), as a series of flashbacks takes the audience on a short journey into each one of their lives, as Franco's monotone voice proceeds the narration. However it is the ending that gets the viewer to think. Franco, like many of us, is sitting in front of the TV, watching about the tragic event in the news. He is sad, yet not surprised as he proceeds to change the channel

Moody hopes that his film helps to change the perception of these massive and now too frequent acts of violence. "This isn't just a political problem, but a human one." He explains. "Rather than be divided by politics, we need to unify, and mourn as a nation. We need to feel sad, angry, and ashamed. We need to feel like something needs done. We need to feel each others' pain, and support each other, and work together positively to prevent these events in the future.
Moody received funding to create and produce the film through a successful Kickstarter campaign. "Kickstarter is a remarkable resource for artists of any kind to not only fund raise, but also to build an audience." Moody states. However, he does clarify that in order achieve a successful Kickstarter campaign, it does require a lot of work."
'Obituaries' would go on to appear in 9 film festivals and win several awards. The best part of it was seeing the film played for audiences in a movie theater. There's nothing like sitting in a theater full of strangers and having that shared experience." Moody states.
'Obituaries' was recently posted on Vimeo and I came across it on a mutual friend's Facebook profile. I knew what the film was about prior to viewing (it was also released before the tragic attack in Orlando). This has been an unfortunate, but necessary topic of discussion in many artistic mediums and something I have come across on more than one occasion. However, this film in particular is a little different from others works I have seen. It does not directly push any sort of stance or agenda, something that could have easily been done. Instead, Moody shines a light on the victims, painting a clear picture of who they are and how some members of society have become desensitized to these tragedies. Yes, we mourn, but in my experience I am finding that my level of shock has gone down significantly which is disturbing.
Moody hopes to turn Obituaries into a feature film. "The script is done, and ready to be made, it's just about finding the right company that's brave enough to make it. I understand that this is a tough subject, but it's a story that needs to be told, and it needs to be told now." Now more than ever, I couldn't agree more.
'Obituaries' was recently released for free online and can be viewed below. The short film is NSFW or for mature audiences as it depicts the tragic reality of mass shootings. Also check out Moody's site for updates on him and his other work. The link is here.