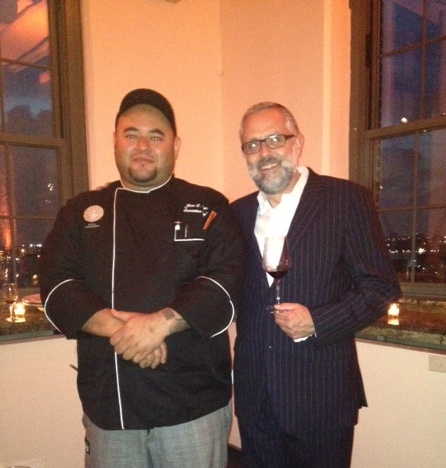 Basil restaurant Chef José Edgardo Soto and owner Daniel Branover
Chef José Edgardo Soto has been cooking for more than 20 years in some of New York City's finest restaurants. He began learning the art and craft of cooking at the great Savoy restaurant in Soho, a restaurant that was a training ground for many future chefs. Then Soto moved on to Brooklyn's classic Diner with chef Caroline Fidanza. From there, other great restaurants followed: Marlow and Sons, Oznot's Dish, Chestnut, Le Barricou, and Franny's. His epiphany came under chef Andrew D'Ambrosi at the private club Norwood in Manhattan. That is where Chef Soto began to feel assured that he was ready to take on the challenges of running his own kitchen. The one thing he had never done in his career before taking on Basil restaurant in Crown Heights is cooking kosher.
At the recent Herzog Food and Wine Tasting event at the Tribeca Rooftop, Chef Soto was tightly focused on setting up the tasting table display for Basil restaurant. For his first time cooking in a kosher kitchen, it has been a welcome learning experience. It is also in some ways a coming home for Soto, who grew up in Crown Heights. He was anxious that everything be perfect, as it was something of a debut for him in the Jewish community. The event, which supports the Renewal live kidney donor program, is an important one for kosher restaurants. For the occasion, Soto made a chilled cantaloupe soup and an Arctic Char crudo served on his own signature pickled Kirby cucumber. The two dishes were unexpected from a kosher restaurant and were enthusiastically received by the guests.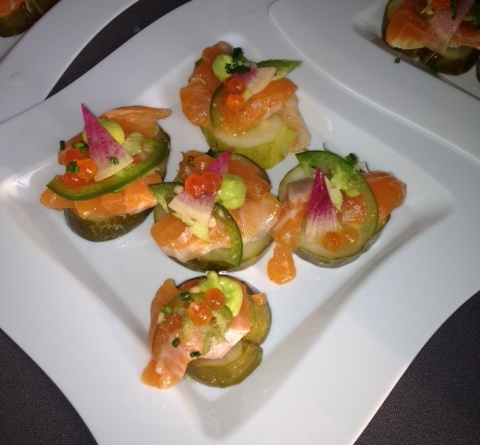 Chilled Cantaloupe Soup (l.) and Arctic Char on Kirby Pickle (r.)
Daniel Branover, owner of Basil, explained his reasoning behind selecting a chef who was not trained in keeping kosher. He wanted to find, first and foremost, a chef who made great food. Then he would teach him about keeping a kosher kitchen. His goal was to have a restaurant that is a gathering place for all people. Branover is a strong proponent of the spirit of inclusiveness. To that end, the restaurant has succeeded. On any given day, the full variety of people in the neighborhood is represented in the restaurant.
So far the results are everything he could have wanted. The busy Crown Heights Italian bistro is another great New York restaurant that just happens to be kosher. Soto is finding his footing and applying the principles of fine dining that he learned at such landmark New York City restaurants as Savoy. The early reviews for Basil were positive, and Soto is poised to build on the early success to create a landmark kosher restaurant that draws enthusiastic customers from the local Crown Heights Hasidic community, and from everyone who enjoys good food.
Look for other kosher restaurants to follow suit once they see the success that Basil is enjoying and look for more young chefs like José Edgardo Soto to take a serious look at employment opportunities with forward-thinking restaurant owners like Daniel Branover. This is a recipe for success.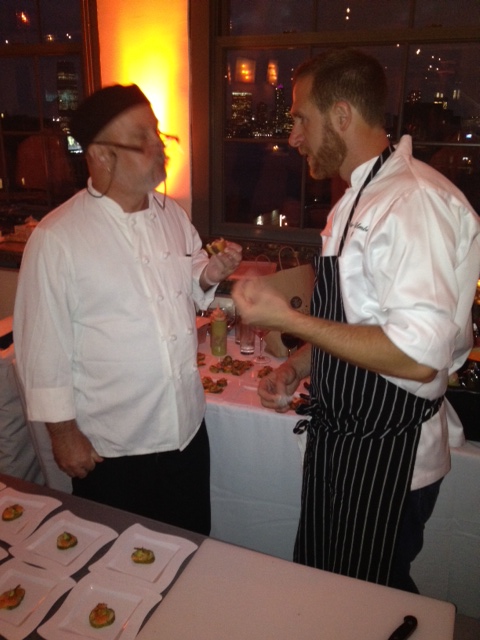 The author, left, with chef Andrew d'Ambrosi at the Herzog Wine and Food Tasting
Chilled Cantaloupe Soup
(serves 4 to 6)
Ingredients:
4 ripe, medium sized cantaloupe, peeled, seeded and diced
5 yellow beefsteak tomatoes, quartered and seeded
2 tablespoons (or more to taste) white wine vinegar
1 teaspoon salt, or more to taste
¼ teaspoon finely ground white pepper
1/3 cup extra virgin olive oil
For garnish:
Crème fraiche
Basil oil, available at gourmet grocery stores
Piment d'Espelette, available at gourmet grocery stores
Freshly snipped chives, about ¼ cup
Place the cantaloupe, tomatoes, vinegar, salt and pepper in a large, heavy bottomed non-reactive pot, preferably stainless steel. Bring to a simmer over medium heat, tightly covered. Let cook until the tomatoes and cantaloupe are well cooked and soft, about twenty minutes. Remove from heat and let cool.
When fruit is cool, process until smooth in batches in a blender, adding olive oil to emulsify as you go. When all of the fruit is pureed, place it in a container and refrigerate until cold. Recipe can be made ahead (up to two days) until this point. Taste and adjust seasonings before serving. It often needs a little more salt when it is cold.
To serve: Ladle 8 ounces of the soup into pre-chilled wide bowls. Garnish with a tablespoon full of crème fraiche, a drizzle of basil oil, a pinch of piment d'Espelette and some freshly snipped chives.