This is Part 3 of a four-part series.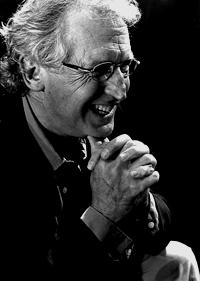 Time to Move On
In 1992, Michael Uthoff was feeling restless and was looking for new challenges. "I don't want to say it was a mid-life crisis because it wasn't. I was approaching fifty and I felt like I had achieved everything I had set out to do. If the Hartford Ballet was going to survive and continue to grow and evolve, I realized it was going to need new blood." Uthoff elected to accept an offer from Ballet Arizona to direct the company there and create a new regional presence.
Among the elements that drew Uthoff away from Hartford and toward Arizona were the presence of indigenous Southwestern culture, the Spanish heritage and history and the wide open landscape of the desert. It was a place where he felt he could continue to grow as an artist and make a valuable contribution to the local community and the world of dance. Making an authentic and durable contribution has always been important to Uthoff.
Developing a New Style
Uthoff has much to say that is positive about his tenure in Phoenix even though it didn't end well. The big sky and massive landscape of the Southwest were all that he had hoped for in terms of personal inspiration and it opened up his choreographic style in a way that he had never experienced before. Where in New England he felt that his work had been closely wrought and intricate, he was painting his dances with broad, bold strokes in Arizona. He was able, as he had hoped, to collaborate with regional composers, designers and musicians and that helped to build substantial interest in a new and authentic style which he believed would prove essential in making Ballet Arizona a relevant artistic entity.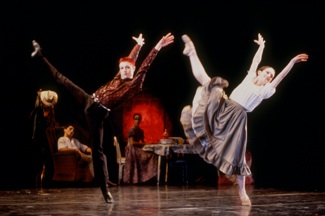 Días de los Muertos performance still, courtesy of Starbuck Lighting
A Dance Magazine profile from this time describes a dynamic company doing great things, developing its own style and getting a tremendous response from the state of Arizona; so much so that the governor named the company the official ballet company of the State of Arizona. Lil Cockerville Livingston, writing for Dance Magazine in 1996 wrote:
Now celebrating its tenth anniversary, Ballet Arizona brings refreshing exuberance, pristine technical abilities, and dramatic strength to an eclectic repertoire that runs the gamut from the nineteenth-century evening-length classics to works created by the emerging choreographers of this generation.
There were new, local choreographers being showcased along with an annual dancers' choreography workshop. A strong educational component was established with the local university and the company enjoyed the support of a solid base of subscribers. It looked like Ballet Arizona was on its way to becoming a true Southwestern dance company with a unique voice.
Días de los Muertos, a full-length piece choreographed by Uthoff was probably the fullest realization of the vision he had in mind for Ballet Arizona. It featured artwork by Rafael Cauduro, music by composer Eugenio Toussaint, a story written by Berta Hiriart and scenic design by Monica Raya. The lighting design was done by Joshua Starbuck. This was a truly Southwestern production. In the Tucson Weekly, Margaret Regan quoted Uthoff:
"It's a theatrical piece that transcends any one of the art forms," says Michael Uthoff, the Ballet Arizona artistic director who produced the work and put together the team of Mexican artists. "It has dance, theatre, music, sculpture and painting."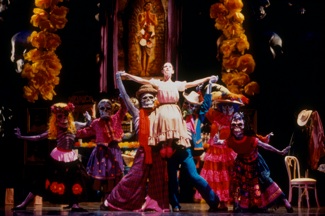 Días de los Muertos performance still, courtesy of Starbuck Lighting
In retrospect, one can only regret that the promise that a piece like Días de los Muertos presaged for future collaborations with local artists remained unfulfilled in favor of an imported model of east coast neo-classicism. A genuinely Southwestern ballet company could have transfigured the arts in Arizona and beyond. There was plenty of critical praise for this piece, which drew a standing ovation at its premiere, and many others that Uthoff choreographed himself or commissioned from local choreographers.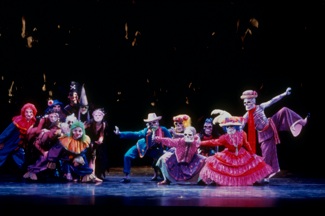 Things go Wrong
Uthoff's relations with certain of the board members turned out to be somewhat less than he had hoped for as he realized that they were working at cross purposes. Uthoff's vision was of a company that was organically part of the Southwest and drew from local sources for inspiration. Like Uthoff himself, this region is culturally diverse and he was eager to embrace that and create an authentic company that would harness the inclinations and abilities of all the artists of various media in the Southwest to give it a special and unique identity. There were some members of the board of directors, however, who wanted a neo-classical company based on the model of the New York City Ballet. In an interview with Frank Rizzo for the Hartford Courant in 2002, Uthoff said:
I told them if they just wanted pretty ballets, I'm not the guy for them. Yes, we will do Nutcracker, Coppélia and even Swan Lake -- if you raise the money to train the dancers for that show. But our strength will be in creating new work that will be inspired by where we live and who we are. And that would be a reason to be known around the world. Who cares if Ballet Arizona dances Swan Lake? It's not going to take us to Paris or London or New York. But if we create a body of work that no one else does, then that's something special.
His first clue that things were not going to end well came when he received a phone call from an individual associated with Ballet Arizona whom he declined to name for this interview. The purpose of the call was to persuade Uthoff to make a casting change. For his upcoming production of Cinderella, Uthoff had cast a young Chinese dancer in the lead. She was terrifically talented, one of the best dancers he had ever worked with, and he had never even considered anyone else for the part. Couldn't he, it was suggested, cast a more suitable dancer? Perhaps one who was blond? As Uthoff related this conversation to me, the dismay was as plain on his face as if it had happened five minutes ago.
Michael Uthoff is an artist and the son of artists, and he is aware that he stands for something bigger than himself. He believes that personal concerns must be set aside in service to the bigger picture. He never makes casting decisions based on anything other than merit, even when he dislikes a dancer on a personal level. You might as well ask Michael Uthoff to stop breathing as to ask him to make a casting change based on outdated and blatantly discriminatory notions of race. For someone as proudly multicultural and forward thinking as Uthoff, this request to make such a casting change came as a shock. His eyes widened as he related the incident and, more than ten years later, he seems to still feel outraged about it. He adamantly refused to even consider making that change and the rift between himself and the board widened. Ultimately, Uthoff and Ballet Arizona parted ways in 1999.
This was probably the lowest and most difficult time of Uthoff's professional life. The Hartford Ballet which he had given birth to and where he had spent twenty years of his life had just ceased to exist and he'd had a bitter parting with Ballet Arizona. There was a period of time when he had nothing to do with the world of dance. He dabbled in real estate and played golf. But this is Michael Uthoff and he seems constitutionally unable to stay down. He gradually began choreographing again and put the past firmly in the past. The next step was one of redemption and it put Uthoff back where he belonged.
In Part 4, Michael Uthoff takes the reins at Dance St. Louis upon the retirement of his good friend and former Joffrey Ballet dance partner, Sally Brayley Bliss.