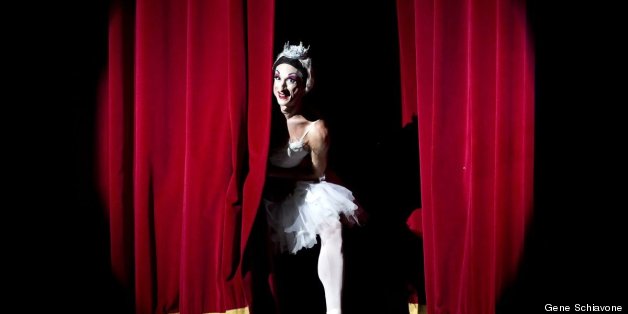 Co-authored by Ellen Dobbyn-Blackmore
Paul Ghiselin is the man behind Ida Nevasayneva, the legendary ballerina of Les Ballets Trockadero de Monte Carlo. Ghiselin has also played many of the male roles with the company but it is his alter-ego, Ida Nevasayneva, the "Socialist real ballerina of the working peoples everywhere" who brought him fame, most particularly for his immortal rendition of The Dying Swan which was Anna Pavlova's signature piece. He and Nevasayneva rose to fame with The Dying Swan and he still performs it, though less frequently nowadays.
Ida Nevasayneva of Les Ballets Trockadero de Monte Carlo in The Dying Swan
It is now nearly forty years since the beginning of the campy drag company that has become a mainstream attraction at theaters all over the world. Audiences keep coming back to see the Trocks, year after year, and Ghiselin believes that the:
reason it still works is that we're bringing high art and humor together and it's a very unusual combination. We try to stick to a very high standard. Before, the humor was based on having these guys galumphing around in pointe shoes, very high camp. It has evolved, and it had to evolve if we were going to maintain an audience. Now what's happened is that it's a ballet company. The dancers are experienced, professional, they know their stuff. The standard is high. We keep the humor alive. At one time, being in Trockadero would be a career killer but now it's a viable career choice.
Ghiselin came to the Trocks back in '95 from the Ohio Ballet Company, a troupe based in Akron, Ohio that had a repertory of contemporary classical ballet. After thirteen years with that company he was burned out. Said Ghiselin:
A friend of mine who watched my career from the beginning said, 'you know, you should think about joining Trockadero. It would be a great way for you to go out, doing something fun.' I finally just said to myself - what are you going to do? You can't dance forever so why not do something cool before you retire?
Through another dancer in the Ohio Ballet who had a friend in the Trocks, Ghiselin was able to get in touch with Tory Dobrin, the director of Les Ballets Trockadero de Monte Carlo, to invite him to see the Ohio Ballet perform at the Joyce Theater in Chelsea. The offer came through: a contract to join the company for a tour of Japan. Ghiselin accepted and a new life began.
It wasn't an easy transition. Ghiselin said, "The adjustment was really hard. I was thirty-three at the time. Putting on pointe shoes at thirty-three is kind of stupid but I just did it, little by little. It was tricky, it's a whole different way of working. I felt so far away from the planet on pointe, like I was walking on stilts. I have to say, I really didn't know what I was doing. I had the technique of dance but I didn't know what I was doing with the rest of my body when I was in pointe shoes." Girls generally start in pointe shoes at age eleven or twelve and then spend years training before trying to do the things that the Trocks have to do every night. Dobrin hired a woman from Cleveland Ballet to come and work with his dancers and that helped to get Ghiselin working the right way. It was like learning to dance all over again.
If learning to dance on pointe was a struggle, finding the character of Ida was not. Ghiselin related, "It just fell into place. That's really the reason I ended up doing Trockaderos. I wanted to act. I wanted to play a character and it was fun. All of a sudden I was doing the repertoire of 19th century classical ballets that I hadn't danced in my whole career." Ghiselin always learned steps quickly and was almost immediately given The Dying Swan to dance. His portrayal is indelible and makes it all but impossible to ever watch a straight performance of it again. You will laugh but you will also be astonished at how beautiful his arms are. "Once you put on all the get-up, the pointe shoes, the tutu, the wig, the eyelashes and the tiara," says Ghiselin, "you can't help but start to become your alter-ego. You start putting on airs and that sort of thing." There was friction in the company over Ghiselin receiving so many choice parts so quickly but then that always happens, especially when the whole company is made up of prima ballerinas.
There is a very particular sensibility to what the Trocks do. It is not a free for all. The humor has to happen within the context of the set piece, which is primarily men dancing the great roles of 19th Century Russian classical ballets. Says Ghiselin:
Our kind of dancing in the Trocks is very big and bold. Whatever you have to do to get your leg up, that's what you do. But we work very hard on style, the Grand Manner, as we like to call it. Russians are known for their broad, extravagant gestures. We try to emulate that. The use of the head and shoulders. We get Russians to come in and work with us and reproduce the grand style. We do a lot of homework. It's a vocation of love, really. I chose it but I can't imagine ever doing anything else. My whole life has built itself up to this.
It takes dedication and lots of hard work to be funny. As Ghiselin says of the funny business, "A lot of it is choreographed in because what we do is we take ballets and we learn them straight -- we learn them the way they were intended to be danced. Then we modify them to have men dance them." And then the humor is interlaced. It requires experience and restraint not to go over the top and become ridiculous. Being funny is serious business.
It is Ghiselin's job now as ballet master of the company to teach the roles to the new dancers, not just the steps, but also the comedy, and he must maintain the technical standards of the company. It happened gradually, as Ghiselin said, "It started with me teaching company class once or twice, here and there. Then I set one ballet and then another ballet until finally Pam, who had been the ballet mistress, stopped going on tour and eventually said she didn't want to do it any more. She kind of rolled the ball over to me and said, I think it's time for you to start doing this." It has been a challenge about which Ghiselin had much to say:
I had no idea of the work and responsibility that it takes to keep a company of 14 to 17 dancers all learning their roles and having everything covered. You have to monitor everyone constantly. It can be overwhelming. I almost think it would be easier in a large company where you don't have to get personal with everybody. I'm so close to everybody and Tory (Dobrin) is always telling me -- you have to be meaner. I feel like I worked with mean people for so many years and it just doesn't' work for me. I'm not a mean person. It doesn't mean I don't have expectations and it doesn't mean I can't get people to work. It just means I don't have to be an asshole about it. I think you can get good results from people if you have a little bit of patience and explain to them what you're looking for them to do. We have this added layer of having to let people's personalities flower and come out to be seen. That's important and it's not like other ballet companies. We have a lot of artistic freedom."
In Paul Ghiselin's own words, his proudest moment on stage:
Hands down, it was dancing The Dying Swan on the Bolshoi stage. That was pretty spectacular. It was on a raked stage and for the whole thing I thought I was going to fall down. It was the most nerve-wracking performance of my life. The Bolshoi stage is so massive. It's like a football field. The whole time I was thinking... I have to get across this whole stage?! I was going like crazy. By and large it's just a simple movement of bourrées so it's hard to travel far. It was very tense. The final pose is on the floor, in the spotlight, and there I was, down on the floor at the end, and I felt... that I wished it had gone better. Then I heard the audience. They were stomping and yelling. So I came out for my bow (I do a page curtain bow for Dying Swan) and the audience was on their feet. It was very emotional. It was a gala performance and they had the whole school there, the company and dancers from Europe, and I came off stage and they were all there in the wings. So I had an audience, not only in front of me, but also there on the stage. It was incredible. There have been other occasions but that one has to be the most memorable.
Ida Nevasayneva in The Dying Swan, all photos by Gene Schiavone
PHOTO GALLERY
Ida Nevasayneva (Paul Ghiselin) in the Dying Swan - all photos by Gene Schiavone
Les Ballets Trockadero de Monte Carlo will be performing as part of Celebrate Brooklyn! in the Prospect Park Bandshell on June 27. (Prospect Park West & 9th St., Brooklyn) The performance is free and open to the public. The gates open at 7:00 and the show starts at 8:00 PM. The program includes excerpts from Swan Lake, Go for Barocco, The Dying Swan, and Paquita. Regrettably, Ida Nevasayneva will not be appearing with the company on this occasion.