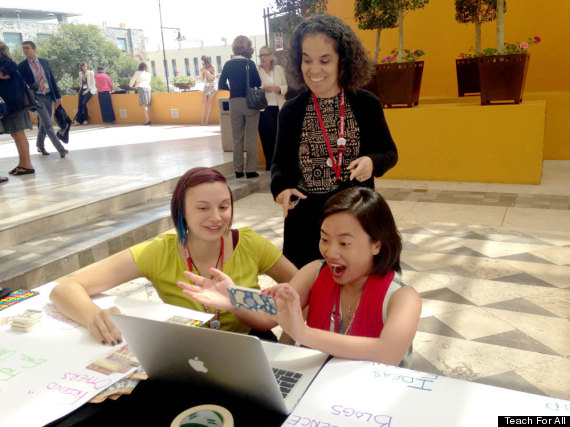 A Teach For China staff member is thrilled to discover a resource she's been searching for on Teach For All's new "design first" Partner Learning Portal
Globally, 250 million children lack the skills necessary to read, write, or perform basic mathematics. 250 million! That's equivalent to the total population of Indonesia, the world's fourth most populous country! As the head of IT for Teach For All, a global network of partner organizations in over 30 countries that are working to expand educational opportunity in their nations and around the world, a big part of my job is to make sure we have the technology resources necessary to facilitate the capturing and sharing of best practices from all of our network partners in order to accelerate their collective progress.
This collecting and sharing of lessons learned is such a key part of our work that, over the years, we've accumulated thousands of resources we call "knowledge products," including case studies, reports, sample materials and more, that cover a wide range of topics, from organizational development to teacher recruitment to alumni pathways (among many others). In fact, we've accumulated so many of these resources that we were effectively being crushed by the sheer weight and volume of all that knowledge. Eventually we realized that this issue (like most issues in life) was not going to get better on its own. In fact, with new organizations joining the network every year, the problem was only going to get worse -- unless we figured out a way to better manage it.
This was the challenge I was faced with a little over a year ago, when I was charged with finding and implementing a technology solution that would -- for all intents and purposes -- make this problem go away. Coming up with a solution that would serve the needs of over 600 staff members in 30+ countries on six continents was no small task, but my team and I decided to take it as an opportunity to do more than just "fix" the problem -- we wanted to do something that could dramatically transform how Teach For All shared knowledge across our geographically and culturally diverse network. We didn't want to settle on implementing a straightforward, old-school document management system. Instead, we decided to adopt a "design first" philosophy and let it dictate how our system -- which we would eventually dub the Partner Learning Portal -- was developed.
"Design first" is the philosophy that all things should be designed with the end user experience as the focal point. Despite being popularized by highly successful tech companies like Apple and Google, it's still not a universally accepted principle in IT. It inverts what is historically thought of as "proper" technology design -- that tech systems should be designed according to what the system owner wants them to do. In our case, as the owner, we needed a system that would better manage our growing library of knowledge products and allow us to share them out more easily with our network. Adopting the "design first" philosophy, however, forced us to approach the design of our system through the lens of what our intended end users wanted -- whether or not it aligned perfectly (or at all!) with our goals.
For us, "design first" meant not only considering the knowledge-seeking needs of our diverse network, but also recognizing that our user base would be continuously changing and growing along with our partner organizations. We also had to account for the variety of ways that individual Teach For All staff members create, curate, update and review resources that are meant to be shared. In short, we needed a system that would be: (a) globally appealing, (b) easy to use by both new and returning users and (c) simple to update and maintain by Teach For All staff.
To meet our three major "design first" challenges, we focused our time and energy on user testing, collecting feedback from as large and diverse a group of potential users as possible, and incorporating this feedback into our development process. A great example of how this user-centric approach worked was the introduction of the "people search" feature to our system. As the "owners," my team's goal was to make our vast library of resources easier to navigate, so users could quickly find the specific materials they needed. After a few rounds of testing, however, it became clear that our users didn't just want the system to help them find documents and other materials -- they also wanted it to help them find people across the network with whom they could connect to discuss common problems and solutions. The "design first" approach enabled us to adjust the design and functionality of the Partner Learning Portal, midstream, to respond to this discovery and develop the "people search" feature in time for the system's official launch.
It's these adjustments, while seemingly small, that led to the Partner Learning Portal's near instant success within our network. Since its launch, the Portal has been quickly adopted by staff members from organizations as diverse as Teach For China, Enseña Uruguay and Teach For Bulgaria -- all of whom now have easy access to knowledge and materials that can help them expand educational opportunities for the children in their countries.
What systems are in place in your actual organization that would benefit from the "design first" approach
Follow Teach For All on Facebook and Twitter.
Teach For All is a partner of Cisco CSR. Cisco sponsors The Huffington Post's ImpactX section.