GreatPhilosophersBook.com -- the website that I created for my forthcoming Harper Perennial book Great Philosophers Who Failed at Love -- was recently categorized by Internet web filter WebSense as a "dangerous" site.
When my editor tried to access the site from within HarperCollins's computer network, she received the following error message:
This Websense category is filtered: Potentially Damaging Content. Sites in this category may pose a security threat to network resources or private information, and are blocked by your organization.
This wasn't any fault on HarperCollins's part; thousands of companies utilize WebSense software to block employees' access to pornographic, obscene, or harmful material in their workplaces. Unfortunately, WebSense's analysis of a website's contents is not always accurate.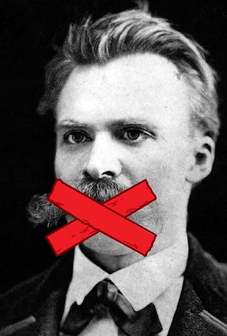 Philosophy has a long history of dangerous ideas, but I wondered how a philosophy book could possibly pose a security threat to a computer network. Is existentialism incompatible with binary?
Perhaps the site had one too many sexual words sprinkled about it. One sentence in particular, a blurb from Neal Pollack, may have prompted the site to be flagged by WebSense:
"A funny and oddly moving history of philosophy as tortured erotic dysfunction."
Perhaps it's not my book that's too sexy. Perhaps it's Neal Pollack who's too sexy.
I contacted WebSense customer service via e-mail and they responded less than 12 hours later. "Thank you for writing to Websense," the e-mail cheerfully said. "The site you submitted has been reviewed. We have made an update to the URL in our master database." WebSense recategorized the site from "dangerous" to "entertainment."
It couldn't be that easy, could it? I checked with my editor at HarperCollins. "Either the office has become less stringent overnight, or all your websites are now even less dangerous than a barrel of puppies," she wrote back. The block had been lifted.
I can't help but being a little upset. Being labeled "potentially damaging" made me feel sexy and cool, like how Russell Brand must feel every day when he wakes up. Or at least how he did before he settled down with Katy Perry.
And now? My website is just another part of the "entertainment" ecosystem, as harmless as Justin Bieber fan-fiction.