The holidays are about sharing, but we need to remember that when we donate to charity, we're giving to people not data. At least one nonprofit in Austin gets that, and that's why they publish this remarkable new magazine.
When we listen to stories, we allow ourselves to be open to new characters and settings. We're willing to suspend belief -- or at least quiet our critical brain -- in order to be entertained and maybe even inspired.
If you think about it, that mindset is exactly opposite from the one we have when we hear statistics. (Notice even the words we choose to describe the experience: We listen to stories, we hear statistics.) Immediately, we start doing math in our head, picturing bar charts and grouping faceless people along an axis. Don't get me wrong, statistics can reveal powerful truths about a certain place in time, but they don't urge you to act on them the way a story might.
"If I look at the mass I will never act. If I look at the one, I will." -- Mother Teresa
The fact is that right now taking action is important. According to a report by the U.S. Labor Department in November, almost 10 percent of Americans are unemployed. The Secretary of Education reported that same month that the U.S. high school dropout rate may be as high as 25 percent. And homelessness is on the rise.
One data set is particularly disturbing. Reports from the Department of Education and HUD show that the number of youth experiencing homelessness in 2009 was anywhere from 22,000 to 52,000. (Even for the experts, calculating data can get complicated.)
But compare the statistics I just told you with this story about Rain.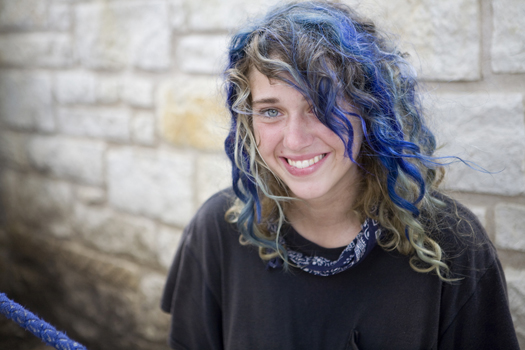 Photo Credit: Jessica Attie
Rain is a 19-year-old young woman traveling around the country, living on the streets. She's not a tourist. She left her home, for reasons she won't share, and confesses that she has no intention of getting off the streets anytime soon and doesn't expect to live a long life. Basically she's given up hope.
She does hang on to a few "material" things in her backpack: a bottle of perfume, a tattered purse given to her as a birthday present once -- and a ticket for violating Austin's ordinance against sitting or lying down in the street. She had to pawn her camera, perhaps to pay the ticket, but other than that she said, "I could lose my whole bag, and I would be OK."
What would she have then? How can we help?
Rain's story appeared in a new online magazine called 12 Baskets, published by an Austinite named Monica Williams for local homeless outreach nonprofit, Mobile Loaves & Fishes. 12 Baskets is remarkable in a few ways.
First, it features stories like Rain's: true stories about real people fighting for their lives every day. It also features stories about MLF: its successes, its failures and its innovative projects for helping people get off the streets.
It's also remarkable because it's online. It's written, designed and formatted specifically for online reading -- and only online reading. The beauty of online distribution, says Williams, is that it allows people to share the magazine, via email and social media, rather than the magazine just sitting on someone's desk.
Moreover, it's remarkable that it even exists. Most nonprofits aren't in the business of publishing magazines, but when MLF leader Alan Graham approached Williams about creating the magazine, he asked for something provocative to replace his "badly written e-newsletter."
"It's our job to tell these stories," says Graham. "When people think about the homeless as statistics, it's easier to ignore them. But you can't help but feel something when you hear stories like Rain's. She's real."
Williams also publishes a city-wide online magazine called GivingCity Austin, which also features stories about local philanthropy, all designed to drive readers to share it with friends or click-through to volunteer or donate.
"We focus on actionable stories," says Williams. "We want readers to be inspired, educated or even get angry. We do throw some data in there because it certainly has its place, but when people reach out to me about something in the magazines, it's always about a story."