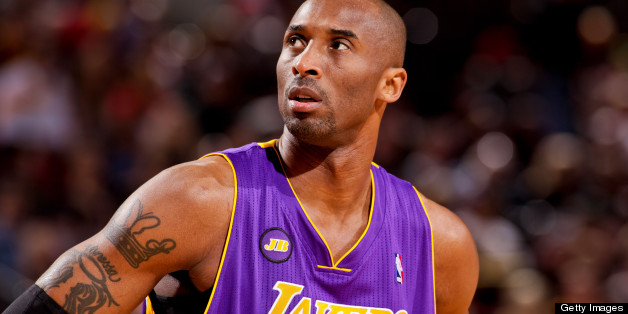 The Black Mamba will rise again. If there's anything we should have learned from watching Kobe for 17 years, it's to never doubt what he says he can do. He will nail the buzzer-beater. He will play 48 minutes a game for a week to drag his team into the playoffs. And more so than anything else, he won't let us forget about it. Before you know, the Mamba will have struck again, because that's what a legend does.
After the devastating ACL tear he suffered two days before the season's end, all talk in L.A. has been about the Mamba. Without Kobe, fans knew the Laker's mercy killing at the hands of the Spurs was all but a technicality. All we've been able to do now is whisper about Kobe's future. Talks of his contract being taken care of by the amnesty clause, whether or not he'll come back, whether or not he even play for D'Antoni again, have been on the daily menu for L.A sports talk. But really, we all know the answers. The Lakers wouldn't even think of getting rid of Kobe, Staples Center would be torn apart. He will play again, and he'd play under Smush Parker if that were what he had to do to win. All we really want to do is set the stage for the last act of Kobe Bryant.
Kobe can't defeat Father Time, but he'll sure give it his all. And compared to Time, the ACL tear is just some punk kids he needs to teach a lesson to. This isn't the same crap Adidas sold for Derrick Rose. Kobe will be back the second he is physically able to, and probably even before. He doesn't need the ad campaign; he already knows he's coming back with his targets set on one more championship. Kobe said before that this upcoming season will be his last, and I wouldn't think that anything has changed that. Before the ACL tear, even at 34 with 17 years on the odometer, he still had it physically in him to be one of the best player in the league. In fact, this season was even better than his last two. Kobe started to attack the rim again, and was coming close to triple doubles every night for a stretch. He still has the vintage clutch attack, nailing threes against helpless defender. The Lakers crunch time strategy was without fail to give Kobe the ball at the top of the key, and run an isolation play. And you know what? It worked a lot of the time.
I saw the Lakers-Hawks game that went down to the wire in person, and seeing Kobe bully and embarrass the Atlanta defense with pull-up shots and dunks was just amazing. As I see it, Kobe will continue to pull of games like this as long as he wants to. He is simply one of those all-time legends with a penchant for the biggest moments and ice in their veins. He's got enough in the tank for one last ride, and don't you think otherwise.