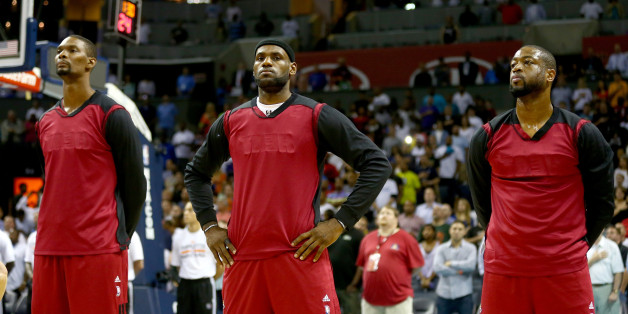 13.5 (Combined 2013-14 Win Shares from Dwyane Wade and Chris Bosh)
Note: Win Shares are a fairly simple statistic, finding out how much better a player was on both ends than a league average player and figuring out how many wins it was worth. A player with three win shares added three wins to his team's record, hypothetically. Numbers courtesy of Basketball Reference.
It's almost comical to think back to the first season of the Heat's Big Three and remember that there was a serious power struggle between LeBron James and Dwyane Wade. Fans everywhere were legitimately unsure of who was truly the better player and who should be the alpha dog. Flash-forward to the 2014 offseason and the Heat are faced with an entirely new problem. LeBron has now separated himself from the pack too far, and is chasing championships with historic levels of non-help. As you can see above, Wade and Bosh combined for 13.5 win shares in the regular season. Only one team post-merger has ever won the championship with it's second and third contributor combining for so few win shares, the 2006 edition of the Heat (Chris Anderson actually had more win shares than Wade this year, if you count that Birdman and Bosh's combined win shares are better than the second and third contributor on the 2003 Spurs).
It's fairly obvious that Wade is on a steady decline, and Bosh isn't getting too much better. The chances of them combining for a significantly higher win share total aren't too high. Simply put, LeBron is not putting himself in a championship opportunity if he re-signs with this iteration of the Heat. The first option most people will see is for the Heat to try and sign Carmelo Anthony, who has indeed opted out of his contract with the Knicks. There are two problems with this. One, the finances of signing Melo would be more complicated than they were in 2010 when Pat Riley originally formed the Big Three. Wade and Bosh know this is probably their last chance to get paid big money since both have big player options, so convincing both to opt-out and sign back on the cheap will be difficult (although Bosh has publicly said he'd be willing to take the veterans minimum to stay in Miami). They would also need to convince Udonis Haslem, who would almost certainly not get an NBA contract anywhere else, to opt-out of a $4.5 million contract next year and take the minimum. LeBron and the Heat set a precedent for players taking less money to chase a championship, but there's a line for what each player is prepared to do and the Heat might find it if they try and sign Melo.
Secondly, even if the Heat do manage to convince Melo to sign and Wade and Bosh to opt-out, the Heat are addressing everything but their area of need. The problem isn't that Melo can't thrive in an off-ball role, he showed he can excel as a shooter on the Olympic team. The problem is that the Heat need either a rim protector or a young, hopefully defensive-minded guard, and Melo is basically the opposite of both of these. Clearly, I wouldn't say that restricted free-agent Eric Bledsoe is a better player than Melo, but I think he would add a lot more to the Heat than Anthony would. Other players the Heat could target if Melo isn't coming around are rebounding whizz Jordan Hill, defensively minded shooting guard Avery Bradley who would let Dwyane Wade come off the bench, or shoot-first point guard Darren Collison,
However, I don't believe James is best off signing with the Heat in any of these scenarios. The Heat have committed too much to two guys past their prime anyway you look at it. Clearly James should sign with a team in the historically weak Eastern Conference, so it's a matter of a few teams in that conference able to make a push Before Joel Embiid fractured his foot I thought LeBron should go back to Cleveland where he could team up with Kyrie, and the rapidly-improving and dynamic Embiid. But with Embiid out for possibly as much as six months with the fracture, and questions concerning his overall health going forward, Cleveland isn't such a hot option. If the Celtics manage to trade for Kevin Love without moving Rajon Rondo, Boston could be an excellent option. Rondo thrives with teammates he can dish to rather than trying to score on his own, and small-ball front court of LeBron and Love could thrive offensively and hold their own defensively in the physical Eastern Conference. But with things as they are, the Bulls, the team Carmelo is most often linked to, are LeBron's best choice for him to keep on winning rings. Joakim Noah improved dramatically this year, winning Defensive Player of the Year and facilitating from the post in Derrick Rose's absence. If Rose returns at anything close to what he did in his last healthy season the Bulls would be heavy title favorite. In fact, if Rose only produces at half the rate of his MVP season and Noah regresses by 3 whole win shares, that combo would still outperform Bosh and Wade this year.
If LeBron is serious about doing whatever he needs to do to catch up to Jordan, Kobe, and Duncan in the rings race, he should look at the numbers and get out of South Beach as fast as he can. LeBron doesn't owe Miami anything, he brought a previously middle of the pack franchise to four straight Finals and won two of them, while also creating one of the most beautiful offensive systems the league has seen in a long time. Going to Chicago isn't a sign that LeBron is desperately chasing Jordan's past, it's proof that he's chasing his best possible future.