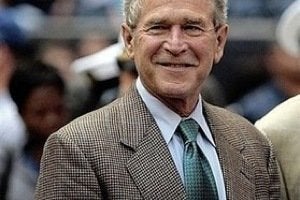 CRAWFORD, TX (The Borowitz Report) - The decade just past was "an awesome one in just about every way" and will be hard to top, according to former President George W. Bush.
In a new interview with the former president, Mr. Bush reflected on the highlights of what he believes will be known as "The Greaterest Decade."
"We won the war on terror in Iraq and Afghanistan, and we made the dream of home ownership available to millions of Americans who couldn't afford their monthly payments," he said. "That's going to be a tough act to follow."
Mr. Bush also said that of all his accomplishments over the past decade, he was proudest of "improving America's standing around the world."
"Anywhere you go, people love America," he said. "I see this in Crawford every day."
As for his successor, President Barack Obama, he had some simple advice: "Never forget where you came from, which, in your case, is Kenya." More here.