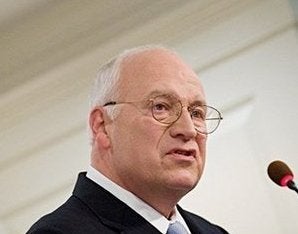 Former Vice President Dick Cheney weighed in today on President Obama's impending choice to replace Justice David Souter on the U.S. Supreme Court, urging the President to name a bitter psycho to the bench.
Appearing on NBC's "Meet the Press," Mr. Cheney said that the President's choice to replace Justice Souter "should send a strong message to bitter psychos across the country that they will have a voice" on the nation's highest court.
Mr. Cheney's comments were widely interpreted as a sign that he himself was angling for a position on the Supreme Court, a charge he flatly designed.
"I have no designs on the Supreme Court," Mr. Cheney said. "There are many other embittered psychotics out there who could do an excellent job."
Mr. Cheney said that his own time was better spent "driving down the Republican Party's approval rating to zero."
For a free subscription to the Borowitz Report, click here.