It's good to know that even with all that is going wrong in our country - the economic recession, the Gulf spill, Justin Bieber -- random girls on the internet are still messaging through social networks to tell me how attractive I am.
Here's a screen capture of my Facebook inbox, just so you can see for yourselves that this girl totally wants me. Identities have been hidden to protect the very sexy and desired.
Notice the subject line which says only, "heyy :)." It contains an extra "y" as if to say, "Hi, I'm casual," and also, "WHY is this guy so hot?"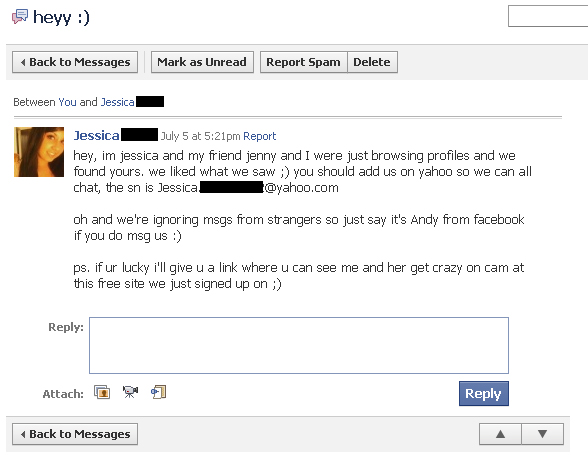 I received this message the day after celebrating America's birthday. And what better way to continue that patriotic festivity than completely legit correspondence with a girl I hardly know, who thinks that I'm hot and wants me to contact her so that she might better enjoy my hotness.
Yep, still got it.
"hey, im jessica and my friend jenny and I were just browsing profiles and we found yours. we liked what we saw ;) you should add us on yahoo so we can all chat, the sn is [omitted]"
Oh my. Not just one hot girl, but one hot girl and her presumably greater-than-or-equal-to hot friend. Proper usage of "Jenny and I" -- not just sexy, but smart, too. See the wink? It's an accepted fact in scholarly circles that hot and/or sexy girls wink about 70% more than other girls. It's like a World Cup penalty kick -- confidence is high.
She continues...
"oh and we're ignoring msgs from strangers so just say it's Andy from facebook if you do msg us :)"
Ooh, a one-man woman and her one-man woman friend! OW! How refreshing! Every man dreams of a hot, monogamous relationship with two chicks at the same time.
And a first name basis! Already there's intimacy here. Not like the letters I usually receive which often begin, "Mr. McDonald, we regret to inform you...," and "Mr. McDonald, please cease and desist..."
"ps. if ur lucky i'll give u a link where u can see me and her get crazy on cam at this free site we just signed up on ;)"
And here's where the code words kick in. If you're not hip to the new language girls use, you're going to miss out on a lot of opportunities.
"if ur lucky i'll give u a link"
"Link" is clearly some new sexual craze for hot people.
"where u can see me and her get crazy on cam"
Friendship caught on tape. That's a hot, valued friendship indeed.
"at this free site we just signed up on ;)"
"Free site" is code for local church or local church bazaar, if I know my young people hang outs well enough. Nice. Respect for the church, but not
too much
respect. Sinfully traditional!
Yeah, this is definitely a girl and her obviously hot friend I could bring home to Mom's Facebook page.
Things won't always go smoothly for America, that much is certain. But we can all rest assured that things will still go right for the certain few of us burning up Facebook's inboxes.
Greenhouse gases, an aging Sun, and the summer months are all keeping the U.S. plenty hot. But you know what else is? This guy.