Memorial Day is just a little over a week away, and with it comes the unofficial beginning of summer. Also on the horizon are the closings of four notable shows off and off-off-Broadway that are worth fitting into your weekend plans before the holiday and all of that time on the beach, in the mountains, etc.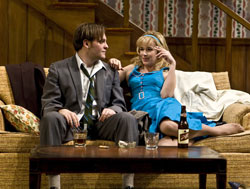 Theo Stockman and Claire van der Boom in An Early History of Fire
(Photo: Monique Carboni)
An Early History of Fire (produced by The New Group at Theatre Row, playing through May 26)
The newest play from David Rabe (Streamers, Sticks and Bones) is a pungent look at a group of just 20-somethings on the precipice of the societal tumult that followed the assassination of President Kennedy. It's a grand portrait of how these characters -- all firmly raised during the staid Eisenhower era -- sense that something's not right, but despite their best (and not-so-great) efforts, they can't put a finger on what's wrong or how to fix what they're sensing is broken in their lives and world. At the play's center are arresting performances by Theo Stockman and Claire van der Boom, as a working class guy and the girl from the better side of the tracks he's fallen for.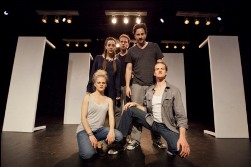 The cast of pool (no water)
(Photo: Scott J. Futterman)
pool (no water) (produced by One Year Lease at The 9th Street Theatre at P.S. 122)
In this riveting 60-minute piece from British playwright Mark Ravenhill (Shopping and F**king), a quintet of artists struggle with the envy and jealousy they feel toward someone who was once a member of their small coterie, who, having achieved incredible fame in her own right, has moved on, leaving them to fend for themselves in their seemingly perpetual "emerging" status. Ravenhill skewers the animosity (and love) that the quintet have for their one-time compatriot when they begin to use a tragic accident that leaves her comatose as an opportunity to fuel their artistry. Surely directed by Ianthe Demos and featuring choreography by Natalie Lomonte, this impeccably performed abstract show takes audiences on a frequently harrowing and just as often humorous ride.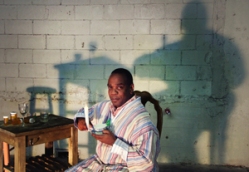 Greig Sargeant in Uncle Vanya
(Photo: Wendy Strauss)
Uncle Vanya (produced by Target Margin Theater at HERE Arts Center through May 19)
Director David Herskovits and his intrepid company put Anton Chekhov's classic play about a group of ennui-filled nineteenth century Russians through a theatrical and literary prism to meditate on the piece's history and its characters' intents, creating a striking new version of this oft-produced work. The script -- filled with lines that jaggedly repeat and sometimes even contradict sense -- allows theatergoers who are familiar with Chekhov's original to reassess it and in the best instances, experience it as if for the first time. You'll find several knockout performances, including Edward O'Blenis' work as the disappointed and dissolute Dr. Astrov, Greig Sargeant's sensitive turn in the title role, and Mary Neufeld's splendid work (in a bit of gender-blind casting) as the aging professor who's blithely unaware of how his actions affect those around him.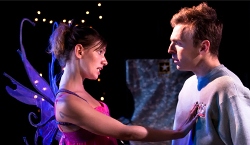 Briana Pozner and Alex Herrald in The Wundelsteipen
(Photo: Hunter Canning)
The Wundelsteipen (And Other Difficult Roles for Young People) (produced by and presented at The Flea Theater through May 23)
This evening of short plays from Nick Jones addresses contemporary issues with a decidedly quirky and dark wit. For instance, the title piece in this show focuses on a pair of brothers, barely teenagers, whose views of sex have been completely shaped by the porn they've seen online. When they revert to their more innocent selves, making a wish on a falling star, they find a "sex fairy" visits them during their backyard campout, having fed off of their very adult fantasies. Similarly, familial dysfunction raises its head in this show with Salome, where the biblical character is re-imagined -- to a mixed degree of success -- as a Disney princess. What's great is that even if something misfires in one short piece, you can be pretty safe in betting there's a great bit of hilarity right round the corner.