A cruel, misogynistic joke serves as a springboard for romance in the new musical Dogfight that's just opened at Second Stage Theatre. It's a very adult tuner that's based on the 1991 movie of the same name, and it asks theatergoers to trust in three hormonal jarheads who set in motion a rite of passage for themselves on the eve of their deployment to Vietnam, scouring San Francisco to find the ugliest woman imaginable (i.e. a "dog") to bring to a dance. The guy who succeeds in finding the worst-looker wins a hefty cash prize.

It's hardly the boy-meets-girl stuff of grandpa and grandma's musical theater, and for a while, anyone unfamiliar with the movie will, most likely, wonder where bookwriter Peter Duchan and songwriters Benj Pasek and Justin Paul (soon be represented on Broadway with their adaptation of the holiday chestnut A Christmas Story) are going with this vaguely distasteful tale. But, something remarkable happens once things are really underway for the show's central couple: Eddie, one of the marines, and Rose, the waitress whom he selects as his date for the "dogfight." Audiences start to root for them, thanks primarily to Lindsay Mendez, who's giving a gorgeously crafted, break-out star turn as Rose.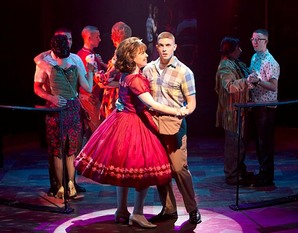 Lindsay Mendez and Derek Klena (center) in Dogfight
(© Joan Marcus)

It doesn't hurt that Rose, a nascent hippy with a fondness for the songs of Woody Guthrie, Pete Seeger, etc., gets some of Pasek and Paul's finest numbers, shrewdly orchestrated for a six-piece ensemble by Michael Starobin. The tunes that the songwriters have penned for the character not only bring to mind the anthems of the era, but they also zing with the sounds of contemporary musical theater, and Mendez's vocals -- both her rich lower tones and her clarion higher ones -- glide over the sometimes tricky melodies with surprising ease.

Elsewhere, Pasek and Paul strive to evoke other period sounds. In some instances, such as the trio of peppy numbers they've written for the party where unwitting girls are being paraded for the guys' amusement, they are as successful (particularly with the ironically lyriced "That Face") as they are with Rose's numbers. But in some of the more emotional sequences, notably the show's title song (which Mendez delivers powerfully with the consistently amusing Annaleigh Ashford as a tough-as-nails hooker who's been dragged to the party), the staccato rhythms and dissonance that the writers employ simply jar.

Mendez's ability to deliver this tune and the others is perfectly matched by the ways in which she tenderly navigates Rose's rough trajectory. Throughout, she brings the perfect combination of desperation, vulnerability and steely strength to the stage, and once Rose has realized the reason that Eddie has unexpectedly asked her out, the sense of empowerment - and deep disappointment - that Mendez communicates astonishes.

At her side is Derek Klena whose work as Eddie (a role played in the film by River Phoenix) ultimately proves to be as carefully crafted. Klena - along with Nick Blaemire and Josh Segarra who deliver solidly as his two pals, Bernstein and Boland - brings a crass, skirt-chasing, bro-ness to the stage that, particularly in 2012, simply feels inappropriate and at times, even evokes a mental response of "Eww" from the audience. But, as the musical progresses, Klena gracefully reveals a softer, sweet and insecure side to this guy, who's been part of such a hurtful game.

Mendez's and Klena's work is so fine, in fact, that it's rough not to feel a bit disappointed by the musical's denouement after he's returned to his buds from his night with Rose (he eventually attempts an apology and she accepts) and the trio has been sent overseas. There's something perfunctory about what becomes of their relationship, the handling of his time in country and his return to the woman who Rose has matured into while he's been gone. The end does not completely undermine the show as a whole, and one imagines that the authors might be able to gently expand the show's final section to address this issue.

Directed with finesse by Joe Mantello, and featuring some keen period-inspired choreography by Christopher Gattelli, the show has a sheen -- from David Zinn's sleek scenic design and pitch-perfect costumes to Paul Gallo's luscious lighting design and Fitz Patton's careful sound design and graceful soundscape -- that bespeaks hopes of a transfer to a commercial venue. As we've seen from shows like Next to Normal and Once, audiences are certainly willing to forego spectacle for shows with a deep emotional core. Here's hoping that, after some tweaking, this very adult new musical might have the chance to reach a wider audience.