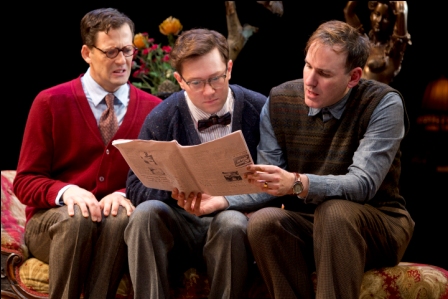 Ken Barnett, Stanley Bahorek, and Erik Lochtefeld in February House
(Photo: Joan Marcus)
A noble experiment brought the likes of literary lions W.H. Auden and Carson McCullers, composer Benjamin Britten, and even stripper Gypsy Rose Lee together under one roof in Brooklyn in 1940. Now these characters' lives together have come to the stage in February House, a new tuner with a book by Seth Bockley and music and lyrics by Gabriel Kahane, at The Public Theater, that, like the abode from which it takes its name, proves to be an ambitious and certainly worthy effort, but never stirs more than passing admiration from theatergoers.
The brainchild of one-novel-wonder-turned-editor George Davis (played with an almost over-the-top zany flair by Julian Fleisher), February House, located on a hill in the Heights overlooking the New York harbor, brought its legendary inhabitants together for a cooperative living experience, where they could be sheltered (with varying degrees of success) from societal pressures and realities of the outside world.
McCullers (made a timid spitfire by Kristen Sieh) recuperates from her abusive marriage to Reeves McCullers (Ken Clark) while attempting to pen a follow-up to her breakthrough novel The Heart Is a Lonely Hunter. She also has a brief affair with German-born Erika Mann (a grandly nuanced turn by Stephanie Hayes), daughter of Thomas, who's attempting to raise American passions for the war in Europe with her magazine, Decision.
At February House, too, two male couples find that they can cohabitate and love freely, Auden (a conflicted, angst-ridden Erik Lochtefeld) and his younger boyfriend/husband, Chester Kallman (played with understated, almost innocent, smarm by A.J. Shively), as well as Britten (Stanley Bahorek) and his partner, singer Peter Pears (Ken Barnett). The course of love does not run smoothly for Auden and the manipulative and self-centered Chester, nor does the collaboration that Auden and Britten pen during their time together. Ironically, it's not a highbrow artist who gives February House its real success story (and fiscal stability), but rather Lee (Kacie Sheik), who pens her mystery novel, The G-String Murders, there, while also footing the collective's growing bill pile.
It's a fantastic tale and set of characters to bring together on the stage, and yet, Bockley's book only manages to fitfully spark to life as these individuals quarrel, make up, and orate about their passions. Part of the problem is the simple fact that even with a running time that pushes well beyond the two-and-a-half hour mark, there's never really enough time for any one character to take hold of theatergoers' imaginations or hearts. Similarly, by the time one has reached the show's final moments, where George and McCullers mournfully intone, "Sing goodnight/ Sing goodnight/ To the boardinghouse," the book has not made the case for the "something" that made his experiment or the space itself so special for its denizens.
Theatergoers, too, will find themselves kept at a distance from the show by Kahane's strikingly contemporary songs that rarely fit the mold of tunes written for a traditional book musical, particularly as the sung melodic lines are often aurally at odds with the accompaniment. What does intrigue throughout, though, is the way in which he provides whiffs of period sounds in his arrangements, which are rarely heard in the melodies themselves. It's almost as if these characters -- who've stepped outside of society -- understand the nature of the popular music, but cannot sing it themselves.
Kahane's most successful achievements are ultimately one unabashedly pastiche number, "A Little Brain," a salacious strip for Lee, which Sheik performs with aplomb; two settings for poems by Auden, that are performed by the ensemble as sort of fever dreams for the poet; and, to a lesser extent, a couple of Gilbert & Sullivan-like numbers for Britten and Pears, which are delivered crisply and with a certain prissy panache by Bahorek and Barnett.
Director Davis McCallum keeps the action moving fluidly, if unsurprisingly, on a unit set from Riccardo Hernandez, which telescopes rooms from various floors of the boarding house onto one level and is lit with atmospheric charm by designer Mark Barton.

February House continues through June 10 at The Public Theater (425 Lafayette Street). For more information visit: www.publictheater.org.
Note: Andy Propst was provided with free tickets to this show with the understanding that he would be writing a review.