The word "homespun" is one that you really don't associate with the rarified environs of the Café Carlyle, and yet for the next couple of weeks while Tony Award nominee Laura Osnes performs her debut engagement at this famed cabaret, it's a word that will be charmingly coupled with the elegant Upper East Side venue.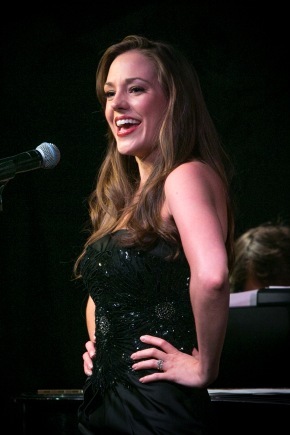 Laura Osnes performs at Café Carlyle
(Photo: Stephen Sorokoff)
Osnes, who proudly hails from Eagan MN, is, of course, the performer who made her Broadway debut as Sandy Dumbrowski after winning the reality show Grease: You're the One That I Want. Since then, she's gone on to become one of Broadway's most sought-after performers, starring in South Pacific, Anything Goes, and, most recently, Bonnie and Clyde, for which she received a Tony Award nomination. She's also headlined the Encores! concert version of Pipe Dream and stepped into -- take your pick -- Mary Martin's or Julie Andrews' shoes with a one-night-only concert version of The Sound of Music at Carnegie Hall.
Her next stage role will make her metaphorical journey as a theatrical "Cinderella" literal: she'll be playing the title role in Rodgers and Hammerstein's musical version of the fairy tale about the girl who goes from rags to riches, and nabs a prince along the way.
Osnes' engagement at the Café Carlyle resplendently showcases her crystalline soprano, as well as the versatility that is making her the performer that producers turn to whether they need a gun-toting bank robber or an erudite heiress. She's equally comfortable with "How 'Bout a Dance," a 30s-sounding tune Frank Wildhorn, which she sensually croons, and "Wonderful Guy," from South Pacific, during which she morphs into a giddy, head-over-heels in love woman.
What might be most impressive about her work, which is backed by a terrific quartet led by Fred Lassen, is that she can take classics, long associated with some legendary singers, and make them her own. During the course of her program, she also offers up a silky rendition of "'Til There Was You," from The Music Man, and a song long associated with Barbra Cook. And after she endearingly plays a tape of herself (at 12-years-old no less) singing Jule Styne and Bob Merrill's "Don't Rain on My Parade" from Funny Girl, she belts the song out on stage as if to say, "Take that Barbra Streisand."
The inclusion of the childhood recording isn't the only trip down memory lane that Osnes takes during the show. She also recounts a disaster that took place during a stage production of Aladdin in her native Minnesota, which led to her getting the chance to take to the stage with the man who'd become her husband, Nathan Johnson. And for anyone who comes to the Carlyle looking for a bit of summertime romance, they'll find it when the two join voices to deliver one of the songs from this Alan Menken/Tim Rice score, "A Whole New World."
Alongside these familiar theater-based songs, are a host of pop numbers, which range from a understatedly sizzling version of "Fever," Norah Jones' "Sunrise," and a pair of tunes by Randy Newman, including "When She Loved Me," which she delivers with poignancy after dedicating the moment to her mother, who passed away last summer.
If there's any fault to be found in Osnes' work at the Carlyle, it's the fact that she seems a little tentative, particularly with the patter that comes between songs. On some levels, she can remind you of a girl who's been invited into someone's swanky home, and she's deathly afraid of breaking something or doing the wrong thing. And yet, interestingly enough, it's exactly this unassuming genteelness that also makes her work such a joy and such a breath of fresh air.