When you lose touch with inner stillness, you lose touch with yourself. When you lose touch with yourself, you lose yourself in the world. -- Eckhart Tolle
How you would feel if the world was so overwhelming and you were so overridden with anxiety that you could not even walk out the front door of your apartment?

This is the exact predicament that Tom Cronin, meditation teacher and founder of The Stillness Project, found himself in when his world fell wildly out of control and he literally crashed -- physically, emotionally and mentally.
Sadly Tom's is not an isolated incident, and in a recent interview I had with him the former finance broker shared how he and a certain former Wall Street broker of recent notoriety -- the "Wolf of Wall Street" Jordan Belfort -- lived parallel lives.
Both succumbed to the pressures of a culture that defined success to be more money, more power, and more extravagance. Both lived in a reality that thrived on accelerated results, mind and sense numbing addiction to chemical substances, and access to more money than they knew what to do with.
I felt a sense of discomfort and also a sense of sadness that I participated in a really debauched and decadent lifestyle. It was all about screwing the system for as much as you could get out of it. We did some really crazy things. We took it to the ultimate limits and we ended up paying a price for that after a few years. That extreme level of imbalance is not sustainable. -- Tom Cronin, Interview on Confidentpreneur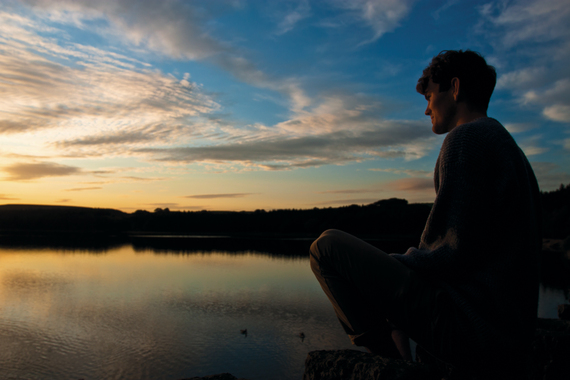 Tom is now on a different path. He is on a mission to share the importance of stillness and practising meditation on a global scale by hosting the world's largest collective online meditation experience on June 17, 2014.
In recent years meditation has entered wider public consciousness as a tool for stress relief, improving focus and productivity, and gaining peace in an increasingly noisy world of information overload. Despite its increasing popularity there is still a lot of confusion around how meditation works and what benefits one can actually derive from regular practise.
It was through meditation and connecting to his deepest self through stillness that Tom was able to turn his life around, overcome his anxiety and return to a more balanced and rewarding life.
It would seem that science has caught up to what spiritual practitioners have been teaching for centuries. In recent studies at MIT and Harvard neuroscientists determined that regular meditation practice helps tune out distractions and relieve pain.
Research shows that meditation contributes to decreasing pain, decreasing stress, increasing social connectedness, making you more compassionate, and changing your brain for the better.
So what do you do if you're time poor like most busy professionals? How could you possibly dedicate some time to daily meditation practise?
Tom discovered that meditation actually helped increase his creative potential and his capacity to do more. By taking a little bit of time out of his day to practise he was actually able to become more productive.
There are many techniques and there is no one-size-fits-all technique that works for everybody. Take the time to experience different techniques and teachers in order to find the right practise for you.
When there is silence one finds the anchor of the universe within oneself. -- Laozi
If you're curious about experiencing the power of stillness and want to participate in the world's largest online collective meditation experience visit stillnessproject.com.
Do you meditate regularly? Why or why not? Post a comment below.