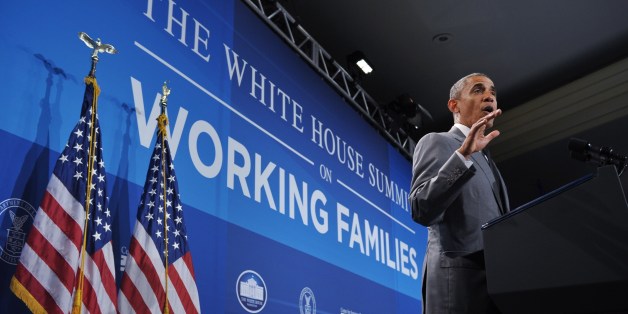 Supports at work and at home aren't just good for working parents. Helping them to succeed at work and at home is better for companies' bottom lines and for the nation's economic competitiveness. That's the theme of Monday's White House Summit for Working Families. It's an important issue to take up, and it's important to do it with an equity lens to craft an agenda that supports all working families, including the working families of color who are quickly becoming the majority of workers.
More and more women are becoming the primary breadwinners of their families and the country's changing demographics means that today's working families are increasingly diverse, and that trend will continue for the foreseeable future. By the end of this decade, according to the Census, more than half of all Americans under age 19 will be youth of color, and they are more than twice as likely as their white counterparts to grow up poor.
The widening gulf between the rich and everyone else threatens our nation's economic vitality. Research shows that inequality hinders growth while greater inclusion accelerates it. As the discussion on how to support working families advances, equity needs to be at the forefront -- and not only as a moral imperative but also an economic one.
In many ways, what needs to be done to help working families succeed is already known. The first step is to begin to reduce wealth inequality by transforming low-wage jobs into good jobs that pay a living wage and provide basic benefits, such as paid sick leave, paid family leave, and health insurance. All workers benefit when low-wage jobs are transformed into good jobs, but women and parents of color, in particular, benefit. Women and people of color are overrepresented in low-wage jobs and Latino and African American parents are significantly more likely than white working parents to work for wages that don't provide basic economic security. Sixty-one percent of Latino working parents have no employer-based health insurance and 72 percent have no pension plan at work. Transforming these jobs into good jobs that pay a living wage and provide basic benefits would mean more economic security for working families.
Across the country, cities and localities are taking the lead on creating good jobs. In Oakland, California, a large-scale project to redevelop a closed Army base will create thousands of new jobs and career opportunities for local residents. Under an agreement jointly crafted by the city, the community, unions, and private developers, the project will pay a living wage for every worker and half of the jobs in the first phase of the project will go to Oakland residents. The agreement also establishes a city-run jobs resource center in West Oakland that will connect residents to training, pre-apprenticeship programs, and jobs. West Oakland is a low-income community of color where unemployment rates run as high as 45 percent.
Creating economic opportunities for local residents in Oakland benefits the overall economy. When low-wage workers get a raise, they are more likely to spend it on previously unaffordable basic services or necessities. This creates a ripple effect that creates demand for goods and services and benefits business owners. Community development projects done right can enhance opportunities for residents, provide economic security for families, and still create profit for developers.
There are examples across the country of states and localities leading the way towards an inclusive economy that helps working families thrive by leveraging their permitting and contracting to ensure quality jobs and onramps, higher minimum wages, and adopting work supports like paid sick days and health benefits. Last year, in collaboration with the Center for American Progress, PolicyLink lifted up several of these examples in All-in-Nation, a comprehensive agenda to build a strong and equitable economy.
The White House Summit is elevating the issue and doing all it can to raise the federal minimum wage and ensure equal pay, but this is an issue that employers, states, localities, and philanthropy must take on. Now is the time to invest in the future; we can't afford to wait any longer.