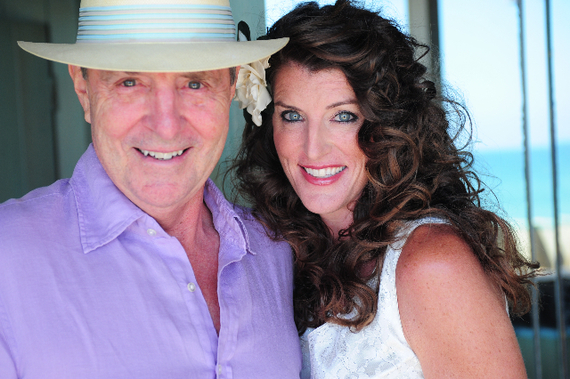 Ken Whittaker (Angela's father) and Angela at her wedding, August 28, 2010.
It was a Sunday morning and I could hear the phone ringing way too early. Immediately I panicked, since no one calls at that hour on a Sunday unless something is terribly wrong, or it's a misdial. When I saw my sister's telephone number on the cell phone, my heart sank. I had barely said hello when she blurted out, "Dad's in the hospital, he's had a heart attack. Call Mom in 15 minutes... she's talking with the doctors now."
My mom soon told me that my dad had a moderate heart attack and they found four clogged arteries. Really? Mom fed him organic salads for heaven's sake, and he exercised. Hell, I even taught him how to meditate. A stint needed to be inserted into one of the arteries that appeared to be completely blocked. I started to feel sick. My mom said, "Your dad is already joking with the doctors." I thought, "This is no laughing matter."
The procedure went well and I started calling incessantly. I couldn't stop thinking about him. Something just didn't feel right and deep down in my heart I had a knowingness that I had to go to see my dad. A few days later, I was on a plane to San Francisco.
I had barely walked in the door of my parents' home, when my dad came bounding in from the backyard. "There's my girl! How are you, Love?" he asked while gripping me in a tight bear hug. "I'm great, Dad. The question is how are YOU doing?" We spent the afternoon on the patio talking about his heart attack and how he needed to make some changes. As always our conversation eventually turned to the esoteric, about life, and we shared about how much we loved each other.
The following day, my father would suffer from ventricular fibrillation, which is where the heart rhythm becomes abnormal. He was rushed to the emergency room, and I held his feet while they repeatedly tried to shock his heart back into its natural rhythm. But they could not... and my father passed away before my very eyes.
There are no words to describe the immense pain and unimaginable grief that completely envelops you when you lose someone you loved so deeply. My father and I were extremely close. My heart literally felt as if it had shattered into a million little pieces. The days dragged on slowly. It was as if time were standing still.
My Own Health Scare
A few months later, still reeling from the tragedy, I had this nagging sensation that something just "didn't feel right" in my own heart. So I scheduled a physical and explained to the doctor the overwhelming stress I had been experiencing due to my devastating loss. "My dad had clogged arteries and didn't even know it," I told her. "I just can't wrap my mind around it. And now I'm getting myself all worked up thinking that maybe heart disease runs in my family and I'm going to be next!" My doctor recommended that I see a cardiologist to do a basic work-up and put my mind at ease.
But before I had time to schedule an appointment with the cardiologist, I ended up in the ER one night. I had experienced a weird dizzy spell, like a wave rippling through my body, plus the sensation of a muscle being pulled in my chest in the area of my heart. Tests would show that the right chamber of my heart was slightly enlarged and then later more tests would show the unimaginable -- I literally had a HOLE in my heart! A WHAT? I kept telling myself that this was impossible; it had barely been six months since my dad had passed away from heart complications.
The hole was determined to be a congenital condition. I'd had it my entire life, and never knew it! The hole was large, and a couple months later I would have heart surgery to close it and protect my life.
Get to Know Your Heart
I am so incredibly thankful that I "listened to my heart." Not only did I get to see my dad before he passed away, but I am truly convinced that his heart condition saved my own heart and my life.
Heart Disease is the leading cause of death for both men and women. And congenital heart defects are a lot more common than people think. There likely are nearly 1 million adults in the United States living with a congenital heart defect.
Know that your own heart health begins with you. Do some family research and find out if heart disease runs in your family or if anyone in the family had any heart abnormalities they were aware of. Then consider your own personal lifestyle habits that could contribute to heart health issues (diet, physical activity, smoking, etc.). Next, a baseline check-up to measure your heart health would be a good idea. It's important that you do your own research. The American Heart Association is a great resource with loads of information. February may be Heart Health Awareness month, but you need to do your part every day and take care of your heart! It will love you for it.
Angela Whittaker is currently at work on two unique memoirs about her life. The first one, describing her life-changing surrogacy experience, is titled Angela's Diary: The Journey of a Surrogate Mother. The second, called The Journey of a Heart, tells the inspirational story of losing her father and the subsequent discovery of the hole in her heart. Angela appears in and is an Executive Producer of the award-winning documentary TWO: The Story of Roman and Nyro (http://www.twothedocumentary.com). Watch for her upcoming blogs on these and other topics.