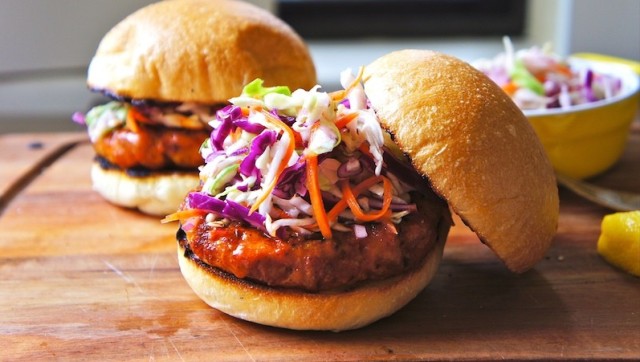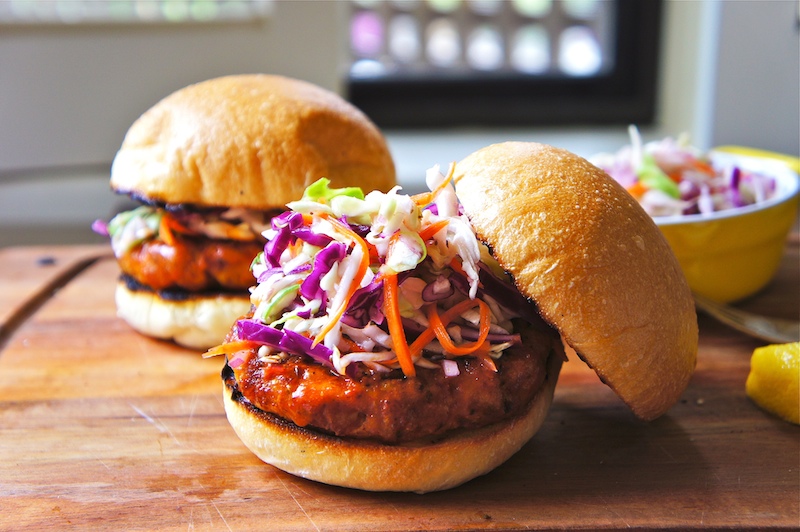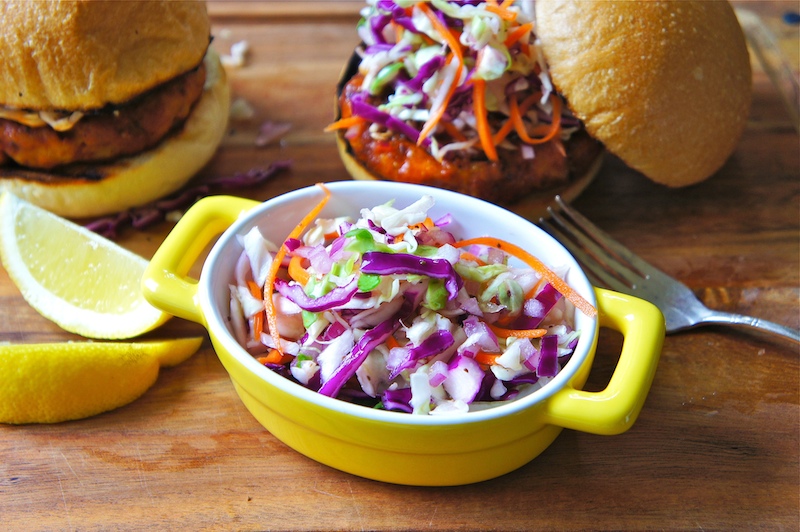 This Buffalo Chicken Burger is a healthy change from the usual beef burgers. Do try making this spicy burger, top it with some fresh and colorful Sweet and Tangy Coleslaw. It's made with champagne vinegar, sugar and celery seeds. A tasty twist to the traditional slaw, made without any mayonnaise.
Buffalo Chicken Burgers with Sweet and Tangy Coleslaw
Makes 6 burgers
For the Buffalo Chicken Burgers
500g ground chicken (combination of breast and thigh meat)
1/4 tsp garlic powder
1/4 small red onion, finely diced
1 tsp Italian seasoning
1 to 2 tsp red chili flakes
1/4 cup plain bread crumbs
1 1/2 tsp sea salt
1 tbsp olive oil
freshly ground black pepper
1 small bottle (150ml) hot sauce
2 tbsp unsalted butter
6 burger buns, toasted
For the Sweet and Tangy Coleslaw
454g/16oz/1 lb mixed slaw (green & red cabbage, carrot)
4 tbsp finely diced red onion
3 tbsp Champagne vinegar or apple cider vinegar
3 tbsp sugar
1/2 tsp celery seeds
3/4 tsp sea salt
freshly ground black pepper, optional
Method
Make the coleslaw: Heat the vinegar, sugar and celery seeds in a small pan and bring to a boil. Simmer until the sugar has melted and then remove from the heat. Pour the syrup over the slaw and season well with salt and pepper. Toss everything together, and chilled before serving.
Make the burger: In a large bowl, mix the ground chicken with garlic powder, red onion, Italian seasoning, chili flakes, breadcrumbs, sea salt, olive oil and some freshly ground black pepper. Divide into six equal patties and refrigerate for about two hours.
Preheat the oven to 375˚F.
Melt the butter and mix in the hot sauce. Let it simmer for two to three minutes. Pour half of the sauce into a lightly oil baking tray.
Prepare the grill or a large cast iron pan over high heat. Grill the patties for 3 minutes on each side and transfer into the baking tray. Then pour the other half of the hot sauce on the patties and bake for about six minutes on each side. Remove from the oven and brush with some of the hot sauce and place the patties on lightly toasted buns and top with some sweet and tangy coleslaw.