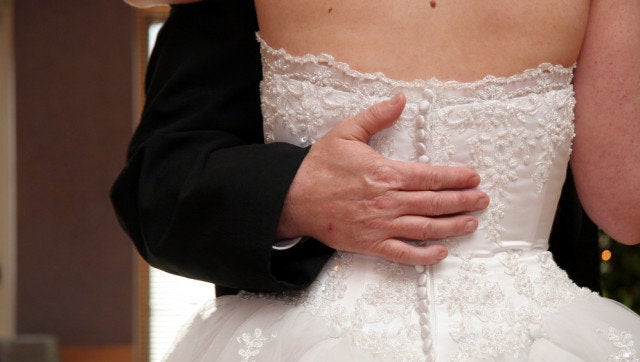 The low hum of keyboard clacking at the office may come to a slow stall as the holidays near and friends and family begin to spend every waking moment at the mall, by the stove and on Pinterest perusing adorable Elf-on-the-Shelf ideas. You, bride-to-be, can't afford a holiday distraction, however. Wedding planning can't nor should it be put on hold.
I'm not suggesting a ban on holiday cheer. Instead, I'm urging you to get creative with the season. You truly can manage the holidays while planning a wedding.
The idea is to let holiday traditions play double duty. My wedding, for example, was in summer, but I saved money and time -- two things every bride-to-be and newlywed are generally short on -- during the holidays by sending personalized cards that were one part holiday greeting and one part wedding thank you cards.
If you are in the throes of planning, multi-tasking, even in the midst of the season, is essential.
Here are five ways to make the holidays work for your wedding. Some are a wee bit tacky or genius, depending on your perspective. Either way, keep it fun and lighthearted to avoid any Grinch-style reactions.
1. Welcome to the Favor Games. With family together, sometimes for days at a time, and with little outside distraction and plenty of food on hand to fuel the pack, it is a great time to crank out favors. Make it fun by turning your projects into contests. Pick your DIY favor, get the supplies and write up easy instructions. Set up a challenge as well. The fastest time, the greatest number of favors completed, etc. And don't forget a prize for the winner. Younger relatives, in particular, are less likely to grumble about this activity if some coveted loot is involved.
2. Send a Dual-Message Greeting. Send out holiday greetings that also cue guests to save the date for your big day, but get them done quickly as the clock is ticking.
Word of advice: Don't try to use pre-made cards because customization is key when creating a dual-message greeting. The goal is to show off your personality as a couple while also sending wishes for the season. I recommend custom card tools and sites such as Shutterfly.
3. Survey the Holiday Aisles. In the days leading up to December's big events, take part in some recognizance at local craft stores and down the holiday aisles at big box stores. Don't purchase yet, just look. For what? Unique items that can transcend holiday and work for your wedding.
For instance, is red one of your colors? Or gold? Look for unique candle holders, vases, etc., in this theme. Subtle New Year's Eve party dᅢᄅcor could also transform into intriguing centerpieces. With ideas and finds noted, plan your attack. Hit stores on December 26th or January 1st to purchase decor or favor items at a discounted price. Better yet, if you are a passionate Christmas fan with a summer wedding, opt for a "Christmas in July" theme and all your dᅢᄅcor needs will be 50 percent off by month's end.
4. Be a Holiday Hostess with a Motive. If one of your holiday traditions is an annual open-house, dinner party or the like, don't feel overwhelmed. You can still have this year's party, but create guest activities in favor of your wedding checklist. Devise games, such as those in #1 above, or activities with your nuptials in mind.
Need inspiration? Throw a wine party, where each guest brings a bottle of wine. Before the party, however, start on this clever place card display, but don't fill up all the spaces. When guests arrive, let them glue their cork to the board. Party guests can also sign or write well-wishes on the cork for a more personal touch.
5. Play Vendor Detective. It's often difficult to schedule appointments with venues and vendors during the holidays as they are usually balancing current bookings and vacation time, but that doesn't mean your hunt has to stall completely. Think outside the traditional appointment. If you are considering a band, find out if they are playing any open-to-the-public holiday gigs and take the family as a test listen. Want some primping for a big holiday bash or New Year's Eve shindig, try out a hair/makeup artist you had in mind for the big day.