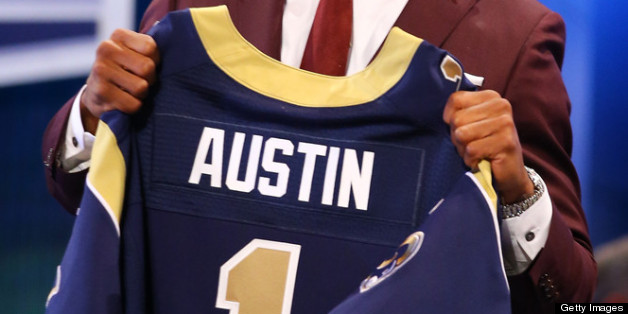 Round one of the 2013 NFL Draft came and went.
Four hours later, the only thing that went quickly were offensive linemen -- 6 in the top 11 picks.
The dancing bears ruled in Thursday night Primetime, and for the first time in 50 years, a running back was not selected in the first round!
Marinate in that for a hot second.

Time to take a look at how the five -- count them FIVE -- skill-position players selected in the first round, will affect their teams this fantasy football season.

1. WR Tavon Austin (Selected 8th overall by the St. Louis Rams)
The Rams lost WR Danny Amendola to the New England Patriots earlier this year. Their slot receiver vacancy sign was lit heading into the draft and boy did they fill it!

St. Louis gave up two draft picks to the Buffalo Bills to move up eight spots to grab their guy, Tavon Austin. Austin was a stud at West Virginia with 2,910 all-purpose yards and ran a 4.34 forty-yard dash time at the combine. His quicks will play well on a fast track in the Rams' Dome. Keep in mind, he's only 5'9" (on a good day) and at 174 pounds, this water bug can get open in space and be a defense's nightmare with his YAC (yards after the catch).

The Rams will utilize Austin at a number of positions, quickly becoming Sam Bradford's BFF! This unit will put up huge fantasy points with WR Chris Givens stretching the field and newly acquired TE Jared Cook creating defensive mismatches.
Mind you, OT Jake Long took his talents from South Beach to St. Louis and will buy Bradford more time to actually get a pass off.
Austin is a huge acquisition for the Rams... hopefully he will be for you as well this fantasy football season.

2. QB EJ Manuel (Selected 16th overall by the Buffalo Bills)
The Bills divorced their Ivy league QB Ryan Fitzpatrick earlier this year, started dating QB Kevin Kolb from Arizona, and Thursday married a 6'4", strong-armed, mobile QB named EJ Manuel. Just how mobile? This past year at FSU, Manuel passed for 3397 yards, rushed for 827 yards, and scored 23 TDs. He stands 6'5 and 237 pounds. Some would refer to him as a poor man's Cam Newton.

Manuel will suit up with WR Stevie Johnson, TE Scott Chandler and with RB CJ Spiller in the backfield the Bills will incorporate the sexy read option into their game plan.
The downside, Manuel's accuracy is not NFL ready and his pocket presence and footwork are not the best. Kolb will more than likely start the season, with a chance Manuel will finish it. With a few adjustments and some rookie training, Manuel is expected to be a success at the position, but I don't believe Manuel brings your team much fantasy football impact this season.

3. TE Tyler Eifert (Selected 21st overall by the Cincinnati Bengals)
Three years ago the Bengals drafted TE Jermaine Gresham 21st overall.
They say the NFL is a copycat league and maybe it's true. This pick screams New England Patriots and the offensive strategy of having two talented, athletic, receiving tight ends as a dynamic TE duo.

QB Andy Dalton tweeted "great pick" after Eifert was selected. No doubt! The 6'5 and 250 pound Eifert adds to the arsenal of WRs AJ Green and Mohamad Sanu, which would make any QB ecstatic. The fantasy problem: there's only one pigskin to go around, and the Bengals still pride themselves on running the ball. As much as I love the pick, I am concerned about the number of targets Eifert will get this coming season. I value him as a number two TE on your 2013 fantasy football roster.

4. WR DeAndre Hopkins (Selected 27th overall by the Houston Texans)
The Texans part ways with WR Kevin Walter and welcome in Clemson rookie first rounder Hopkins. This Clemson Tiger will play opposite WR Andre Johnson and need I say more? NFL defenses give Andre the double team respect, which will make Hopkin's transition to the NFL a little bit easier. He's been compared to WR Roddy White and Anquan Boldin, but he is even faster than Boldin! Hopkins has great hands and is a tough competitor. His future is bright and will be a great fantasy football draft pick in dynasty leagues.

5. WR Cordarelle Patterson (Selected 29th overall by the Minnesota Vikings)
The Vikings have been through some changes this off-season. WR Percy Harvin headed out west to Seattle but they gained WR Greg Jennings from Green Bay. Knowing QB Christian Ponder needs more to work with, the Viks gave up a 2nd, 3rd, 4th, and 7th round pick to the Pats and moved up to draft Patterson.

Patterson is extremely raw, with only one year of major college experience at Tennessee. The Vikings gave up a lot for a project, but Patterson is worth the risk. I had one offense coordinator tell me, athletically Patterson is the best wide receiver he's seen in over a decade, but also that he has a hard time understanding the game. He has 4.42 speed but doesn't know the pattern tree, which will be difficult for Ponder to deal with I'm sure. Patterson will be a risk/reward pick in fantasy as well. Hopefully for you, the latter.