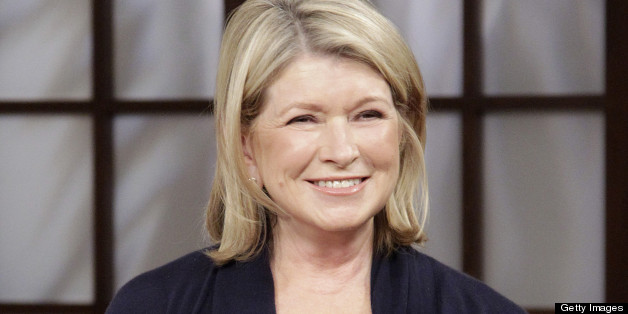 We read in the April 30 issue of the New York Post that Martha Stuart has registered on Match.com and we wanted to share with her some of the information we've learned from women we interviewed for our book Love For Grown-Ups.
The Garter Brides Top 5 Tips for Martha's Successful First Date:
1. Don't think that you're too old and that any guy you meet will want someone ten years younger! Martha, you're a mature woman with interests and achievements. You're open to experiencing new things. You have a lot to offer and you want to be with a man who appreciates who you are. He wants the same thing in a date that you do, to meet someone who is good company and who he can enjoy being with. If he pines for a teen-bopper he's not for you -- and the teeny bopper won't want him either. And no teeny bopper has written an encyclopedia of crafts!
2. Be ready for that first date. When you're ready to date make sure you look your best. Feeling prepared gives you confidence and that confidence allows you to relax and focus on the dating experience. We know you'll want to design a new line of first date dresses, but, wait till the second date to start your own clothing line.
3. Dating etiquette in the twenty first century. Put all electronic devices away! We know you may be expecting a call about the next IPO or the font for next month's magazine cover, but, don't pick up the phone. Ok, you might want to show your date the stencil that you designed for your phone, but, don't' spend a lot of time on that. Ask him some questions about himself.
4. Don't get to know one another by re-hashing your history. Anyone who's ever read People knows that you're furious with your ex, and as much as we know it's important to vent all this stuff, don't do it to the new man in your life. He has a history too and he's probably got some unhappy stories as well, but playing therapist or sounding board to one another is no way to create a foundation for a relationship or even for just a couple of dates. Keep your bitching for your girlfriends. Oh, and make him wait for prison stories -- don't go there on the first date!
5. Remember if he isn't right for you there will be someone else. If things don't work out be open, try new things and take any opportunity to make new friends. Martha, you know how to start again successfully. Always go on blind dates. The Garter Brides believe in romance and we've seen people make wonderful, happy lives together, so don't give up! Always keep that in mind and as we say in Love For Grown Ups, "one date can change your life."
Ann Blumenthal Jacobs, Patricia Ryan Lampl and Tish Rabe are the authors of Love for Grown-ups: The Garter Brides' Guide to Marrying for Life When You've Already Got a Life, a relationship guide for women over 35 on how to find Mr. Right, marry and find life-long happiness. The Garter Brides are a sisterhood of women who got married or re-married a little later in life. They offer tried and true advice on how to have the love and life you want. Visit TheGarterBrides on www.thegarterbrides.com.