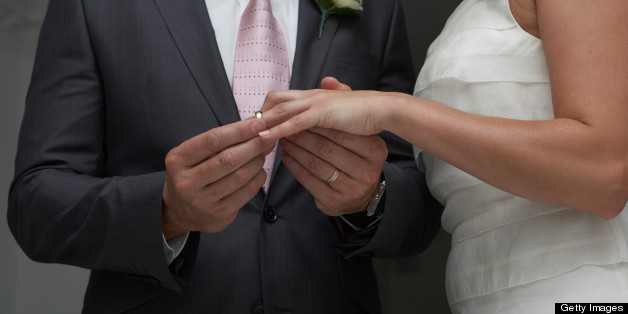 We've both been married before and have had a total of five weddings! Should we have another one?
When we wrote Love for Grown-Ups, a relationship guide for women who married or re-married after the age of 35, we interviewed women from all over the country who had gotten married later in life, some for the first, second, third and yes, fourth times.
Who said the road to true love isn't sometimes bumpy? One question they all faced was whether or not to have yet another wedding.
As one recent bride told us, "My college roommate has gone to ALL of my weddings. I didn't know how to tell her I was having another one. When I finally told her she laughed and said "Can I wear the same dress I wore the last time?"
What we've discovered is that when it comes to celebrating the joy of romance what you choose to do is a decision that only two people need to make -- you and the man in your life.
Here are some tips from other brides on what worked for them:
Should we have a wedding at all? You may feel it's "over the top" to have another wedding, but remember this is a new beginning for you, your new husband and your families -- so why not celebrate in some way? The experience you've had with your weddings in the past will help you make the next one just what you want.
Think "the Opposite"; it could work! It might help to consider celebrating your wedding in a different way than you have in the past. One bride told us "My first husband and I eloped when I was 21. The second time I got married -- at 47 -- I wanted a real wedding. I said "Yes to the dress!" and everything else!" Another bride remembered "I got married the first time when I was 28 and my parents invited all these people I'd never even met. The second time I had a small group of family and friends in my sister's back yard and it was perfect."
If you want to involve kids, think it through. Does your soon-to-be husband's son want to be his best man? Does your 14-year-old daughter want to be your "maid of honor"? Does your 4-year-old want to be a flower girl? What we have discovered is that some kids will want to be involved in your wedding, and some won't. The most important thing is to ask them and be prepared if they say "no." Some kids will feel loyalty to their other parent and may feel uncomfortable celebrating with you. Let them know that whatever they want to do -- or not do -- is ok with you.
Are you both paying for the wedding? There is no doubt that when young people get married often their parents pay for the wedding or at least part of it. Later in life the odds are high that the bills for the wedding will be your responsibility. This fact alone may help you decide what kind of wedding you're going to have. If you have kids heading off to college, you may decide a backyard barbeque is perfect.
Wear, well... whatever! The brides we interviewed for our book wore as many different outfits at their weddings as their imaginations could conjure up and we're all for it. You might also think about renting a wedding gown or bridesmaid's dresses. One bride remembered, "I was getting divorced again and I went up in the attic and saw all three of my wedding dresses and thought "What am I keeping these for?" I took them to the Goodwill. When I got married again, I wore a pantsuit."
Should I tell my guests "no gifts"? For those of us who celebrated more than one wedding (including the three authors of this book -- by the way we have five weddings between US!) we have discovered that your close friends want to help you celebrate. Remember this is the start of a new beginning and maybe you don't want to start your new life eating off the same plates as with husband number whatever-it-was. Feel free to let your friends know too if you want something non-traditional; one bride asked for a lawnmower -- and she got it!
Are you planning a second (maybe third or fourth) wedding? How will you handle your next weddings?
Ann Blumenthal Jacobs, Patricia Ryan Lampl and Tish Rabe are the authors of Love for Grown-ups: The Garter Brides' Guide to Marrying for Life When You've Already Got a Life, a relationship guide based on interviews with women who married over the age of 35. The book tells you how to find Mr. Right, marry and find life-long happiness. The Garter Brides are a sisterhood of women who all got married later in life. They offer tried and true advice on how to have the love and life you want.