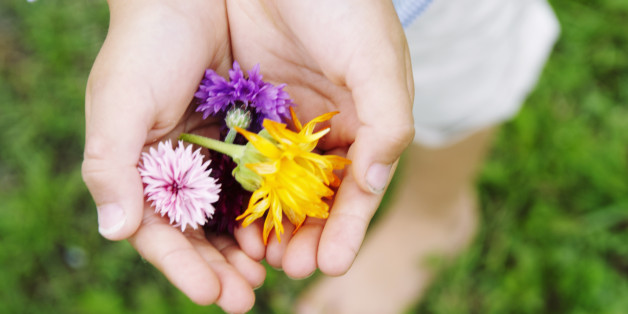 There's a lot more to living a successful life than just the cutthroat race to the corner office, says Arianna Huffington, the co-founder and editor in chief of The Huffington Post. Want to live fuller, happier? Then make sure that giving to others is written into your program, said Huffington, author of Thrive: The Third Metric To Redefining Success And Creating A Life Of Well-Being, Wisdom, And Wonder. Speaking before The Children's Lifesaving Foundation at a brunch in Los Angeles on Saturday, she said, "Giving is absolutely essential for a life that is complete."
Yep, we get when we give. Here are 5 reasons why you'll "thrive" when you do:
1. Helping helps everyone.
The Children's Lifesaving Foundation works to improve the lives of homeless and at-risk kids and families in Los Angeles. Among other things, the group has moved 45 homeless families into homes, and provided 47 college scholarships to kids who otherwise wouldn't be in college. That's a pretty concrete measurement of lives improved.
In Thrive, Huffington recalls advising a friend who lost her job to take a break from her job-hunting and do some volunteer work with her time instead. The unemployed friend initially thought Huffington was being insensitive to her financial plight, Huffington recalls in the book. But after hooking her up with a charity called "A Place Called Home," the friend got it. She immediately began feeling better about herself and "came out of the fog she had been in since becoming unemployed for the first time in her adult life."
Giving makes you feel good, plus it puts your own life in perspective. And yes, people get helped.
2. Giving is an act that unites us.
CLF has gotten more than $1 million in in-kind donations. That's things like toys, clothing, furniture and toiletries. Cash is good too, but the absence of spare cash shouldn't be an impediment to giving -- especially when it comes to giving of your time.
Huffington notes that she hopes one day families will say things like "What are we going to do this weekend -- are we going to shop, see a movie, volunteer?"
Huffington says that every day presents new opportunities to make a difference in the lives of other human beings and no opportunity should be overlooked. "Giving and service mark the path to a world in which we are no longer strangers and alone," she writes.
3. Go-givers trump go-getters.
No, there's nothing wrong with ambition or entrepreneurship. But without the added value of doing social good, well, what's the point?
Improving lives should be in the equation, says Huffington. It's about "thriving and surviving together," she says.
Right now, the CLF has eight students enrolled in college on scholarships from a special Family Foundation. In each case, these teens are the first in their families (or among the first) to graduate both high school and college. Go ahead, show me your new app that fills your wallet but not your heart.
4. Giving is good for your health.
Well, if you wanted a selfish reason, there you have one! A study last year at the University of Exeter Medical School found that volunteering was connected to lower rates of depression and a 2005 Stanford University study said that people who volunteered lived longer than those who don't, noted Huffington.
Since its inception in 1993, more than 3,000 volunteers' lives have been changed while volunteering with the CLF's surf camps, overnight camps and retreats, holiday parties, Thanksgiving Day celebrations at the House of Blues West Hollywood, and by becoming tutors and "dream mentors" through the CLF's Care through College Educational Program. That's 3,000 healthier people, I'd say.
5. There is no giving gesture so small it doesn't matter.
One of CLF's goals is just to show lower-income kids the possibilities in their life. I wouldn't call that a small gesture; it's huge actually. More than 7,000 Los Angeles county kids have experienced free cultural, artistic and recreational field trip events in the past decade because of CLF.
It's about a summer camp stay, a museum trip, having someone to talk to, someone to point the way. When one boy first came into CLF's sights, his family had just immigrated from Mexico and was struggling to survive. Now, the boy is planning on attending New York University, and, with CLF's help, following his dreams of becoming a filmmaker.
Huffington's mother did much the same thing and served as a role model to her two daughters, Huffington said. Her mom was a woman "incapable of having an impersonal relationship with anyone." Her life was filled with "giving moments," Huffington writes. "Wherever she was -- in an elevator, a taxi, an airplane, a parking lot, a supermarket, a bank -- she would reach out to others."
When asked what her favorite section of Thrive was, Huffington -- without hesitation -- said "Giving." "Our lives are shaped from the inside out," she said.
PHOTO GALLERY
Arianna Huffington Speaking Before The Children's Lifesaving Foundation