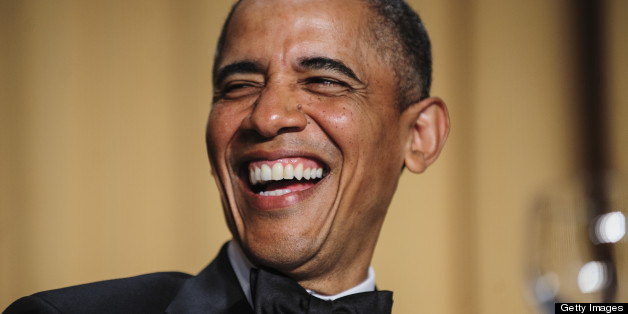 While bangs might not give President Obama the more youthful look it achieved for the First Lady on her 50th birthday, it did prove one thing: Barack Obama has the right attitude toward aging and that's finding the humor in it.
While many pundits say that the president stole the annual White House press club show right out from under host Conan O'Brien's nose, we were struck by principally one thing: Obama gets that aging becomes more manageable when viewed through the lens of laughter.
While the photo of him in Michelle-like bangs was a hoot -- "We borrowed one of Michelle's tricks," Obama said -- he also noted how he's not "the strapping young Muslim socialist" he used to be. And while joking how his re-election meant the unveiling of a more radical agenda, a photo flashed on the screen of Obama golfing on a mock cover of Senior Leisure magazine.
The subtle message delivered was spot on: Aging is a dish best served with a side of humor.
While many jokes come at the expense of aging, like these here, we tend to prefer the ones on SeniorSource.com, which remind us that wrinkles don't hurt and middle age is when you choose your cereal for its fiber content, not the toy.
And then there's gerontologist and HuffPost 50 blogger Lorie Eber, whose book title kind of says it all: Boomers: Aging Beats the Alternative And a Sense of Humor Helps.
What's the best aging joke you've heard lately?
Earlier on Huff/Post50: