This is my second post related to Women in Clothes (Blue Rider Press), a new book about women's relationship to clothes edited by Sheila Heti, Heidi Julavits, and Leanne Shapton. As a contributor to the book and longtime resident of Tokyo--one of the most fashionable and fashion-conscious cities in the world--I started thinking about Japanese women's attitude towards fashion and wanted to know more. I interviewed Shizue Hamano, Fashion Feature Editor at Vogue Japan, and Philomena Keet, British anthropologist and author of The Tokyo Look Book (Kodansha International), a survey of Tokyo street fashion. Here's what they have to say about Japanese women's--and their own--attitude towards fashion.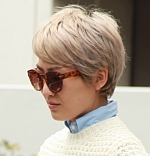 Shizue Hamano
How do Japanese women feel about fashion?
We're super passionate about it. As Japanese, we're into detail when it comes to styling. I think we're good at balancing and also mixing and matching colors, patterns, and material. And that makes us original.
Are there any rules for how Japanese women should dress?
For men's fashion, people want very strict rules. But for women, even though there are old stereotyped ideas of how we should dress (no miniskirts or flashy colors, not too much skin), these are often not related to the latest fashion. Young women are now credited for being bold and creative because they don't follow the rules.
What's one thing every woman learns about how to dress?
TPO (time, place, occasion). Maybe this is because we spend most of our school days in uniform. When we're not in uniform though, we try to express who we are through fashion. If we talk about someone, we often use the word shifuku, which means personal style when not in uniform.
What is women's attitude towards traditional clothing like kimono?
There was a time when we looked up to European or American style and traditional clothing seemed "uncool." But the younger generation is more open-minded. They dress in kimono for special occasions and the yukata cotton robe during summer. These traditional clothes aren't part of our usual wardrobe now, so they're perceived as "cool."
Is it true that Japanese women are moving away from designer brands and more towards street fashion?
They now have more choice, such as street brands, fast fashion, etc., but they still admire designer brands for sure. They're confident about their style though, so they tend not to be limited to just the brand names.
How is Vogue Japan different from Vogue in other countries?
Compared to other Asian countries, the Japanese Vogue depicts a more mixed image of Western and Eastern cultures.
What's your favorite kind of clothing?
Menswear. Whether a chunky knit, mod coat, or bomber jacket, menswear has a boyish mood and attitude, besides being looser. And it perfectly matches feminine pieces like minidresses or frilled skirts.
What's one of your favorite looks right now?
Mix of high and low, playing with dressing up and down. Something like a quality dress from a designer brand with standard sporty shoes.
Did your mother or grandmother teach you any lessons about style?
Not specifically. They gave me some freedom, now that I think about it.
What is great style?
A person who has tried different styles and found her own timeless style.
Which woman's style do you admire?
I like French women's effortless style, like Caroline de Maigret's.
What's your fashion attitude?
The beauty of imperfection.
*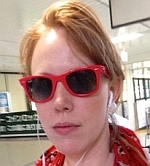 Philomena Keet
How would you describe the fashion attitude of Japanese women who wear street fashion?
Tokyo is a hotbed of street fashion styles. One is the avant-garde "fashionista" style. The fashionistas feel that clothing should be a natural extension of the self. They assemble their wardrobes from the brands du jour (as well as vintage, secondhand, and fast fashion) and throw together their outfits in a way that's guided by a desire to create something original that fits their style or history of looks.
What are the fashionistas into right now?
At the moment, a pop, brash, hip-hop look is being pushed by them. Think American football jerseys, decorated old denim jackets, gold chains, vintage Versace shirts.
What's the most popular street fashion style?
Gyaru (sassy young women, from "gal") fashion, where the aim is to be as pretty and kawaii (cute) as possible. Not the aim of the fashionistas!
What role does traditional clothing like kimono play in street fashion?
Most fashion here is called youfuku (Western clothing). For street fashion, incorporating Japanese elements is a somewhat anti-fashion statement and relatively unusual. Still, there's a shop selling youfuku covered in Japanese text and a brand, Takuya Angel, inspired by kimono and other traditional clothing but mixed with a neon/cyber/clubbing vibe.
What's the difference between the fashion attitude of the fashionistas and other Japanese women who wear street fashion?
While fashionistas want their outfit to be an extension of themselves, for those who aren't so invested in fashion, fitting in with a style is more important. For "cosplayers" (those who "costume play" by dressing to mimic an anime or gaming character) and subcultural styles like Takuya Angel and "Lolita" (a little-girl look of frills, puff skirts, and Mary Janes), temporarily transforming the self by wearing a costume becomes the motivation.
How are you influenced by Japanese women's street fashion?
When I'm with the fashionistas I try to dress more originally (but being a mum that quickly wears off!). I used to dress more egregiously, which is partly why I became interested in fashionistas.
What fashionista items do you own?
I have lots of pieces from key fashionista boutiques--a gold dress, a parachute skirt--but wear them only for special occasions. Similar to the fashionistas, I have things from avant-garde international designers too, like Martin Margiela and Comme des Garçons. But also a lot of Muji and Uniqlo.
What is great style?
Continuity in your look is important, as then you'll appear to have a sense of personal style. And of course a degree of originality--interesting colors, cuts, patterns--and the quality of the garment are also important. But then again, not always! Both Kurt Cobain and Lady Gaga had (have) great style.