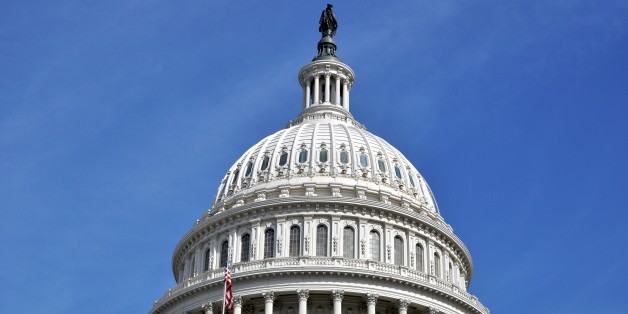 We've all heard the saying, "you can't be what you can't see." This sentiment reflects the importance that trailblazers, role models and mentors play in our lives. They show us what's possible, they set the bar of achievement and they encourage us, even challenge us, to leap over it. It is vital that girls who aspire to become leaders in our world have access to women who have already attained leadership positions -- it makes the idea of women leaders real, something they can see with their own eyes and believe is possible to achieve. Above all, it gives them a goal to reach for.
That is why Girl Scouts of the USA established Troop Capitol Hill, an honorary Congressional Girl Scout Troop made up of all female members of the United States Congress. Troop Capitol Hill gives Girl Scouts everywhere a sense of being directly connected to their leaders in Congress, and each troop member serves as a role model for girls across America. By participating in initiatives like our Portraits in Leadership series of interviews, Troop Capitol Hill members make themselves available to girls, offering them the guidance and support they need to move ahead in the world.
The importance of role models for girls cannot be overstated. Our landmark State of the Girls report (2013) by the Girl Scout Research Institute found that the lack of visible female leaders is one of the largest obstacles to girls believing they can be leaders themselves. According to our study, girls are well aware of the gender gap in leadership in this country. Almost nine in 10 teen girls (89 percent) say men outnumber women in leadership positions today, whether in government institutions such as Congress or in the private sector as heads of major corporations. Yet our research also clearly shows that girls are eager to lead. More than a third (39 percent) of girls say they want to be leaders, while half (52 percent) say they wouldn't mind being leaders but it's not particularly important to them.
This week, in coordination with our eight bipartisan co-chairs of Troop Capitol Hill, Girl Scouts will formally welcome the 114th Congress, and its new female leaders, to the Girl Scout family. At this special reception, they will all have the opportunity to meet one of the outstanding girls who aspires to follow in their footsteps: Girl Scout Gold Award recipient Lauren Prox, from Virginia's Girl Scout Council of the Colonial Coast. Lauren will share the impact of Girl Scouts on her life, the importance of serving as a role model, and how, through her own work in science, technology, engineering, and math (STEM), she is serving as a mentor for future generations. Lauren earned her Gold Award, the highest award in Girl Scouting, for a STEM project she created involving a series of workshops and workbooks for young girls who are interested in the mechanics of flight.
At Girl Scouts, we know that exposing girls to women with careers in STEM is clearly beneficial to them; they're able to observe firsthand what these careers look like and what they offer. In a field where women have been underrepresented for decades, Lauren took the initiative in order to demonstrate to girls that anything is possible. When she takes the podium this week, it will be as both mentor and mentee, and her story will no doubt inspire the Congressional leaders in the room. As an aspiring leader who wants to one day hold elected office herself, she will be standing among the men and women whose ranks she hopes to one day join. That is the power of Girl Scouts.
Across every geographic, cultural, ethnic and professional sector, wherever you find female leaders, you will find Girl Scout alumnae. It should come as no surprise that all eight of our Troop Capitol Hill co-chairs, along with 75 percent of the women in the U.S. Senate and 53 percent of the women in the House of Representatives, are Girl Scout alumnae.
These staggering figures speak to the power of the Girl Scout experience to transform a girl into a leader. But there is more work to be done. Troop Capitol Hill provides girls with a glimpse of the leadership landscape for women -- but the fact remains that there are only 86 seats (out of 435) held by women in the House and only 20 (out of 100) in the Senate.
Bringing more women into the ranks of leadership in everything from government to business and beyond means starting with girls. And starting with girls means providing them with role models and mentors. This week on Capitol Hill, Girl Scouts is doing its part to connect girls with today's women leaders to help ensure they see what they can be -- and that what's possible may be more than they ever imagined.