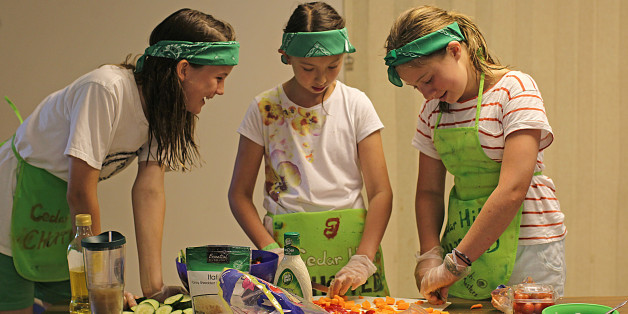 There's a chill in the air, the sun is setting a bit earlier and soon, the leaves will be falling from the trees. Yes, it looks like summer is officially drawing to a close. But for Girl Scouts, the fun is just getting started! In fact, autumn is one of the busiest seasons across the Girl Scout Movement. Each fall, as families get ready to head back to school, Girl Scouts across the country get ready for new fun and adventures with their troops -- and get excited about welcoming new members!
At Girl Scouts, we understand that learning doesn't stop when the school day ends -- it just assumes a different form. Girl Scouts provides girls with a shift from instructional learning to a more hands-on experience -- one that enables them to acquire new skills, reinforce old ones, and have fun, all in the safety and comfort of an all-girl, girl-led environment and without the pressure of grades.
For less than $30 a year, Girl Scouts get a wide variety of experiences they won't find in their average after-school program. They make new friends, get outdoors, tap into their creativity, learn from adult mentors, take on community service projects, and participate in iconic Girl Scout traditions like our cookie program -- the largest entrepreneurial program for girls in the world.
The benefits of Girl Scouts for girls are well-known -- new Girl Scout research shows that 95 percent of girls have had fun and exciting new experiences while participating in Girl Scouts. At least 90 percent of parents say their daughter is more confident, has more friends and is happier because they're in Girl Scouts. And it's so easy to join in the fun! Girls can find their local Girl Scouts troop by visiting girlscouts.org/join and learning about all of the benefits available to Girl Scouts everywhere!
In order for girls to gain these benefits, however, we need volunteers -- adults who serve as troop leaders, cookie moms, and mentors. Volunteers are the lifeblood of the Girl Scout Movement. They bring Girl Scouting to life for girls and give our programs real meaning by connecting them to the lives of girls everywhere.
Right now there are more than 30,000 girls on waiting lists to join Girl Scouts -- a frustratingly high number. The good news is that every adult who volunteers can take at least five girls off that list, show them what's possible when they dream big, and help them shine! And it's not just the girls who benefit from Girl Scouts. In fact, our research shows that 88 percent of our volunteers believe their lives are better because they volunteer with Girl Scouts. An astounding two-thirds believe that their volunteer experience has helped them professionally.
There are girls in every community in America who can benefit from the Girl Scout experience; girls who are waiting to be inspired by mentors, guides and role models. Girl Scout volunteers come from all walks of life; they are men, women, young professionals, retirees, college students, parents and more. They are people who can make an immeasurable difference in the lives of girls -- girls who will go on to change our world.
Summer is over. But the season for becoming the role model she'll always remember is just getting started. To volunteer, visit girlscouts.org/volunteer now!