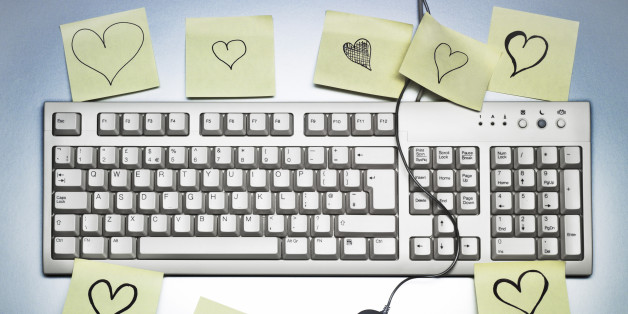 I have been dating off and on for about a year now. I met a guy named Steve who I fell hard for -- he was 17 years younger than me. We had amazing chemistry and so much fun together and it all moved very quickly. He was then deployed to Iraq (that is what I get for dating a younger man). We kept in touch via email and Skype and when he returned home three months later, he told me he had been home for two weeks. I was hurt he hadn't let me know earlier and told him that. He then fell off the face of the planet. I have never heard from him again. I did not have a bad attitude about it because it taught me that I CAN love again and those butterflies in your stomach still do work at 58 years old.
So moving on, I just started putting some effort into dating and joined many dating sites. I am really working about 30 minutes a day on searching and replying to emails and talking on the phone to these guys. I am so happy when I see my email that I have a message or wink and I jump online to see who it is and then, OMG! I have had truck drivers with no teeth want to meet me, guys with pictures of them with no shirt on, when they really should be having one on to cover that hairy belly, and guys holding up dead animals like fish, deer and pheasant. And, half of them can not write a grammatically correct sentence. I am then very disappointed and think I should have known better. Do they really think someone like me would go out with someone like them?
My girlfriend Tabitha told me to get the Tinder app. I said I was on it before and not too many people were on it at that time, a few years ago. I also live in a very small beach town and there are not many men on it who live here, especially not guys around my age, but she insisted so I did. So far, most of the guys on there that I have talked to have been from out of town and just here visiting. I met a very nice divorced gentleman named Geoff who was my age and we went to dinner in Rosemary Beach and had a great time. After dinner we went to LaCrema for dessert fondue. Then we walked around town and ended up at my car. I was going to leave and he said he didn't want me to. So we walked to The Pearl Hotel and had an after dinner drink. I took that as this guy is enjoying my company. He walked me back to my car, asked me to go out again the next day and kissed me goodnight. I said yes and the next day we went out for lunch at Bud and Alley's overlooking the Gulf of Mexico. We then walked around the Town of Seaside as he had not been to the area before. I again was ready to go home and he was not. We drove to Grayton Beach State Park and walked through the paths along the salt water lakes and dunes and then took some fun pictures on the beach of each other. This all sounds so positive and it was until he left that afternoon to go back home which was 400 miles away. He was here on business and said he comes here often. We talked on the phone a few times and texted often and then they started getting fewer and further between. I haven't heard from him in a month and got a phone call from him yesterday. I still have not called him back. I just think he is too far away and I really do not want a long distance relationship. I am not sure if I will call him back or not, probably not. I have not been on tinder too much lately and really should get back in that groove. He called me again and said he was coming to town but I told him I had plans already with another guy. He said OK and that if I ever changed my mind, to give him a call.
I have been on POF, OK Cupid and Match quite a bit. I met a guy who asked me out and we met at Bud and Alley's for lunch. I like Bud and Alley's! We walked around town afterwards and had a very nice time then we kissed goodbye. He was nice I thought, but maybe not my type. He had a hard time finding the restaurant and finding parking so I was waiting for him for 20 minutes. When he sat down he abruptly ordered a Blue Moon when the server came to our table. I then ordered a chardonnay and thought how rude, he should have let me ordered first. I look for the little things. We ended up having a nice lunch and he was enjoyable so I let the ordering thing slide.
Since then I have been out with him eight more times. This is the first time I have dated consistently one person for a month so far. I was going out on other dates also while dating him. We always have a nice time but I am not getting the love vibe about him. He has PTSD and says it is under control but that scares me. He is retired Air Force and has been deployed many times in the past. I have seen him be a little too angry at a motorist on the road and heard a few harsh comments about others.
We went to Pensacola for dinner and a concert and spent the night there. All we have done is kiss so far after a month. I am surprised he has not tried to make the move on me but also relieved. He has sent me flowers and brought me cards and candy, which I think is very thoughtful. I have decided he is not going to be a good long-term relationship for me. I think I should move on so I am not wasting our time. So I made that decision and was going to tell him but I have not as of yet. He called me today to go for a day drive along the coast and have lunch tomorrow, I said yes. I don't have anything planned so I figured why not. But I really know I should break it off. Tomorrow will be a big decision day whether I continue to go out with him or not. I broke up with him that week. He was hurt and I hate that, but I am glad to be moving on.
The next day, a guy I will call Bill (to protect the innocent) contacted me on OK Cupid. He said I was beautiful and he wanted to meet me and that it said we were an 88 percent match! We emailed a few times and then talked on the phone.
I am now dating Bill, a judge/lawyer who lives two hours north of where I live. He was so enthralled with me he drove down here Sunday night just to take me to dinner and we had a wonderful time. He picked the nicest restaurant in town, made reservations, picked me up, opened the doors for me, picked up the check, made me laugh and feel safe, like a real man should! We went to breakfast the next morning and afterwards he said he hated to leave me! He is coming back this weekend to see me again and told me to make some plans for whatever I want to do, as he is not that familiar with the area as I am. He calls/texts me everyday and says he can't wait to see me again. We are both 58, like fine dining, movies, traveling and are close to our families, etc.
A funny story about my and Bill's first meeting. He was out of town and drove back home for a funeral on Sunday that was two hours away and then was driving two hours down here and said he would be here at 7:00 p.m. He called me at 6:00 p.m. while I had just gotten out of the shower and had a towel on and my hair soaking wet. He told me he got here early and I said, I would hurry as fast as I could and meet him at the restaurant. After some encouragement on his part, I decided I would let him pick me up and I ended up taking him here to where I live. He knocked on the door and I opened it up with a robe on and wet hair and no make-up! He said, "You look even prettier in person than your pictures!" We talked a minute and I told him to lay down on the couch and take a nap since he had been driving all day and going to a funeral, while I went and got ready! He took a nap, I got ready and then we went to dinner! I had a nice time but felt he was much more into me, than I was into him.
Bill is calling and texting me everyday and coming back this weekend. I am starting to like him more. We have plans all weekend long and I am looking forward to seeing him again.