Bob Dylan announced today a string of summer tour dates across America, most with Mavis Staples. Tickets go on sale starting tomorrow for gigs in California, Oregon, Colorado, Ohio, Virginia, Pennsylvania, New York, and Maine. The first date -- so far -- is June 4th in Woodville, Washington, and the latest -- so far -- is July 17th in Gilford, New Hampshire.
Many of the shows are in smaller venues, though some in vaster spaces like Red Rocks and Forest Hills. The first time I ever saw Dylan was at the Mann Music Center in Philadelphia, and one of his best shows I've attended was at Wolf Trap in Vienna, Virginia -- both places on the list. That he will be playing Forest Hills for the first time since 1965 marks a return for him to the site of one of the most celebrated rock concerts of modern times. On August 28th, 1965, Dylan, Al Kooper, Harvey Brooks, Robbie Robertson, and Levon Helm played before a crowd famously hostile to said rock sound. By July 8th, 2016, an audience (sure to be sold out this time) will have had plenty of time to get used to it.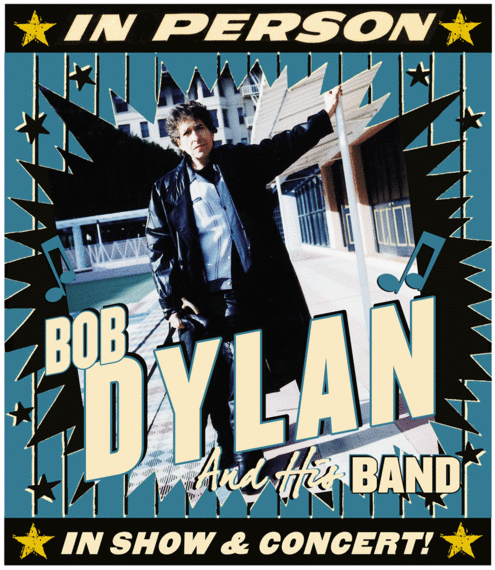 The tour is in support of a new record Dylan will be releasing on May 20th. According to BobDylan.com, the record's title is Fallen Angels, and concertgoers buying a pair of tickets to most shows "will receive a redemption code to receive a Compact Disk of Bob Dylan's forthcoming album 'Fallen Angels.' (Not available for Indianapolis and Boston.)"
In the recent documentary Mavis!, Dylan recalled hearing the Staple Singers for the first time. Their version of "Sit Down Servant," he says, "made me stay up for a week." And Mavis remembers Dylan at the Newport Folk Festival in 1964 as "a handsome kid, with nice curly hair." At the admission, "we may have smooched a little," she giggles.
Stay tuned for more tour dates and ticket presale announcements at BobDylan.com.

images via BobDylan.com, ShoreFire Media, Huffington Post, and BobDylanTV