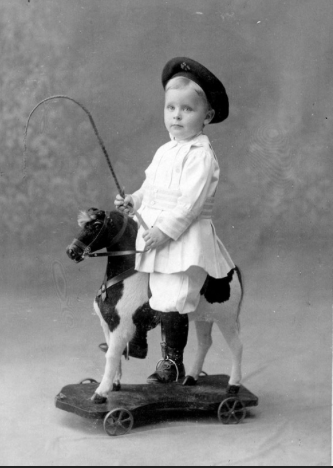 Scott Fitzgerald as a toddler. © Princeton University Library
Of all the American Modernist writers with tragic lives, F. Scott Fitzgerald holds the franchise. A glittering success as a writer when he was just twenty-four, Fitzgerald died twenty years later still a young man, with most of his works unread by the public in 1940, and his status as one of the finest, and most popular, American writers yet to be established.
Scott Fitzgerald was the third child of Mollie McQuillan and Edward Fitzgerald. His mother's family was wealthy, and socially prominent in St. Paul, Minnesota; all his entrees to polite society, and the money that sent Scott to Princeton, came from the McQuillan grocery business. The Fitzgeralds' first two children died as infants; Scott, a lovely but sickly child, worried his mother with more than the requisite slate of childhood illnesses. A baby sister, Annabel, was born in July 1901. From the record that survives -- a few letters, and virtually nothing about her in Fitzgerald's biographies or transmuted into his short stories -- Annabel and Scott were not particularly close, and had little in common as children or adults. She was as dark and unattractive, like her mother, as Fitzgerald was fair and beautiful. Mollie Fitzgerald pasted in, at the beginning of Scott's baby book, a curl from his first haircut. Even today, it is white-blond against the pale-blue ribbon holding it in place.
Fitzgerald was born at the family home on Laurel Avenue. His parents were Catholic, and Fitzgerald was raised in the church and sent to a Catholic boys' school on the East Coast before attending college. His father's family couldn't offer him money, but offered him a shabby gentility, and meant "back East" to Fitzgerald. Through his father, Fitzgerald was proud of his indirect descent from the man who wrote "The Star-Spangled Banner," Francis Scott Key, and bore the name happily. He was perhaps thinking of his famous ancestor when he tried, too late, to change the title of The Great Gatsby to Under the Red, White and Blue. From the Baltimore Fitzgeralds came, too, a touch of southern heritage that Fitzgerald found far more inspirational than St. Paul for his art.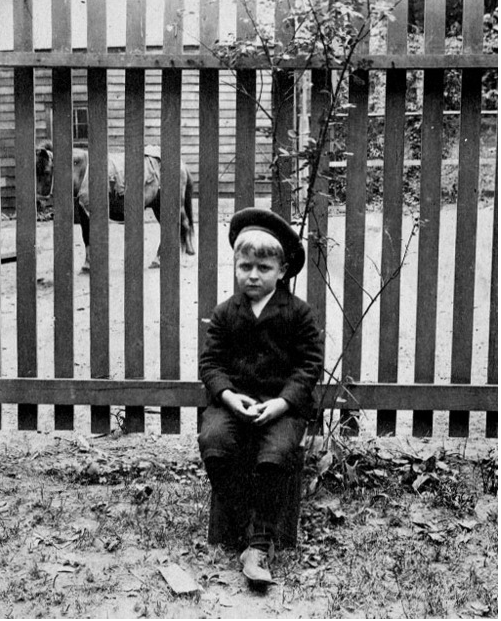 Fitzgerald in St. Paul as a boy. © Princeton University Library
Edward Fitzgerald's business failed when his son was two -- perhaps not surprisingly, as he had been running a wicker-furniture business in Minnesota. The family moved to Buffalo, New York, where Edward took a job as a salesman for Procter & Gamble. He was, like Willy Loman, no good at sales in the end, and finally gave up trying to make it on his own after a sad and rather inconsiderable effort to do so. The Fitzgeralds moved back to St. Paul in 1908, and Edward went to work for his father-in-law. His father's life cast a great shadow over Fitzgerald and his writings: the figure of the father, or a would-be patriarch, dying or fading into nothingness after a once hopeful, ultimately failed life is in Fitzgerald's work again and again. The arrival of old Mr. Gatz, one of the only mourners at his son Jimmy's funeral, in Gatsby is one of the saddest moments in a sad book: sad for the father, so proud of his dead child whose success was all written in air; and sad for the son, who had been eager to reject the failed father but never achieved what he wanted for himself, either. The uncomfortable anticipation of becoming one's father prodded Fitzgerald to keep fathers out of most of his stories altogether.
As a boy, Fitzgerald was very anxious to be popular. His youthful flirtations with St. Paul girls, the parties he attended, and the private prep school he was finally "sent East" to attend are the stuff on which his "Basil and Josephine" and "The Rich Boy" stories are founded. One of his finest short stories, "Winter Dreams," crystallizes his yearning distance from the country-club, upper-class world, a world to which his mother's family had given him an entree, but in which he did not have the money to remain, and of which Scott therefore never felt comfortably a part. Years later, he wrote to Anne Ober, the wife of his longtime agent Harold Ober, "That was always my experience -- a poor boy in a rich town; a poor boy in a rich boy's school; a poor boy in a rich man's club at Princeton....I have never been able to forgive the rich for being rich, and it has colored my entire life and works."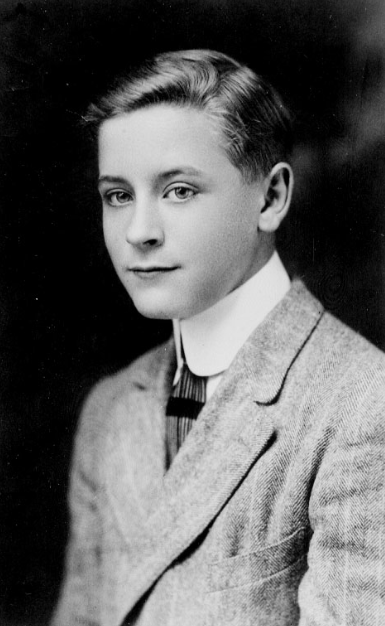 Fitzgerald as a teenager. © Princeton University Library
Fitzgerald chose Princeton for college: an Ivy League school, historically Presbyterian and now staunchly white-Anglo-Saxon-Protestant, a school for rich and privileged East Coast boys whose fathers and grandfathers had gone there too. On all these counts, Fitzgerald was an odd man out. Princeton was not a place where Fitzgerald found himself at home at all, and so, for the first time and not the last, he remade his surroundings in his own image. A protean self-fashioner, with all the right materials of blond good looks, quick wit, and dramatic imagination to hand, Fitzgerald constructed a successful persona for himself among the "spires and gargoyles" of Old Nassau. He looked the part, to begin with: long after his death, a contemporary remembered, "I first met Scott in the fall of 1913 when he entered Princeton. I thought then that he looked like a young Greek god with his golden blonde hair, searching blue eyes and fresh untarnished complexion."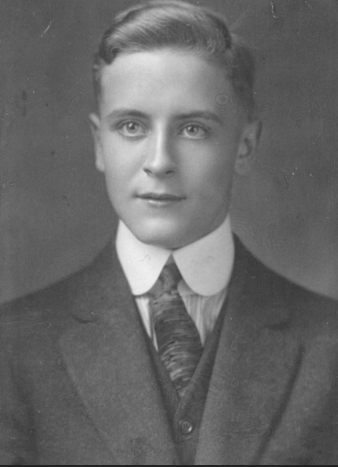 Fitzgerald at college. © Princeton University Library
After withdrawing from Princeton (with tuberculosis, Fitzgerald said; however, he was failing out at the time), Scott returned to in the fall of 1916, but left for good in November 1917, without taking a degree, for Fort Leavenworth, Kansas. He had already done his officer training at Princeton; from early 1917 Princeton had been less a college than a military camp, with classes taking a back seat to getting its young men ready to go to war.
At Leavenworth, Fitzgerald began writing his first book. Originally called The Romantic Egoist, This Side of Paradise is part novel, part collected short stories, part poem, part drama, and entirely youthful, in every sense of that word. In the time-honored Victorian fashion, it is a Bildungsroman, but a thoroughly Modern one, modeled more on Joyce's A Portrait of the Artist as a Young Man than upon Dickens's David Copperfield. The story of Amory Blaine is not a particularly challenged, dramatic, tragic, or triumphant one. Yet it is engaging purely because of Fitzgerald's ability to convey how fresh, hopeful, and utterly unrepeatable it is to be young. Already rushing into marriage and fatherhood when the book was published, in May 1921, Fitzgerald at 24 was past his youth, past certain dreams already, and, though he did not know it but seemed already to suspect it, past the middle of his own life.
Amory looks exactly like Scott, who would, later, call this early character his "younger brother." It is as if Fitzgerald looked into a mirror while writing the first detailed description of the would-be artist as a young man: "He had a rather young face, the ingenuousness of which was marred by the penetrating green eyes, fringed with long dark eyelashes. He lacked somehow that intense animal magnetism that so often accompanies beauty in men or women; his personality seemed rather a mental thing, and it was not in his power to turn it on and off like a water-faucet. But people never forgot his face."
This Side of Paradise was Fitzgerald's bestselling book during his lifetime. However, it did not equal the sales of, say, the year's Pulitzer Prizewinner, Edith Wharton's The Age of Innocence, or a blockbuster like Sinclair Lewis's Arrowsmith, which would pulverize The Great Gatsby in terms of sales in 1925. Paradise clearly shows, though, the subject matter, style, and literary influences that would remain core to his work during Fitzgerald's career. His favorite literary models were poets: he loved best Shakespeare, Byron, and Keats. His prose is laced with alliteration, internal rhyme, and snippets of verse and song. One of the few surviving recordings of Fitzgerald's voice is his reciting part of a favorite speech from Othello (I.iii.128 and following), and some lines from Keats's "Ode to a Nightingale." He greatly admired Byron's rhyming ability and agility; in the "College of One" he ran for his lover, Sheilah Graham, in Hollywood in 1939-1940, Fitzgerald made her read all of Don Juan as one of her first assignments. Amory Blaine adores Edgar Allan Poe, and recites his poems aloud as he walks across the Princeton campus.
Of contemporary writers, Fitzgerald admired Joyce. At various times, he was also keen on the writing of Sinclair Lewis, Joseph Conrad, Sherwood Anderson, Theodore Dreiser and Henry James. His midwestern kinship with Lewis, Hemingway, Anderson, and Dreiser -- and also with St. Louis native T.S. Eliot, with whom Fitzgerald corresponded and whose poetry he admired -- matter very much to his fiction.
The writer most often mentioned along with Fitzgerald is Ernest Hemingway. Their love/hate friendship -- Fitzgerald truly admired Hemingway, and Hemingway liked some of Fitzgerald's writing, but was envious of, and disliked, him -- has been well chronicled, in their surviving letters, by every Fitzgerald biographer, and by Hemingway himself, memorably and viciously, in A Moveable Feast. Fitzgerald labored over the drafts of The Sun Also Rises in the mid-1920s, helping to make it better, and was consistently kind to a friend who treated him, perhaps out of enduring envy and certainly with spite, with little grace in return.
As the 20s wore on, Fitzgerald's moneymaking short stories chronicled what he himself named "the Jazz Age." In The Beautiful and Damned (1922) he followed up This Side of Paradise with something similar, though much sadder: the bright young things married, though not grown up. His stories of the 1920s tracked the same themes, and kinds of characters. Bouncing at the time among St. Paul, New York hotels, and Great Neck, Long Island, Fitzgerald was writing, living, and drinking hard. The New Yorker wrote an obituary for the Fitzgeralds in 1926: "Scott Fitzgerald and his Zelda / Here on earth no longer are / You can find them up in heaven, / Leaning on the golden bar."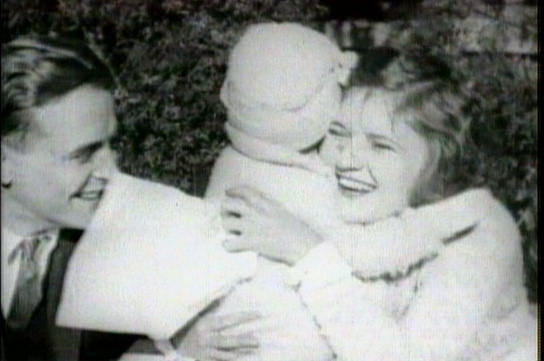 Scott, Scottie and Zelda Fitzgerald, 1922. © Princeton University Library
The Great Gatsby (1925) needs little introduction and no summarizing. In the past forty years, it has become perhaps the best-known American novel in the world (though its movie version has long helped Gone With the Wind in this category). Technically, it spans just a summer, one short summer in the big shore houses of Great Neck and the noisy posh hotels of Manhattan. That Fitzgerald writes, from this simple setting and space, a story virtually without time constraints yet utterly Modern, from its automobiles to its prohibited ubiquitous liquor to its music, is more than stylistically remarkable. The love plot is also simple, but with a sad turn that makes it impossible from the start: this time, Fitzgerald's theme is not the girl his hero wins, and loses, but the girl he wins twice through illusion and, therefore, never wins at all. Jay Gatsby's biography is not a story about the end of possibility, but a story of the dream that possibility ever existed in the first place. To call the novel elegiac, to call it the end of The American Dream, is only small tribute to what Fitzgerald managed to achieve with Gatsby.
Gatsby did not sell well. New York reviews were mixed; no one wanted to be told, in 1925, that the wave America was riding was about to break, and that the end was already here. After the crash came, in 1929, no one wanted to be reminded that the man who named and symbolized the Jazz Age had already ended it four years before. Copies of the second printing of Gatsby still waited in a warehouse when Fitzgerald died fifteen years later.

In Hyeres, in Paris, in Cannes, and intermittently in a rented home in Maryland, Fitzgerald was already living something of the stuff of his next, and last completed, novel. Tender is the Night (1934) suffered when it was published from some of the same things that hurt Gatsby a decade earlier. Then, in the heart of the Roaring '20s, people did not want to feel the coming crash. Now, in the depths of the Great Depression, people did not have much money to spend on the luxury of newly published books, least of all books about rich people living self-involved, turbulent lives on the Riviera. Tender is not even pleasant escapism to pretty beaches, but a tough, even brutal, novel of love and loss: loss of love, loss of country, loss of self. After late 1929, as Zelda Fitzgerald went from hospital to hospital in Switzerland and America in search of a cure for what seems to have been a combination of depression and schizophrenia, Scott used the experiences of their life as the basis for the structure of his new novel -- all the while writing lighter short stories to pay the increasing bills.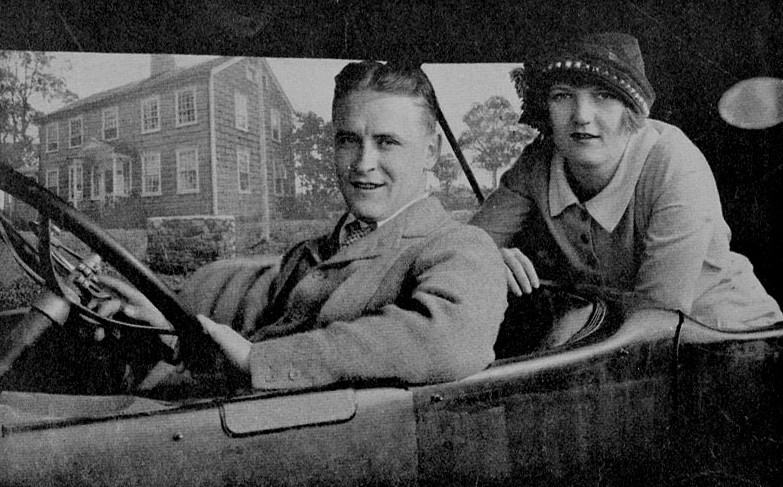 Scott and Zelda in the "Rolling Junk." © Princeton University Library
In 1937 Fitzgerald, who had suffered a breakdown the year before while living near Zelda's hospital outside Asheville, North Carolina, went to California to try to find work in Hollywood. Fitzgerald was not the first prominent writer, nor would he be the last, to make money writing and doctoring screenplays. He worked for M-G-M for over a year on movies including A Yank at Oxford, Three Comrades, and The Women before his contract expired; thereafter, he picked up work where he could (including a brief pass through Gone With the Wind before it opened in 1939, and an ill-fated trip, marked by drinking that got him fired, with Budd Schulberg to Dartmouth, New Hampshire for Winter Carnival). He also began writing both short stories, most featuring a struggling screenwriter named Pat Hobby, and a longer work about Hollywood, unfinished at his death and published as The Last Tycoon in 1941.
Fitzgerald's own writings don't film because his words already have done all the cinematic work. His novels, and especially Gatsby, are visually stunning, colorful and full of light, constraining anyone trying to translate them to film by the sheer success of the language. And Gatsby is centrally concerned with thoughts and feelings the central characters neither articulate openly, nor, most of the time, are able or willing to be fully conscious of, or investigate directly themselves within their own minds. Fitzgerald's words can give these psychological and emotional circumstances shape and power, but they are impossible to represent visually.
In one of his many notebooks and scrapbooks, Fitzgerald wrote two drafts of an autobiography: "Drunk at 20, wrecked at 30, dead at 40" and "drunk at 21, human at 31, mellow at 41, dead at 51." He died following one plan or the other, depending on your point of view; I prefer the latter, and wish he'd made it past 51. Fitzgerald was just 44 when he died. He had been hard at work on his new novel about the movies, writing of it to Scottie, in early December 1940, "My novel is something of a mystery, I hope. I think it's a pretty good rule not to tell what a thing is about until it's finished. If you do, you always seem to lose some of it. It never quite belongs to you so much again." On December 21, 1940, while relaxing in a chair at the home of Sheilah Graham, Fitzgerald was eating a chocolate bar and making notes on a football story in the Princeton Alumni Weekly. He stood up suddenly, in the grip of a heart attack (the third or fourth he had had that year), and fell to the floor, dead within minutes. He was 44 years old.
Fitzgerald's death was long taken to be the final note of pathos in a pathetic life: that he could still care about Princeton football, so many years after he himself had famously declared, in This Side of Paradise, that we'd never be so young again. Yet the last words Fitzgerald ever wrote, in his usual No. 2 pencil, on that article were a critical comment: "Good prose."
*
Good prose is what Scott Fitzgerald labored over and turned out, and what keeps his writing popular today -- good prose that, at its best, is poetry and drama and everyday talk and criticism and fairy tale and all sorts of genres wrapped up in a single page, like the last page of Gatsby, or a single paragraph, like that at the beginning of "May Day." Even when he describes the inability to write, to speak, to create, Fitzgerald's eloquence and elegance amaze and linger. Think of Nick Carraway, listening to Gatsby: "Through all he said, even through his appalling sentimentality, I was reminded of something -- an elusive rhythm, a fragment of lost words, that I had heard somewhere a long time ago. For a moment a phrase tried to take shape in my mouth and my lips parted like a dumb man's, as though there was more struggling on them than a wisp of startled air. But they made no sound and what I had remembered was uncommunicable forever." Uncommunicable forever: the paradox, and beauty, of Fitzgerald's writing is in its sheer inimitability -- words constantly recalled, but too perfectly said ever to be replicated.
Please read the full version of my biography of Fitzgerald in the Literary Encyclopedia.
Anne Margaret Daniel on Huffington Post Books